http://www.ahmackenziedesign.com/?educ=maps8 The large church of St. Mary at Burghill stands on a hill, and in the churchyard are some of the best churchyard yew trees in the country, there are certainly a great many of them. The oldest of these trees is believed to have once sheltered William Wordsworth and his wife on one of their many visits to the area, his brother in law living nearby at Brinsop Court.
http://www.allaerialsandsatellites.co.uk/?educ=maps26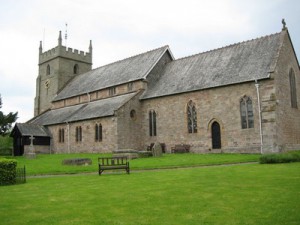 http://www.bits-systemhaus.de/?educ=maps6
http://www.kahira.org/?educ=maps24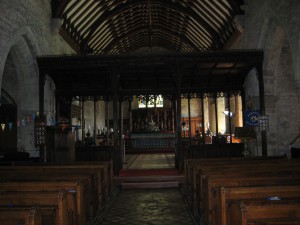 Font
This font has a lead bowl set inside an ornamental Norman stem and dates from around 1180. There are twelve, rather worn, figures around the arcade which represent the apostles, and there is a seated figure facing East which probably represents Christ. In 1810, the church tower collapsed which severely damaged the lead bowl, and it was thus replaced with sandstone. However, the original lead bowl was repaired, and subsequently put back in the font.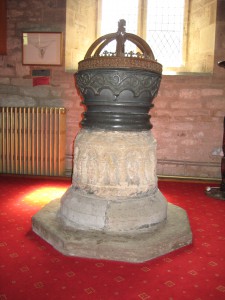 Memorials
Wife of Thomas Martin
Sacred to the memory of M……….(unreadable) Jane, wife of Thomas Martin Esq. of The Lodge in this Parish. She died December 30th 1837 aged 35 years. By her death her husband has lost an affectionate wife , her children a kind indulgent mother, and the poor an ever ready friend. Also of their son Alfred John Martin, he died February 14 1858 aged 7 weeks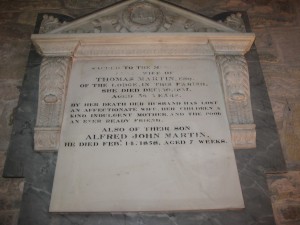 Sir John Milbourne
Elizabeth Devereux
These effigies are of Sir John Milbourne and his wife Elizabeth Devereux on a tomb of alabaster. They date from 1440 and are in excellent condition, with Sir John clad in plate armour of the period. Around the base of the tomb is a group, most likely their son and grandchildren, kneeling before the Virgin and Child.  The inscription reads "here lyeth the bodies of Sir Milbourne and Elizabeth his wife, the daughter of the most Honourable Knight of England who was slain at the great battle of Pilleth"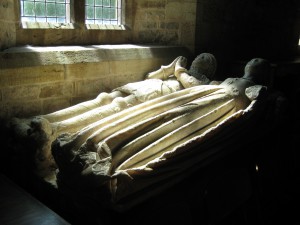 Benjamin Biddulph
Sacred to the memory of Benjamin Biddulph Esq. of Burghill House in this Parish. Born November 1774, died (unmarried) June 13th 1849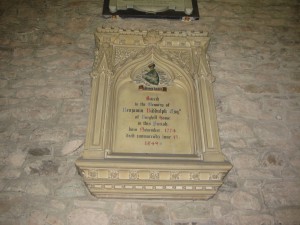 Robert Masters
This rather poor picture of a brass dated 1619 bears the inscription – Here lyeth the bodye of Robert Masters gent. late of this manour who travelled with Thomas Cavendish Esqr. to Virginia and afterwards aboute the globe of ye whole world – and after his returne marryed Winefred ye daughter if Thomas Cornwall of Buckland Gent; by whom he hath 2 sonnes and 7 daughters. He departed this life the 3rd June AD 1619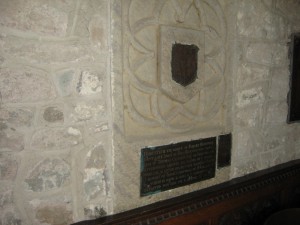 Catherine Taylor
Near this place rest the remains of Catherine, daughter of Thomas Carpenter Esq. and wife of William Taylor of Tillington Court, who departed this life 3rd day of September AD 1789 in the 50th year of her age. She was a sincere Christian, an affectionate wife, and tender parent. Also William, son of the above named William Taylor and Catherine his wife, who died in his infancy 22nd August 1774. Also Elizabeth their daughter who died November 27th 1788 aged 17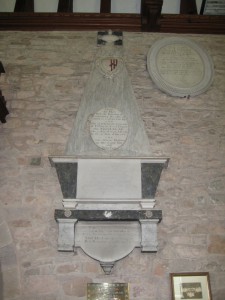 John Awbrey
Here lyeth the body of John Awbrey Esq. Yongest sone of William Aubrey Doct of Law and one of the Masters of Requests in Ordinary to Queene Elyzabeth who dyed ye X1th of June 1616 being about ye age of 38 yeres, married Rachell the daughter of Richard Danvers of Totnv in Wiltshire Esq. by whom he had issue, one sonne and one daughter. God send him a joyfull resurrection"