The village of Clodoch stands on the Munnow river near the Black Mountains and is roughtly 15 miles from Hereford.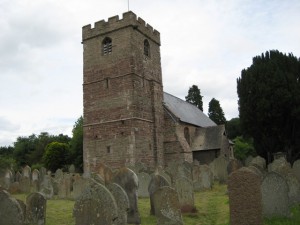 St. Clydog church dates from the 12th century, and was built over the tomb of St. Clydawg.   It has a large 15th century tower which was not only used as a bell tower but also as a defence against the marauding Welsh.
This church boasts  9th century stone inscribed in Latin – "This tomb holds the remains of the faithful and dear wife of Guinnidas, who was herself a native of this place".
Clodock church is dedicated to St Clydawg, King of Ewias, who was martyred about 500AD. The present building stands on the site of his tomb, beside the river Monnow and overlooked by the Black Mountains. It dates from the 12th century and is Grade 1 listed.
There is a 17th century  three deck pulpit which dates from the 17th century and is believed to be one of the best in the country.
Font
The font in St. Clydog church dates from the late 13th century