The original Croft Castle is thought to have been built in the eleventh century by Bernard de Croft, a Norman Knight, who was succeeded by many eminent Crofts, including Hugh de Croft – murdered in 1317 by the Herefordshire Lacys whilst trying to negotiate peace in Ireland.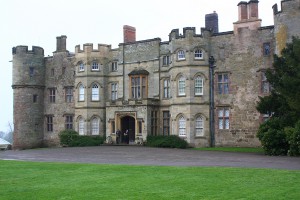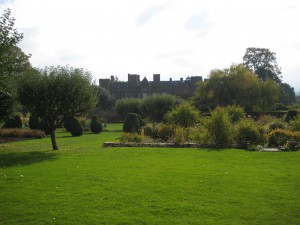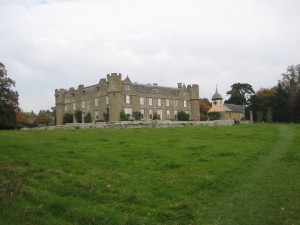 In his lifetime Hugh was not only an MP for Herefordshire but was also Sheriff of Staffordshire and Shropshire. There was also Sir John de Croft who was Governor of Merk Castle in France and was involved in negotiations in Flanders between 1402 and 1404, and who married Janet, a daughter of Owen Glyn Dwr (whose leather-clad ghost is reputed to wander the Castle; as nobody knows where he died or was buried, then I suppose that this lovely building is as likely a place as any).
The Croft family remained at the castle through the centuries, until circumstances forced the sale of the castle, and then in July 1922 Croft Castle was put up for let; it was described as a fine old historical border castle with the finest trout and grayling fishing in the county. The Estate Agent's blurb tells us that there is central heating, electricity, modern drainage, telephone and an unfailing water supply. Also, stabling for 9 horses and two carriage houses.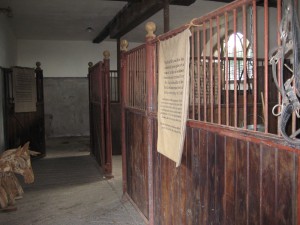 In 1923 the Trustees of the manor, Sir James Croft 11th Baronet bought back Croft Castle from the Kevill Davies family. Sir James was killed in 1941 when on active service with No.1 Commando, and he was buried in the parkland of the castle. Sir James bequeathed the castle to his cousin the 1st Lord Croft, who was the Under Secretary of State for War at the time.
A few years later, Lord Croft's son Michael managed to buy back the rest of the estate, but when hit by massive death duties was forced to sell the castle. However, he managed to ensure that it remained in the family by finding a buyer in Major Owen Croft, but when the Major died in 1956 the castle and estate's future was once again uncertain.
A partnership between the Ministry of Works, the National Trust and the Croft family saved the day, and a grant was given for essential repairs. The National Trust took over the freehold, but Lord Croft and other family members provided an endowment for maintaining the property – they still live there and one hopes that descendants will continue to enjoy their ancestral home.
Sir Richard Croft
Richard Croft was a great warrior in the fifteenth century, and at the Battle of Teweksbury in 1471 took prisoner the unfortunate youth, Prince Edward, son of Henry VI. He was Sheriff of the County of Hereford – fought at the Battle of Mortimer's Cross, on Croft land, the outcome of which put King Edward IV on the throne.
James Croft
James Croft, was appointed MP for Herefordshire and in 1551 was made Lord Deputy of Ireland by King Edward VI, a position he held for just one year before he became Deputy Constable of the Tower of London……..a position of trust possibly bestowed on him because of his friendship with Lady Jane Grey. He certainly was in the forefront of the pro Queen Jane movement in Herefordshire, which was quashed, but on 21st February 1554 he was imprisoned in the Tower of London for being part of the Wyatt rebellion. He was released with his life on 1st January the following year, but after gaining the affections of Queen Elizabeth who made him Governor of Berwick he found himself on the losing side at the Siege of Leith, and was accused of bad mouthing General Lord Gray whilst favouring the French. Although he lost the title of Governor of Berwick, the Queen still liked him and gave him control of her household – perhaps an unwise decision given that later papers suggest that he betrayed her secrets and frequently lied to her. He died in 1590 and was interred in Westminster Abbey with a simple gravestone.
William Croft
In 1643, William Croft was captured at the siege of Hereford, then was killed in 1645 fighting for the King at Stokesay in Shropshire. His brother Herbert who was Dean and Bishop of Hereford, was given a Baronetcy, along with his son, in recognition of the services of the Croft family, and also in 1645, Royal troops more or less dismantled much of Croft Castle in order to prevent the Parliamentarians from taking possession during the Civil War, and the Croft family subsequently found that they just did not have the finances to hold on to and restore the Castle. They were forced to mortgage the Castle to the Knight family who carried out many alterations to the interior, and it then passed by marriage to the Johnes family and was sold in September 1878 by Thomas Johnes (Jones) MP for Cardiganshire, to Somerset Davis of Wigmore for fifty six thousand pounds.
He carried out further restorations to the exterior, and modernised the interior. The only daughter of Somerset Davis – Anne Isobella – married the Rev. James Kevill and he subsequently moved in with her at the Castle. (I cannot resist adding a report that was directly beneath the announcement of this marriage……..namely that during the firing of the guns in the park to celebrate the birth of the King, several schoolboys and others climbed over the fence and walked in front of the guns…….they were hit by the wadding, and unfortunately two died whilst the others were "desperately wounded"; one being "shot completely through" and another "had certain parts of his body carried entirely off".)
Sir Herbert Croft
Whilst perusing eighteenth century newspaper articles, (a most delightful way to spend a few hours!) I was struck by how vague and inaccurate many of the reports were at that time; for instance, in November 1720 the death of Sir Herbert Croft of Croft Castle, MP for Hereford was announced……….that bit was correct, but then according to which paper you read, it was his brother/eldest son named Andrew/Archer/Arthur who took on the estate and title of Baronet.
Sir Herbert died in Paris aged 65- he had lived for 15 years in a Monastery in Flanders spending his time in solitude and religious devotion. He was described as an author of some celebrity, and one of the few remaining literary friends of Dr. Johnson.
Herbert George Denman Croft
On Monday 18th November 1861 Herbert George Denman Croft, born 1838 and only son of Archer Denman Croft, Baronet, was called to the Bar, having been educated at Eton and being a Master of Arts at Oxford University. He married Georgiana Eliza Lucy Marsh in January 1865 and moved to Lugwardine Court in Herefordshire.
February 1867 Sir Herbert croft was in attendance at a meeting of the Central Chamber of Agriculture and the Turnpike Trusts, along with other Members of Parliament from all over the country. After a long and animated discussion they decided that a full enquiry into the system of turnpikes had shown them to be vexatious and expensive, and that under certain conditions the abolition of turnpike trusts in their present form would be beneficial, and that as some trusts were already in the process of being abolished, inflicting serious hardship and injustice on certain parishes it was thought that turnpike trusts should be abolished simultaneously and that future provision for the maintenance of all public roads should be settled by legislation on a fair and equitable basis. They also thought that as much of the cost of setting up the turnpike roads was incurred for Imperial purposes, then the consolidated fund should aid in the liquidation of the remaining debt when that debt has been fairly appraised and validated. A deputation was appointed to take these proposals to the Home Secretary.
Sir Herbert owned at least one racehorse, Arabia, which had success running at Hereford. Clearly a keen racing man, he was on the board of stewards at Hereford racecourse. He also was a renowned pig breeder, and won prizes at local shows for his Berkshires, and was President of the Ledbury Agricultural Society.
Sir Herbert Croft and Politics
Sir Herbert was proposed as succcessor to Mr. King who had been Conservative MP for Herefordshire for many years. In November of that year he canvassed in Ledbury to great reported success, although he was up against Michael Biddulph who was also extremely popular. (also it was reported that a very large dog otter had been captured in Leddon brook at Ledbury – the newspaper gave equal space and importance to the two articles!) Sir Herbert Croft was elected to parliament and made his debut speech in an amusing and passionate manner on 3rd March 1869, in which he stoutly defended the views of the yeomen of Herefordshire regarding expenses for MPs during elections being born by local rates – they resented the idea of having to pay for elections. At the time, all expenses were born by the contestants, which precluded any normal people from taking part.
Later in the same month, he was busy campaigning for a new government dept to be set up to deal specifically with agriculture. He was heavily involved in conserving salmon fisheries, and later he was instrumental in campaigning for rates to be removed from hospitals, infirmaries and dispensaries.
1870 found him on the side vehemently against giving women the vote. The anti women voter brigade were roundly beaten, with Sir Herbert's arguments being condemned as weak.:
The matter was debated at length in the House of Commons, with an astonishing statement from a Mr. William Fowler who believed that women should not be given the vote because it would cause them annoyance and persecution – he said that they belonged in the home not in politics, and with insight, worried that women voting would lead to them securing seats in Parliament. Something which scared him rigid it seems, along with Sir Herbert who added that he really didn't see the need for it. After this, poor sir Herbert was warned in the press that he would suffer greatly at the polls for his views.
In 1873 Sir Herbert announced his intention to stand down as MP for Herefordshire, having entertained the House for many years with his witty and sometimes hilarious speeches, however he served on the Bench at Hereford Magistrate's Court and was rather strict by all accounts. For example, one prisoner – a labourer by the name of William Taylor – was charged with stealing a peck of turnips valued at 3s; Sir Herbert fined him 2s 6d plus costs of 7s 6d and imprisonment for seven days with hard labour. Still, he maintained a glorious sense of humour which was frequently reported on cases that were brought before him. Meanwhile, his wife was having babies at a phenomenal rate! Sadly, there were some mortalities.
As a matter of local interest, in 1881 Sir Herbert presided over a meeting to decide what steps should be taken to lessen the damage done to land by the constant floods on the River Lugg. It was suggested that £100,000 was needed to carry out the necessary work, but Sir Herbert dismissed this and said that it could be done for £25,000. Either way, it was a vast sum of money for the time!
He became an Inspector of Constabulary which involved travelling all over the country, and died 11th February 1902.
Sir Richard Croft. Bart. M.D
Sir Richard succeeded to the Baronetcy on the death of the above Sir Herbert Croft, who was well known in the literary world and he served an apprenticeship to Mr Chavasse an apothecary at Burton upon Trent, where he showed himself to be very intelligent and capable; after this he was sent up to London to complete his medical education as a pupil under the celebrated Dr. Hunter. A fellow pupil, Dr. Baillie, set him up with lodgings with Mr. Denman who became the most celebrated Accoucheur doctor of his time. (Accoucheur being a word for male obstetrician or midwife…….my readers may tut and say that they knew this!)
Sir Richard started his career as a surgeon, apothecary and man-midwife at Tudbury, where his love of field sports brought him into contact with Lord Vernon, and from there he moved to Oxford and then back to London, where he renewed his contact with Mr. Denman and subsequently married one of his daughters. Following this, Mr. Denman gradually retired from practice thus allowing Sir Richard to succeed him.
Sir Richard Croft and Princess Charlotte Augusta
In October 1817, Sir Richard was amongst those who appointed a wet nurse who was to attend to the expected royal infant of Princess Charlotte Augusta, daughter of the Prince Regent, and wife of Prince Leopold. In the early hours of Tuesday 4th November 1817 Princess Charlotte went into labour, and the various privy councillors who were to be present at the birth were sent for, along with Dr. Baillie, and once they all had arrived Sir Richard reported to them that all was progressing satisfactorily with the labour, or "illness" as he called it.
On 5th November, at around 9 in the evening, Sir Richard asked for a Doctor Sims to be sent for so that he could have consultation if necessary and Dr. Sims duly arrived at 3 the following morning. Things were clearly not going too well, but in order to satisfy a restless public waiting for news a bulletin was issued to say that Princess Charlotte's labour was progressing very slowly, but hopefully, favourably. Dr. Sims and Sir Richard consulted together, and concluded that there was no reason why the birth should not continue naturally and unassisted. This was shortly followed by an announcement that she had been delivered of a still born son, but that she herself was fine. The child was perfectly formed, and was deemed to have been alive right up until the moment of birth, although it was later suggested that due to the size of the head and formation of the skull, the birth might well have been up to a month overdue. Princess Charlotte was reported to be calm and composed, and seemed to be recovering well so all the doctors retired for the night. However, when she was offered soup a little later she had great trouble swallowing and complained of pains and feeling cold. She started having "spasms" or seizures, and the doctors were hastily recalled but their efforts were in vain. On 6th November, with great shock it was announced that Princess Charlotte had died
Sir Richard Croft falls from grace following the death of Princess Charlotte
It was not long before the sniping began………people were outraged to discover that the princess had no attendants at Claremont who could in any way be useful to her during her pregnancy or childbirth, and there were mutterings of how strange it was that her only doctor was one that lived 16 miles from London, and that Dr. Sims was only sent for when the princess had been in labour for some time, and his presence was in a purely advisory capacity – he did not assist at the delivery. Reading between the lines of the quaintly worded letters etc., I think that one of the beefs was that if Charlotte had been a commoner then Richard would have been able to rummage around a little if the baby needed help to be born……however, with royalty, and with no Matron or experienced lady in any shape or form present, he would not have been able to touch her. I may be wrong of course! Her father The Prince Regent however remained above all the gossip and sent a letter to Richard saying that he blamed him not one jot, and that he believed that nobody could have prevented what happened. He also stressed that he had utmost confidence in Richard's abilities as a doctor. There were others who stoutly defended Richard, and who were appalled by the bitter and angry backlash which was relentlessly picking up pace and attacking Richard's integrity and professional ability.
On 2nd December, Prince Leopold added his support for Richard by having a letter sent to him in which he assured him that he held him in high esteem and knew that he had done all that he could for his wife. He also expressed concern over the increasingly worrying mental state of Richard.
He was not the only one to be worried – many of his friends and colleagues were becoming increasingly alarmed by Richards state of mind; he was deeply depressed and was behaving at times very oddly., as well as seeming to have lost all confidence in his abilities as a doctor and when the princess's body was being prepared for embalming, he was reported to be extremely upset and agitated.
Suicide of Sir Richard Croft
On the Friday morning of 13th February 1818 it was made known that Sir Richard Croft, 57, had died suddenly at the house of Mrs. Thackeray, a lady in Wimpole Street, whom he was attending in labour. Ever since Princess Charlotte died, Sir Richard had been severely affected mentally, and his friends were so worried that they were probably expecting something of this nature. Various rumours had been circulating of a very delicate nature (concerning him substituting a high born girl for a low born boy) but the papers refused to give credence. The press was forbidden access to the inquest, due to immense pressure from family and friends who wished to keep the circumstances of his death private, however a witness account was published.
"On Monday morning early, the deceased was summonsed to attend the lady of the Rev. Dr. Thackeray, of 86 Wimpole Street, Cavendish Square. He was in attendance until Tuesday evening at 11 o'clock when finding his continued presence not necessary he went out for a time on his other engagements. An apartment in the floor above Mrs. Thackeray was appointed for Sir Richard, in the bedroom of which there were two pistols belonging to Dr. Thackeray. Sir Richard retired to bed at half past twelve on Thursday morning; about one o'clock Dr. Thackeray heard a noise apparently proceeding from the room occupied by Dr. Croft, and sent a female servant to ascertain the cause. She returned to say that she found the doctor in bed, and conceived him to be asleep. A short time after, a similar noise was heard and the servant was once again sent. She rapped at the door but received no answer. This circumstance created alarm, in consequence of which the door of his apartment was broken open. Here a shocking spectacle presented itself; the body of Sir Richard Croft was lying on the bed shockingly mangled, his arms extended over his head and a pistol in each hand. Both were discharged and the head of the unfortunate gentleman was blown to pieces." (Dr. Thackery later refuted this, and claimed only one gun was discharged and that there was no facial disfigurement, only the removal of the back of his head. It seems that different witnesses had differing accounts.
The jury concluded that he killed himself whilst in a fit of temporary derangement.
Mrs Thackeray was safely delivered of her child, but was not immediately told of what had happened. Prince Leopold, the grieving husband of Princess Charlotte, was devastated by the news of the death, and was inconsolable – he clearly had great regard of Sir Richard.
The body was taken to Sir Richard's house in old Burlington Street, he being survived by a rather ill Lady Croft, the daughter of the late Dr. Denman.
Sir Richard Croft, King George IV and Mrs. Fitzherbert
Unfortunately, his death did not stop the gossips from coming up with stories to discredit Richard, and the talk in February 1818 amongst society was that some years previously an unnamed Lord made both his duchess and his mistress pregnant at the same time……..they were delivered of a girl and boy respectively in the same house in Paris at roughly the same time, attended by Sir Richard. The story went that he was privy to the swapping of the babies so that the boy inherited one of the largest estates in England, whilst the girl was brought up as an illegitimate. Some considerable time later, in 1839, a woman named Sophia Elizabeth Guelth Sims came forward claiming to be the daughter of King George and Mrs. Fitzherbert. She was reported to be well dressed, and she claimed that she wanted nothing but her rightful due of money for maintenance etc. She claimed that her nurse, on her deathbed, had told her about the complicity of the Duchess and Sir Richard, and the innocence of Mrs. Fitzherbert (King's mistress). The Lord Mayor presiding at the hearing, wondered why she had waited so long to come forward, and dismissed her claim as preposterous. Mrs. Guelth Sims said that her mother had been told that her child, a boy, was still born, when in fact he was given to the Duchess, and that she herself was brought up as a nobody, given to the care of a woman named Bosville in France, where an attempt was made to assassinate them both.
The Lord Mayor was still having none of this…..however she persisted and said that as well as the dying declaration of Peggy White, her nurse, Lady Jersey also sent letters testifying to her birthright. There was actually further evidence, all of which became rather muddy and muddled, and one does wonder as to the truth. However, the Lord Mayor refused to take the matter further.
There are fascinating letters which certainly seem, on the surface, to prove that this lady was in fact telling the truth, if indeed they are genuine. They detail not only the circumstances of her birth, but also the necessity for total secrecy; letters from the woman that she believed was her mother, confessing that she was high born and that her real mother believed her stillborn. They are all very convincing, but when reading through I am struck by the excessively sickly devotion that each writer had for the girl……..in fact the tone of each letter is remarkably similar. Could it be that she wrote all these letters herself? Certainly if she did, she was remarkably clever and well educated considering her lowly upbringing. I also wonder why, given the dangers of revealing such a secret, any of this would have been committed to paper.
Anyway, the press ran with the story……all of them printing the letters, and some going so far as to headline it as "Kings daughter married to a journeyman baker" and "newly discovered daughter of King George IV and Mrs Fitzherbert", however no concrete proof was ever put forward. To this day, there are those who believe that they are descendants of King George and Mrs. Fitzherbert – perhaps a dna test would help to determine the truth once and for all!
Having grown very fond of poor sir Richard during my research, I would much rather believe that he had nothing to do with any swapping of babies simply because of their gender.
Archer Denman Croft
An obituary in January 1865, which nicely sums up his life, was written thus:
"Sir Archer Denman Croft, 8th Baronet of Croft Castle in the county of Hereford, whose melancholy and sudden death at his town house, 1 Sussex Place, Hyde Park, occurred on the 10th instant on the very evening of his son's wedding. He was the second son of Sir Richard Croft, the 6th Baronet, by his wife Margaret, daughter of Thomas Denman M.D. He was born December 7th 1801 and was educated at Westminster School. He was called to the Bar by the Hon. Society of Lincoln's Inn, having been appointed a Master of the Court of Queen's Bench in 1838. Sir Archer married August 3lst 1837, Julia Barbara, widow of Athelston Corbet. He left a daughter, Julia Helen and his only son, Herbert George Denman Croft the 9th Baronet.
The Kevill Davies family
We cannot ignore the Kevill Davies family who held Croft Castle for several decades, and who wholeheartedly threw themselves into Herefordshire life. Mr. & Mrs. Kevill Davies regularly attended local and not so local hunts, and on occasion they hosted the Herefordshire Bow Meeting, where archery skills were on show – shooting in August 1854 was declared to be excellent, and the contest was followed by dancing and feasting at the Castle. They were definitely not short of a bob or two, and moved in Royal circles as well as the best of high society, moving to their town house in London each year in time for "the season". In February 1857 Kevill Davies stood as the Conservative candidate for Hereford but was defeated by the Liberal candidate. However, he continued to do his bit for Herefordshire, for example he chaired a public meeting regarding the drainage of the land between Leominster and Orelton which was causing considerable problems.
Later in the same year, poor old Kevill Davies was loading his gun when it exploded………unfortunately, the injuries incurred resulted in the amputation of his arm below the elbow.
A son of Mr. Kevill Davies had a very able chestnut racehorse – a steeplechaser by the name of Prince George which was trained and run in Ireland and England – he was entered for the Irish Grand National in 1875 but I am so far unable to find out his fortunes in that race! However, Mr. Kevill Davies himself was no mean rider, and he regularly rode, and won, with his own horses. He became a Steward, and travelled around the racecourses in England.
Captain William Trevelyan Somerset Kevill Davies
A son of the above Mr. Kevill Davies, he was born in 1817 and was educated at Eton. He entered the army and received a commission in the 17th Lancers. He served with that regiment throughout the Zulu campaign, and at the battle of Ulundi he distinguished himself. In the heat of fighting, he noticed a member of his regiment unhorsed and surrounded by Zulu warriors; he found and caught a loose horse and galloped over to the man – at great risk to his own life he got him remounted and they both returned to the charge. The soldier wrote later to his father, recounting that his horse had been killed under him and he had been left standing in the centre of crossfire, and had it not been for the incredible bravery of Kevill Davies he would be a dead man.
In September 1879 he was promoted to Captain of the 17th Lancers, however in August the following year this was cancelled when he retired from the service. Shortly afterwards, the puzzling reason for this became clear…………his fellow soldiers were constantly talking of the extremely shabby way that he had been treated by the Horse Guards. Captain Kevill Davies gained his troop on the death of Captail Wyatt Edgell who was shot at Ulundi, and was declared to be one of the most popular men in the cavalry with pluck abounding, and a superb horseman. Every brother Officer swore by him, and nobody at the Cape behaved better or deserved his promotion more. Yet, after having earned it in the field, when he returned home he was required to pass a special army exam before he left the service, or have his promotion cancelled. He refused to take this exam, and everyone backed him up in his decision, – the meanness and shabbiness of the Horse Guards was universally condemned.
He became a Magistrate in Herefordshire and lived a quiet life in the County before dying on Christmas Day 1896 aged 48.
Lft. William Albert Somerset Herbert Kevill Davies
Lft. William Albert Somerset Herbert Kevill Davies, 7th Hussars attached to the 9th Lancers, died of wounds received at Ypres on 15th May aged 38. He served during the South African war, and was mentioned in Despatches as well as received the Queen's medal and four clasps.
Rev William Trevelyan Kevill Davies
In 1887, the Rev William Trevelyan Kevill Davies was the subject of High Court action by a certain Fanny Emma Russell who was claiming annual annuities for her child. It transpired that in 1862 the Rev. prepared Fanny for Confirmation and that the pair became close, extremely close, resulting in Fanny becoming pregnant in 1864. In November the following year, she gave birth to a child of which the defendant was the father. In the previous month, the Rev. had executed a Deed that stated that if Fanny reached 21 and was still single, then he would pay her £150 a year until either her marriage or death. He also covenanted £1000 for the child on surviving the mother, reaching 21 or marrying.
Once the child, Eva, was born, Fanny lived with her mother as a "widow" and in 1869 reached the age of 21 being still unmarried. The annuity became payable, and WAS paid until 1882, however during this time Fanny met a man and desperately wanted to marry him, and frequently wrote to the Rev. asking him to relieve her of the constraints of the Deed, saying that she would go out of her mind if not allowed to do so. The defendant executed another Deed, by which he confirmed the original one and also covenanted £50 a year if she should marry – all quite reasonable I would have thought, especially as he also provided her and Eva with a house He also made it quite clear that this payment would only be continued if she refrained from hassling him or his family and friends, as it was becoming exceptionally tiresome.
However, Fanny was slowly becoming mentally deranged, and began a serious campaign of "molestation and annoyance" towards the Rev. She would find out where he was staying and rant and rave in the street outside, to such an extent that frequently the police had to be called. Eventually she went completely mad, and was incarcerated in a mental institution in Church Stretton, Shropshire. The annuity was cancelled as she had broken the terms of the Covenant, but the Rev. did try to settle matters out of court.
This was not the end of the story however, because Fanny was released from the mental home and in 1890 she threatened to kill the Rev Kevill Davies unless he paid the considerable amount of money she considered to be owing to her, and was so persistent that he eventually brought her to trial for her threats; at her court appearances she was clearly absolutely beside herself, screaming and shouting and talking complete nonsense, and although cautioned to behave herself, she eventually had to be forcibly removed from the room. Even then, she continued to rant during her removal, demanding the money rightfully due to her from the Rev. The case was adjourned, but a couple of days later the Rev. withdrew the charges against Fanny and the matter was forgotten by the papers……..however, perhaps the whole sorry business took it's toll, and in 1892 he resigned as Rector of Croft and Yarpole and presented the stipend to one of his sons, Rev. E. Kevill Davies
Five years later, the Rev. was declared bankrupt – his debts amounting to nearly £62,000, which he blamed on agricultural depression and the subsequent falling off of his income. He admitted to living above his means and then incurring huge interest payments on borrowed money. Shortly afterwards, he began selling off valuable paintings, silver and crockery from Croft Castle – one of the paintings, a portrait of the former owner's wife Mrs. Somerset Davies by George Romney, was sold for 1290 guineas; thereafter the creditors were gradually paid off
Croft Castle residents and servants  – 1841
| | | |
| --- | --- | --- |
| Anne Davies | 73 | |
| Anne Kevill | 15 | |
| Margaret McAnulty | 30 | Servant,b. Scotland |
| William Phelps | 35 | Servant |
| Richard Hinde | 35 | Servant |
| John Norman | 25 | |
| Benjamin Powell | 20 | b. Herefordshire |
| Richard Thomas | 40 | |
| Joseph Smith | 30 | b. Herefordshire |
| William Everal | 15 | b. Herefordshire |
| Mary Cane | 25 | |
| Hannes (?) | 35 | b. Medhurst |
| Maria Broad | 30 | |
| Mary Handley | 15 | |
| Ann Price | 30 | |
| Jane Hooper | 15 | b. Herefordshire |
| Sarah Dyke | 15 | b. Herefordshire |
Croft Castle residents and servants – 1851
| | | |
| --- | --- | --- |
| Mary Marriott | 40 | Housekeeper, b. Derbyshire |
| Ann Price | 35 | General Servant, b. Radnorshire, Wales |
| Sarah Smith | 19 | Housemaid, b. Lugwardine, Herefordshire |
| Richard Thomas | 30 | Coachman, b. Shropshire |
| John Bland | 17 | Page, b. Maidwell, Northamptonshire |
| Joseph Smith | 42 | Groom, b. Lugwardine, Herefordshire |
| Maria Smith | 42 | Wife of above, Housemaid, b. Chaddesley, Worcestershire |
| Ann Smith | 2 | Daughter of above, b. Croft, Herefordshire |
| John Smith | 1 | Son of above, b. Croft, Herefordshire |
| Margaret Thornton | 15 | General Servant, b. Yarpole, Herefordshire |
| Ann Owen | 14 | General Servant, b. Yarpole, Herefordshire |
Croft Castle residents and servants –  1861
| | | |
| --- | --- | --- |
| Rev. William Kevill Davies | | |
| Ellen Kevill Davies | | |
| Ellen Isabella Kevill Davies | 14 | Daughter, b. Bath, Somerset |
| William Kevill Davies | 13 | Son, b. Bath, Somerst |
| Augusta T.C. Kevill Davies | 11 | Daughter b. Leamington, Warwickshire |
| Somerset Edward Kevill Davies | 9 | Son, b. Croft Castle, Herefordshire |
| Harry B.R. Kevill Davies | 8 | Son, b. Croft Castle, Herefordshire |
| Ernest L.B. Kevill Davies | ? | Son, b. Croft Castle, Herefordshire |
| Albert Kevill Davies | 5 | Son, b. Leamington, Warwickshire |
| Edith Kevill Davies | 4 | Daughter, b. Croft Castle, Herefordshire |
| Eva M. Kevill Davies | 2 | Daughter, b. Croft Castle, Herefordshire |
| Grace Davey | 26 | Governess, b. Westminster |
| Ann Angles | 20 | Governess (did not know where she was born) |
| Jane Philips | 28 | Head Nurse, b. Holywell, Herefordshire |
| Eliza Carvil | 22 | Second Nurse, b. Arthingworth, Northamptonshire |
| Isabella Cook | 17 | Third Nurse, b. Shropshire |
| Charlotte Warne | 29 | Head Housemaid, b. Bloxham, Lincolnshire |
| Sarah Randall | 28 | Upper Laundress, b. Buckinghamshire |
| Mary Shelton | 19 | Second Laundress, b. Huntingdonshire |
| Savina Taylor | 22 | Pitcher Maid, b. Nottinghamshire |
| Lucy Withers | 21 | Housemaid, b. Haddon, Worcestershire |
| Mary Owen | 23 | Dairymaid, b. Wigmore, Herefordshire |
| Mary Dale | 30 | Housekeeper, b. Yorkshire |
| Mary Ann Lister | 31 | Lady's Maid, b. Leamington, Warwickshire |
| Elizabeth Ashley | 22 | Pitcher Maid, b. Hopton Wafer, Shropshire |
Croft Castle residents and servants –  1871
| | | |
| --- | --- | --- |
| Ellen Martha Kevill Davies | | |
| Ellen T.K. Kevill Davies | 20 | Daughter of above, b. Bath Somerset |
| Augusta Kevill Davies | 18 | Daughter, b. Leamington, Warwickshire |
| Harry Kevill Davies | 17 | Son, b. Croft, Herefordshire |
| Eva Kevill Davies | 11 | Daughter, b. Croft, Herefordshire |
| Walter Taylor | 28 | Butler, b. Cirencester, Gloucestershire |
| Sarah Pinch | 20 | Housemaid, b. Leominster, Herefordshire |
| Mary Rollins | 19 | Cook, b. Aymestry, Herefordshire |
| Anne Whitefoot | 22 | Dairymaid, b. Leintwardine, Herefordshire |
| William Harper | 17 | Footman, b. Orelton, Herefordshire |
| Josephine Jurant | 30 | Lady's Maid, b. Austria |
| Sophia Downel | 40 | Cook, b. Chelsea, Middlesex |
| Johanna Scott | 27 | Lady's Maid, b. Southampton |
| Mary Griffiths | 27 | Housemaid, b. Caernarvenshire |
| Emma Garner | 27 | Dairymaid, b. Cheshire |
| Eleanor Godfrey | 27 | Kitchenmaid, b. Hertfordshire |
The Gardeners, Grooms, and shepherds etc. lived in cottages on the estate.
Croft Castle residents and servants  – 1881
| | | |
| --- | --- | --- |
| William Kevill Davies | 54 | Clergyman Church of England and Curer of Souls, b. Bath, Somerset |
| Ellen Martha Kevill Davies | 54 | Wife b. Newcastle Court, Limerick, Ireland |
| Henry B.R. Kevill Davies | 28 | Son and Gentleman |
| William Scott | 31 | Butler b. Dullingham, Cambridgeshire |
| Wright Jebb | 20 | Footman b. Knutsford, Cheshire |
| Sophia Downel | 40 | Cook b. Chelsea, Middlesex |
| Johanna Scott | 27 | Lady's Maid b. Southampton |
| Mary Griffiths | 27 | Housemaid, b. Caernarvenshire |
| Emma Garner | 27 | Dairymaid, b. Cheshire |
| Eleanor Godfrey | 27 | Kitchenmaid, b. Hertfordshire |
Croft Castle residents and servants – 1921
| | | |
| --- | --- | --- |
| Thomas Faucett | b. Yorkshire 1889 | Odd man |
| Sidney Thomas Abrahams | b. Devon 1893 | Footman |
| Christine Bannerman | b. Rutland 1899 | Scullery Maid |
| Clara Ellen Clayton | b. Saxilby, Lincolnshire 1880 | Housemaid |
| Sarah Grant | b. Saxilby Lincolnshire 1898 | Housemaid |
| Evelyn Iseton | b. South Bank, Yorkshire 1902 | Housemaid |
| Jessie Maud Harrison | b. Norton, Radnorshire, Wales 1905 | Housemaid |
| Laura Barrell | b. Kilpeck, Herefordshire 1896 | Kitchen Maid |