The Manor of Stoke Edith was owned by Sir Henry Lingen 1612-1662, a Royalist Cavalier.  When he died, his widow Alice sold the manor in 1670 to Thomas Foley, an ironmaster, who then settled it on his son Paul;  Paul tore down the old manor and built a grander home in the late 17th century, with lovely formal gardens formed initially by George London a landscape architect, and then William Nesfield in the 1860s.  Later, Humphrey Repton and John Nash got together and their work is still evident today.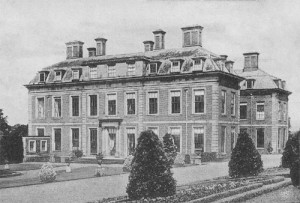 This picture was kindly supplied by http://www.lostheritage.org.uk.
The manor was destroyed by fire in 1927 but the lovely entrance gates and lodge are still intact and currently the grounds are extensively used for shooting.