Although there has been a settlement in Wellington Heath from the early Middle Ages there was no established church until the mid 19th century. Until then villagers had to walk to Ledbury or Coddington for any religious ceremonies.
In 1840, plans and specifications for the building of the new church were available to be viewed in the offices of solicitors, Messrs. J. and R. Higgins in Ledbury.  Tenders were invited for the work, and the land was given by Thomas Heywood of Hope end, who also gave all the necessary funds for the building as well as the stone for construction.
The Opening of the New Church – 15th July 1841
By 1841 the new church was completed; and was opened in July on a glorious bright and sunny morning.  Indeed, the lovely weather held out until the whole ceremony was over, and then the heavens opened with torrential rain and thunder.
It is worth noting, that this was the first church to be consecrated in Herefordshire for over a hundred years.
The procession began at eleven, from Hope End, the house of Thomas Heywood;  the Bishop was attended by thirty clergymen of his diocese, and a large number of gentry and yeomanry along with many elegantly dressed ladies, added their weight to the proceedings.
The inhabitants of Wellington Heath said that they had never seen anything so grand.
The Rev. James Watts of Ledbury read the prayers, and the Bishop performed the service;  the Very Reverend the Dean of St. Asaph preached the sermon, and it was declared to be the best and most appropriate ever heard, with the congregation listening with rapt attention.  He strongly reprobated the Mormonite leaders "who endeavoured to persuade their followers that the New Jerusalem, mentioned in the Holy Writ, alluded to an earthly city, and urged the poorer part of his audience not to be led astray by such dangerous and ridiculous doctrines."
Afterwards, the congregation went out into the churchyard, where under a poplar tree the Reverend Prelate spoke the beautiful service to hallow the ground where people were to be buried.
Thanks were given to the architect, Mr. Matthews of Ledbury.

Christ Church was not exactly pretty in its early form, but gradually the building was enlarged and improved. Sadly, in May 1944 fire destroyed the roof and some of the interior, and it was not until the late 20th century that money became available to fund the building of a new church.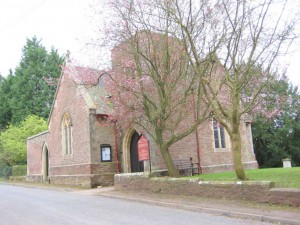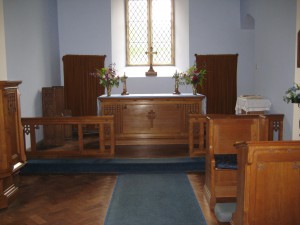 Font
Survived from the original church