Hereford is a most beautiful city and if you are ever in the area then the Cathedral is a must to visit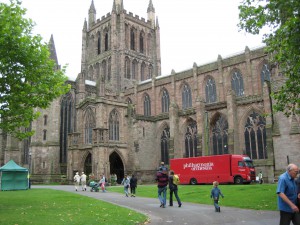 The Cathedral contains many treasures including the world famous Mappa Mundi, a fascinating 13th century map of the world, and the incredible Chained Library. Christopher de Hamel, a top authority on medieval maps, had this to say about the Mappa Mundi………"it is without parallel the most important and most celebrated medieval map in any form, the most remarkable illustrated English manuscript of any kind, and certainly the greatest extant thirteenth-century pictorial manuscript."
Of interest to some maybe, there is an unrepealed Law which states that if you care to loiter around the Cathedral Close on a Sunday, you are fully entitled to shoot a Welshman with your longbow!
David Garrick
Playwrite, director and actor, was born in Hereford on 19th February 1717.
Nell Gwynn,
Actress and mistress of King Charles ll, is reputed to have been born in Hereford – 2nd February 1650.
Beryl Reid
Actress, was born in Hereford on 17th June 1920.
The Freemasons and Hereford Cathedral
The Freemasons have long had associations with Hereford Cathedral and hold their annual Church Service here every June. There are many Masonic references throughout the Cathedral, including the following:
A brass plaque to the memory of Hon James Wentworth Leigh, the Dean of Hereford Cathedral from 1894 to 1919, and Provincial Grand Master for Herefordshire from 1906 to 1923.
Masonic symbols above the doors of the vestibule include those of Craft, Royal Arch and Mark.
A plaque in memory of the Venerable Richard Lane FreerDD, Archdeacon of Hereford and Deputy Provincial Grand Master from 1860 to 1863.
Around the keyhole of the organ loft door is the Mark Master Mason's mark of Sir Percy Hull – Grand Organist and a founder of Vaga Lodge.
A brass plaque for Wilfred Townshend Carless, born 1875, who died in the battle at Gallipoli on 16th July 1915.
The Freemasons of Herefordshire provided some funds to help restore the East Windows. Beneath the windows in the Close is a beautiful carved slate roundel depicting all the relevant mason's marks and also displaying the Square and Compass.
magnificent altar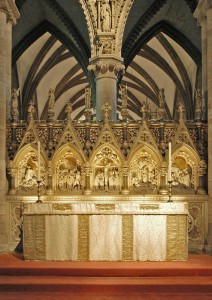 photograph reproduced with the kind permission of the Dean and Chapter of Hereford Cathedral
nave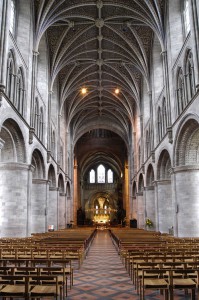 image reproduced with the kind permission of the Dean and Chapter of Hereford Cathedral
Shrine of St. Thomas Cantilupe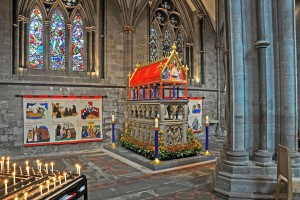 image reproduced by kind permission of the Dean and Chapter of Hereford Cathedral
The images of the altar, font, nave and shrine of St. Thomas Cantilupe are all courtesy of The Dean and Chapter of Hereford Cathedral to whom I am most grateful; – the interior of this Cathedral is so very beautiful, with so many wonderfully interesting tombs and plaques, and the best thing to do if you need any internal images is to visit the following website from where you can purchase good quality high resolution pictures. http://www.herefordcathedral.org/
Font

image reproduced with the kind permission of the Dean and Chapter of Hereford Cathedral