This little church was not always such a pretty sight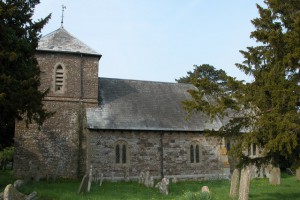 Back in the mid 19th century, it was reported that
"the probability is that a large percentage of the number who visit this charming spot never dream that within a very short distance of them when they are overlooking the Holme Lacy side of the hill, there nestles a little church, hidden from view by trees.
Many times perhaps, they have heard the very humble tintintabulations of the bells and wondered where the sound came from, and on inquiry found it proceeded from Dinedor Church.
Others have been more curious and have explored the spot where the church is hidden.  If they did, we fear that in some respects they were much disappointed;  for instead of seening that neat little building, comely and clean, holy and solemn in its quietness, which rises in the mind at the thought of a rural parish, a dark grim looking, uninviting edifice stood before them, though it seemed a matter of doubt how long it would stand."
The old church was dreadfully dilapidated, with dangerous walls and an all pervading dampness.  The gallery and pews had nothing to recommend them and all in all the church did not do justice to the beautiful surroundings in which it nestled.  After close inspection, it was decided that the church was in such a bad state that restoration was not possible, and the only option was to rebuild the church entirely – to a similar size and character, and using as many of the old materials and features as possible.
The Rebuilding of Dinedor Church
On a Monday in June 1867, the foundation stone of the new church was laid under a cloudless sky.  Most of the 250 parishioners gathered to witness the ceremony'
The new church would have completely new flooring, with wood under the seats and encaustic tiles elsewhere, sourced from Mr. Godwin's works at Lugwardine.
The seats in the nave, the pulpit and the stalls as well as the altar table would all be new, and the roof would be slated and not tiled as the old one was.
The interior walls would be finished with Ashlar stone from Sir Edwyn Stanhope's quarry at Ballingham, and heating would be provided by one of Rimmington's apparatuses.
The tower would not be raised higher, and it was hoped that there would be enough funds to put a new arch within it.
All in all, the style would be of 13th century, with the builder being Mr. T. Stone of Fownhope and the cost was estimated at between £600 and £700.