St. James is situated amongst the fields high on a hill above the village of Stanford Bishop, and it doesn't matter which way you look from the circular churchyard the views are spectacular.In common with a great many churchyards, there are many yew trees of considerable age and one in particular is estimated to have been in existence well over a thousand years ago, so it probably was around at the time of the Viking invasions.
St. Augustine's Chair
Within the church in the chancel sits St. Augustine's Chair, which is said to have been used by St. Augustine 1400 years ago, although this is unproved. On it is a brass plaque with the inscription"The traditional chair upon which St. Augustine was seated at the historic conference with the British Bishops at the Second Synod AD 603″.   The chair left the church in 1885 when it was purchased by James Johnson, and on his death it went to the Canterbury Royal Museum.  It was returned in 1943.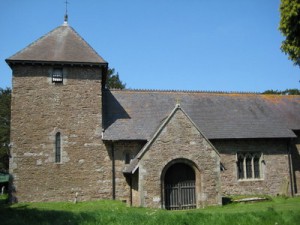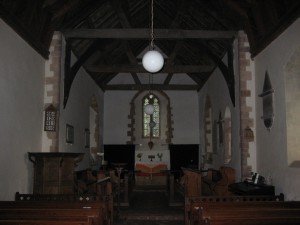 Font
The font in St. James is 13th century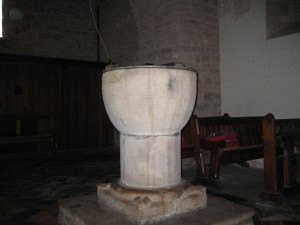 Memorials
Anna Freeman
wife of Francis, died 12th December 1802 aged 32, and also Sarah their daughter – 2nd May 1815 aged 14
Francis Freeman
died 2nd September 1815 aged 57