The church at nearby Mansell Gamage closed and became a private house in 1974, and some monuments were moved to St. John the Baptist church at Byford which dates from the 12th century.
Over the ages extensions were added and renovations were made and a new tower was built in 1715. The Victorians also did some restoration.
There are some amazing wall paintings, dating from the early 15th century which were gradually uncovered in the 1970s.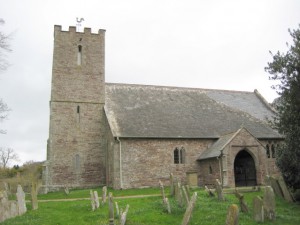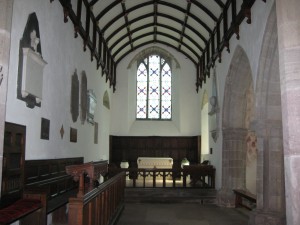 Font
Probably Victorian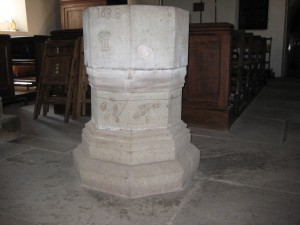 Memorial
Sir John Geers Cotterell, Baronet
One of many plaques relating to the Cotterell family. This one is for Sir John Geers Cotterell, Baronet, son of Sir John Cotterell, Knight (by his wife Anne Geers), died 26th January 1845. Also John Geers Cotterell, 2nd Baronet and grandson of preceding. Born 20th August 1830, and died at Eton College on 17th February 1847