The church of St. John the Baptist at Kings Caple is 13th century, however there were additions in the 14th century which included the tower.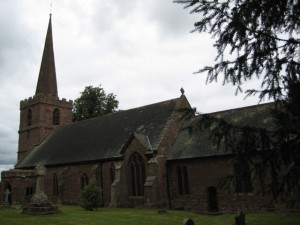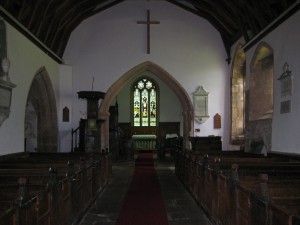 Font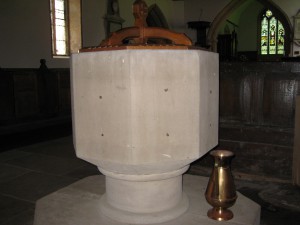 Memorials
Memorials to the Woodhouse family
The main memorial in the centre reads as follows:
Thomas Marrett, son of Thos Marrett, Gent, by Frances his wife, daughter of William Hoskyns of Gent, who died without issue Jan. 2nd 1725, leaving only 2 sisters, Elizabeth wife of Francis Woodhouse of Larpott, Gent, and Frances, wife of Joseph Watts, Clerk – being the last of the Marretts of Aramstone whose settlement there (as appears by Deeds) was earlier than y 1oth of HEN.6
This monument was erected by his nephew, Francis Woodhouse.
Bottom Left:
In memory of Francis Woodhouse Esq., Eldest son of Francis Woodhouse Gent. by Eliza his wife, sister to Thomas Marrett Esq.
He departed this life the 21st day of January 1745 in the 54th year of his age.
Bottom Right:
In memory of Anne, the wife of Francis Woodhouse, daughter and heiress of Thomas Price of the borough of Leominster, by Susanna his second wife one of the daughters of John Wittington of Gent.
She departed this life 14th November 1740 and lies buried in Leominster Church aged 40
The top right and left memorials are bowed, and are difficult to read.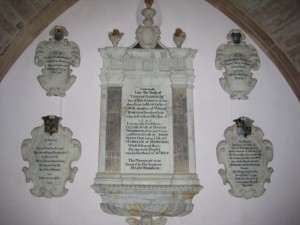 This rather beautiful memorial reads as follows:
To the memory of ELIZA, widow of the late John Woodhouse Esq of Aramstone and Yatton Court in this County, and daughter of the late Rev. William Holcombe, Canon of St. Davids.
She departed this life December 12th 1833 aged 63 years.
This tablet is erected by her grand daughter E.J. Woodhouse Ferguson of Yatton Court in gratitude for her parental care and sincere sorrow for her irreparable loss.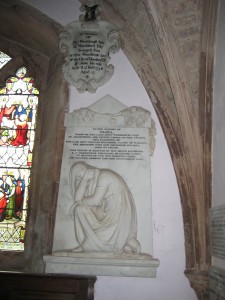 Bier
Original and beautifully preserved Bier