The current church at Yarkhill is probably over 800 years old, although there were extensive renovations in 1862, but some 13th century bits and pieces still remain, such as in the porch and the base of the tower. There are three 17th century bells, but there is a record dated 25th March 1553 relating to mediaeval bells. When the three later bells were installed, the Rev. Francis Stedman was the Vicar of Yarkhill church, (he was there for 47 years) and his son Fabian wrote the Tintinnalogia on the art of bell ringing, and his method is being used countrywide to this day. There is a memorial stone in the Vestry dedicated to the Rev. Francis Stedman.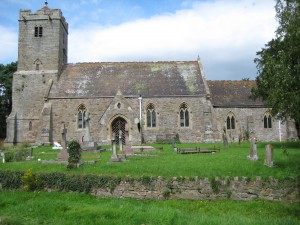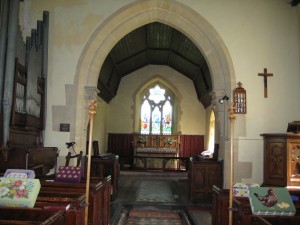 Fonts
Norman – perhaps from the original church building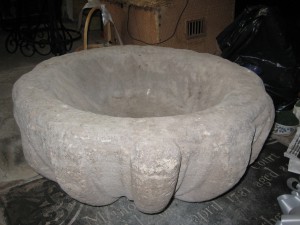 Possibly 17th century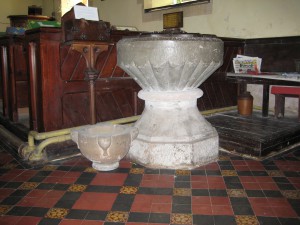 Restoration of 1862
The old parish church of Yarkhill was descending into ruin, with any original beauty being hidden by thick coats of white or yellow paint which were themselves crumbling.
It was of a plain and simple form, with just a tower, nave and chancel.  The ancient walls were very thick but had little or no foundation so proper foundations were built.
The tower and chancel did not need to be taken down, but were thoroughly restored;  the entire body of the church however needed to be rebuilt, with buttresses etc and proper drainage.
All the interior fittings were cleaned and restored and the ghastly paint was removed.
During restoration, the roof of the nave was uncovered, revealing fine open oak timber work, and more provision was made for the poorer inhabitants of the parish.
Very fine old oak, taken from the decayed church of Coaley in Gloucestershire,  was used for the pulpit and reading desk, whilst the clay floor under the seats was replaced by pine.
The crude font which used to be a pig trough, was kept in the church but a more fitting version was planned.
Church Reopens in February 1863
The building work was beautifully carried out by Messrs Ainslie and Blashill, architects of 11 Old Jewry, London, and was in the style of the 13th century, with much of the original materials being incorporated.
During restoration, an ancient carving was unearthed which now is the key stone over the south doorway.  It has the Crucifixtion on one side with two mourners, and on the other side is the baby Jesus.
Also found was a granite slab dedicated to Francis Stedman.
Preserved monumental slabs included one for a father and son with the name of Lewis, who both married a Deborah;  also, two to the Godsall family, and a marble one for John Cleife who lived at the Castle Cottage in Yarkhill.