The church of St. Mary the Virgin was constructed in the 13th century, and after a devastating fire in the mid 19th century,  was considerably restored.
The parish church of Much Cowarne was one of the oldest in Herefordshire, and in 1088 the edifice and tithes of the parish were given to the church of St. Peter, Gloucester.
In 1840, this church was struck by lightning and suffered huge damage in the resulting fire.  Shortly before this occurrence, it had been strongly recommended (after several lightning strikes had destroyed buildings in elevated positions) that tall edifices should have conductors, as was common on the continent.  The expense of fitting one was very small compared to the damage caused by a strike, as Much Cowarne found to its cost.
The parishioners wanted to restore it as much as possible to its original state, with the exception of the spire, but there was great concern about the estimated cost of six hundred pounds.
The money was raised, and the church was restored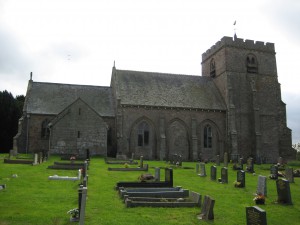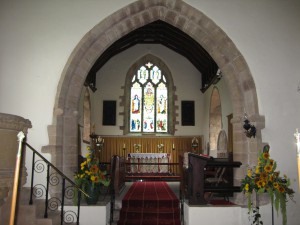 Font
The font at St. Mary the Virgin dates from the time of the restoration of the church in the 19th century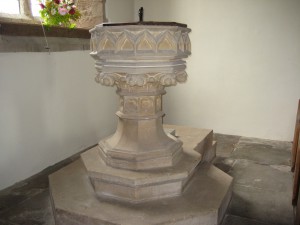 Memorials
Sybilla Reed, died 1624 in childbirth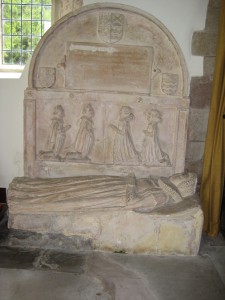 The Fox Tomb
Edmund Fox, died 9th April 1617 and his wife Ann
This beautiful tomb is for Edmund Fox and his wife Anne of Leighton Court.   The figures around the table depict their ten children, and there is also a small carving which refers to the deaths of three babies.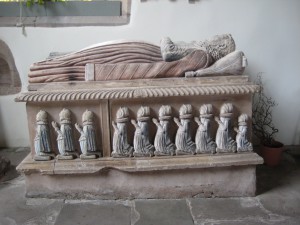 Effigy of Grimbal Pauncefot, a Crusader Knight
This effigy is a little tatty to say the least, but is that of a 13th century knight, thought to have been Grimbaldus Pauncefot who was at one time Lord of the Manor.
Grimbaldus, or Grimbal, was captured by the Saladin during fighting in a Crusade, and a ransom was demanded of a joint of his wife.  The wife in question was Constantia, and she must have loved Grimbal very much because she immediately had her hand severed by a Gloucester surgeon.  Once Saladin received this offering, he released Grimbal who returned to England.