This church is near the middle of the village, and originated around the late 12th century.
There was some major restoration in the mid 19th century, and an account of the re-opening is as follows:
"This church is prettily situated on rising ground about seven miles from Bromyard.  Considerable remains of Norman work existed, including the north and south doorways and the chancel arch.  The font and a small window to the north of the chancel also belong to the same style.
The interior was occupied by most unsightly fittings, such as high pews, gallery etc. and the whole building was sadly dilapidated, the roof and the bell turret especially being in a very unsafe state."
The repairs were carried out by G. Warner, a Leigh builder, under the watchful eye of W.J. Hopkins, architect to the Worcester Diocesan Church Building Society.
The tower and spire were completely rebuilt;  the belfry stage being open timber work.  The nave was paved with Maw's red and black tiles and filled with open seats of deal, except at the west end where some of the old oak seats were replaced and the original oak pulpit was preserved.
The original church had no East window, and a lovely three light middle pointed window was put in at the east end;  this was the gift of Mrs. Newman as a memorial of her late husband, William Towers of the High House in Upper Sapey.
Some "unsightly stone slabs" to the memory of members of the Addenbrooke family were replaced with ornamental memorial tiles.
The total cost of the renovations was nearly £1000, but Sir Thomas Winnington, Bart., donated half that amount and others also gave generously so that virtually all of the money was raised.
The church was beautifully decorated for the re-opening, and because the altar cloth was not ready, a temporary frontal was made with evergreens and red berries.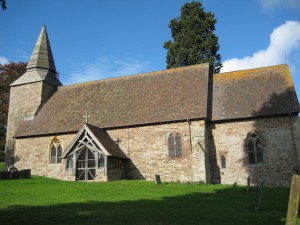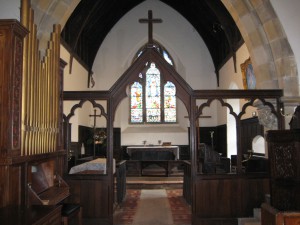 Font
A simple, but beautiful old font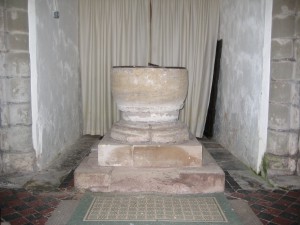 Memorials
Hugh Lea
Hugh Lea, died 26th April 1622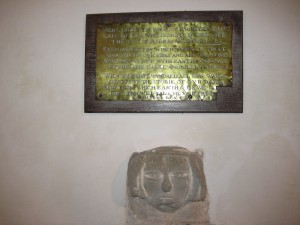 Edward Addenbrooke
Edward Addenbrooke, died 7th July 1791 aged 90. Also, Margaret his sister who died 31st October 1784 aged 79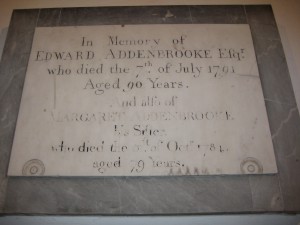 Henry Huck
Henry Huck, son of John by Anne, died 25th December 1757 aged 46. "Cheerful without levity and honest without reserve. An Obedient and dutiful son, the best of brothers and friends. One who justly claimed our esteeem when living and our tears now dead"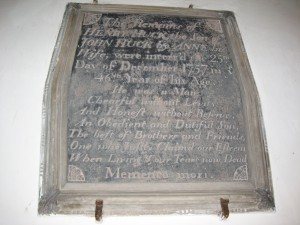 William Towers
William Towers, died 12th April 1853. Also Jane, wife of Thomas H. Newman who died 17th June 1866 aged 63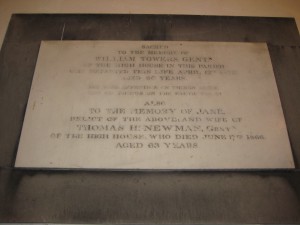 Bier