John Kemble was born in 1599 at Rhydicar Farm, St. Weonards in Herefordshire to parents John, and Anne the daughter of John Morgan from the Waen, Skenfrith in Monmouthshire. John's uncle, George Kemble of Pembridge Castle, Welsh Newton, was the father of Captain Richard Kemble who was responsible for saving Charles II at the Battle of Worcester in 1651. (Not that Charles took this into account in later years!)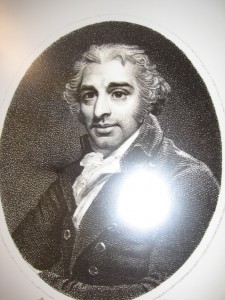 The family was staunchly Catholic, and already included four priests when John studied for his priesthood and was ordained at Douai College on 23rd February 1625, following which he returned to England and began his work as a missionary in Herefordshire and Monmouthsire. His popularity steadily grew, and not just among the Catholics…..he was a very likeable man, and he continued to serve for more than 50 years, living with his brother at Pembridge Castle.
Then, poor John was caught up in the horrific doings of Titus Oates the perjurer who fabricated the Popish Plot, which was the non-existent conspiracy by Catholics to kill King Charles II. Oates was a spectacularly nasty character, with no scruples whatsoever, and his fraud was eventually uncovered but sadly too late to save many an innocent man.
In 1678, Captain John Scudamore of Kentchurch (a lapsed Catholic, although his wife and children were parishions of John Kemble) arrived at Pembridge Castle to Arrest the elderly John Kemble, and although people tried hard to get him to escape he merely said "According to the course of nature I have but a few years to live. It will be an advantage to suffer for my religion and therefore I will not abscond." He was taken to Hereford, where he spent three months in gaol, before being taken to Newgate Prison in London…….no comfortable trip as he was bundled backwards onto a horse like a sack. For anyone that would have been torture, but for an 80 year old it must have been almost unbearable. When interrogated, John refused to admit to a non existent plot, and eventually was sent back to Hereford…by foot. There, in accordance with Elizabeth I's Statute 27 he was tried for the treasonable offence of being a Catholic priest and for saying Mass, and was duly declared guilty, being condemned to be hanged drawn and quartered.
On 22nd August, his execution day, he requested one last smoke of his pipe, one last drink and to be allowed to finish his prayers. (To this day a "Kemble Cup" and Kemble Pipe" refer to a final drink or smoke before the parting of friends in Herefordshire). He was then dragged by means of a hurdle to Widemarsh Common, where after a declaration that he was dying for his religion and not for treason, and that he forgave all his enemies, he was forced to comfort and give courage to his executioner who really did not want to carry out the task of killing this likeable old gentleman. This may have been why the hanging went badly wrong – a little like someone being too gentle when wringing a chicken's neck……. And it was a good half hour before Kemble actually died. He was then beheaded, and it would appear that his left hand was beneath his neck because this too was cut off; it is preserved at the church of St. Francis Xavier in Hereford; at least Kemble was only drawn and quartered AFTER he was dead. He was buried at the church of St Mary the Virgin at Welsh Newton.
Before long, people started talking of miracles, and one day when a deaf Scudamore's wife was praying at Kemble's grave, her hearing was suddenly restored. Likewise, her daughter was cured of throat cancer.
John Kemble was beatified in 1929 and Canonized on 25th October 1970.