Downton village is on the Teme river some 10 miles from Leominster

A little request for help here:
The following wonderfully composed photo of Downton Church and cottage has been kindly supplied by Toni Price, who is thinking that one of the babies is his grandfather Thomas Hotchkiss, born 1892 and the other possibly one of his sisters.  If anyone happens to land on this page who can supply information on any of the people shown, then please contact me.  (Click on photo to enlarge).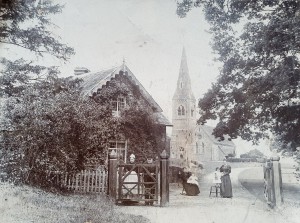 Churches of Downton
St. Giles Church - Downton

The church of St. Giles is the second to be built at Downton, the first being left to decay and fall to ruin in 1861.  This Victorian replacement is in a very pretty setting.

Read More >
Buildings in Downton
Downton Castle

Downton Castle is situated at Downton on the Rock close to the border with Shropshire, and should not be confused with Downton Hall which is a few miles the other side of the border.

Read More >
News from the past Downton