This 13th century Norman church lies in a gloriously peaceful setting.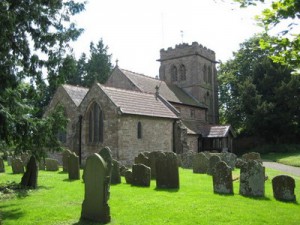 Font
The font at St. Peter & St. Paul is 13th/14th century, with plain octagonal sides.
Memorials
An effigy of Sir Rowland Cornewall dated 1520 which lies on a much later dated tomb table. Both hands have become detached.
Effigies of Sir Richard Cornewall and his wife dated 1540, lying on a chest with representations of their children around the sides.
An emotive memorial on the wall was made by Sir Reginald Blomfield for Lord Crawley, in honour of his three sons who all died during WW1.