This is a lovely little church, in a truly delightful location.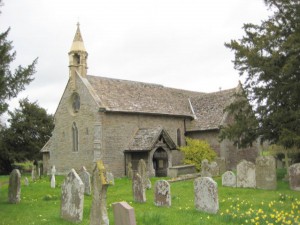 In 1863 it was reported that a long standing custom was being continued at St. Laurence – that of the Rector and wealthier farmers getting together at Christmas to ensure that those of a poorer standing had ample meat for the table and coal for the fire. In addition, the church was decorated to the rafters with garlands of holly and ivy and candles blazed from every nook and corner, and sixteen choristers processed down the aisle wearing pristine surpluses whilst singing Hark the Herald Angels Sing to the accompaniment of the rather splendid organ.
The Churchwarden, a Mr. Plant of Bishopstone Court, had taken the precaution of supplying extra chairs from the Court, but still many people had to stand whilst others simply couldn't get in.