Bredenbury Court was first called Bredenbury House, and then Bredenbury Mansion.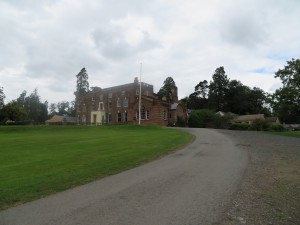 In 1726 the Manor of Bredenbury was owned by Richard West of Standford, Worcestershire in, but in 1820, a descendant and owner occupier, William West, bought more land on tick and he went bankrupt having failed to pay off the large amount of money due.
Charles Dutton bought the land, and for some time it was tenanted, although he resided at Bredenbury House. Sadly, his wife Phoebe died aged just 51 on 26th April, 1824
Bredenbury House Household 1851
| | | |
| --- | --- | --- |
| Charles Dutton | 60 | Widower, Army Captain on Half Pay, b. Hampshire |
| Elizabeth Morgan | 26 | Housekeeper b. Kington, Herefordshire |
| Mary Morgan | 10 | House Servant b. Burghill, Herefordshire |
Robert Johnson
The next owner of Bredenbury House was Robert Johnson and he is shown to be living there in 1858, with no occupation listed, other than being a gentleman. In 1861, along with James Gregg of Ledbury, he leased Keephill Heath with shooting rights over Horsnett. The cost of the lease for one year was £50.
His marriage to Miss Heathfield took place at Stoodleigh in Devon, with much ceremony. Flowers, evergreens, moss and even flags decorated the approach to the church and schoolchildren lined the road each carrying a posy of flowers. Afterwards each child was fed with buns for their part in the proceedings!
Bredenbury House Household 1861
| | | |
| --- | --- | --- |
| Robert Johnson | 49 | Widower, Captain Militia, b. Liverpool, Lancaster |
| Richard Allson Johnson | 19 | Son, Lieutenant, Artillery, b. Lancaster |
| Frances A. Johnson | 11 | Daughter b. Ellesmere, Salop |
| Agness Brown | 39 | Visitor, Governess, b. Durham |
| Caroline Williams | 22 | Cook b. Stoke Prior, Herefordshire |
| Ann Evans | 27 | House Servant b. Kinnersley, Herefordshire |
| Joseph Jones | 31 | Groom b. Madley, Herefordshire |
The Barnebys at Bredenbury Court
The name and estates of the Barneby family go back for a very long time, and they were considered to be one of the oldest in Herefordshire. The family came from Yorkshire, and a descendant, staunch Royalist John Barneby, was nominated Knight of the Royal Oak in 1660. He married twice, and after his death in 1684 was succeeded by his eldest surviving son Richard. Richard's only son died unmarried in 1726 but left his estates including those in Herefordshire to his nephew Bartholomew Richard Lutley of Salop. One of their great great grandsons was W. Henry Barneby the squire of Bredenbury Court, being the second son of William John Barneby MP of Brockhampton. He married Alice Mary Hicks-Beach, daughter of Sir Michael Hicks-Beach MP.
W.H. Barneby
William was exceptionally wealthy and exceedingly generous, donating large amounts of money towards the building of a new church, as well as paying for new bells and other necessities such as an organ. He also completely funded a village school.
He was also an author of some note, and in 1884 his new book "Life and Labour in the Far Far West" was published for the price of 16s by Cassell & Co. Ltd. Of London. This was described as being very entertaining, and came from his tour of the far west during the Spring and Summer of 1883, where he passed through some of the finest scenery in North America. He had lots of opportunities to observe the condition of Agriculture, especially in the Dominion of Canada and British Columbia, and of considering the suitability of the country as a "field for emigration" and for the "investment of capital".
As was the case with most of the gentry in the big houses, William Barneby was an MP, serving his area as a Conservative.
In 1895, on Christmas morning, William Barneby entertained all the rural and town postmen, 20 in all, to a big breakfast at the Falcon Hotel.
On Boxing night, William invited the postment employed at the Bromyard office and also the local employees on the Great Western Railway to meet him at dinner at the Hop-pole Hotel, where a substantial repast was provided. The gathering totalled nearly 30, and although William had to leave unexpectedly soon, the praise for him was extensive, with Mr. Robinson declaring on behalf of the railway employees that they all knew what a friend Mr. Barneby had been to all officials connected with public institutions in that town, and that he was devoted to the welfare and prosperity of the district. Mr. William Harbour, the oldest postman, said that Mr. Barneby had always been a staunch friend to the postmen.
Sale of properties at Bredenbury
William sold several of the freehold properties on the estate, most of them fronting on to the main Bromyard/Tenbury road half a mile from the railway station. The houses were:
Instone – comprising a substantially built residence.
Peacock's Heath with cottage. Purchased by Hon B.M. St. John for £400
A parcel of pasture land, purchased by Mr. Phipps of Buckenhill for £270
Symore Hill Cottage, purchased by Mr. Phipps of Buckenhill
Withy Beds, cottage and pasture land, purchased by James Parker for £830
Foxhall Park Cottage bought in at £150
He and his wife had many children, but in 1869 on 17th October their three month old son sadly died at the Court.
In 1890 they celebrated their silver wedding anniversary at Bredenbury Court, with all their friends and tenants in a wonderful day of partying.
Bredenbury Mansion Household 1871
| | | |
| --- | --- | --- |
| William Henry Barneby | 28 | Magistrate and Landowner, b. London |
| Alice Mary Barneby | 23 | Wife b. Gloucestershire |
| Lady H.V. Hicks-Beach | 57 | Mother in Law, Visitor, b. London |
| Mary E. Hicks-Beach | 17 | Sister in Law, Visitor, b. Gloucestershire |
| Susan Alice Barneby | 3 | Daughter b. Bath |
| Margaret Caroline Barneby | 4 mths | Daughter, b. London |
| Mary Matthews | 34 | Cook/Housekeeper b. Wellington, Herefordshire |
| Sharifah Burge | 27 | Lady's Maid b. Rockhampton, Surrey |
| Elizabeth Ann Hedges | 27 | Nursemaid b. Street, Somerset |
| Elizabeth Slacketone | 19 | Nursemaid b. Bath |
| Rose Olding | 28 | Housemaid b. Downton, Wiltshire |
| Elizabeth Thomas | 18 | Kitchenmaid b. Kingsland, Herefordshire |
| James Miller | 28 | Butler b. Somerset |
| Thomas Carter | 17 | Footman b. Biddulph, Staffordshire |
| Peter Whiting | 31 | Coachman b. Horsham, Sussex |
| Frederick Newman | 19 | Stable Boy b. Downton, Wiltshire |
| Henry Sexton | 24 | Footman b. Coleshill, Berkshire |
| Mary Fidoe | 61 | Parish Schoolmistress, b. Whitbourne, Herefordshire |
| Sophia Fidoe | 16 | Pupil, b. Worcestershire |
| James Neal | 10 | Scholar and boarder, b. Bromyard, Herefordshire |
Lavish ball at Bredenbury Court
William Barneby set about renovating and extending the house, after which time it was known as Bredenbury Court and to celebrate completion of the work, a ball was held to which 400 guests were invited (although only about 200 were able to attend) and no expense was spared; the party began at 10 in the evening and people arrived from all over the country and from Scotland. The library and drawing room were used as a ballroom and Messrs Howard and Sons of London were employed for the decorations, which were spectacular. Around the top of the walls were festoons of figured muslin in pale blue, upon which were festoons of red and white roses amongst green foliage. There were Florentine and Venetian glasses, and the mantlepieces were covered in flowers and foliage.
Nearly 200 lights lit the room and it must have been a glorious sight.
The guests entered through a covered way of drapery which led around the house and through a tent which served as a cloak room, before entering the ball room. All along the covered way were more foliage plants and many pots of flowers; the hall was used as a saloon, lit by Japanese lanterns, whilst tea was served in the study.
Dancing began at 10, to music from Weippert & Co's band from London, with a programme of Quadrilles; Brigaads; Lancers; Carnival, Valse,Claribel; Galop Die Maiblumen; Galop Madame Angot; Valse Faust; Lancers original etc. etc. etc., and although there was a break for supper in the dining room, dancing then continued until half past five in the morning.
In 1900, the mother of William's wife, Alice Mary, died to the great sadness of the family. She was the Dowager Lady Hicks-Beach, also mother of the Chancellor of the Exchequer at the time, and she died at Penllergare near Swansea. She was 87.
The Greswolde Williams family at Bredenbury Court
Francis (Frank) Greswolde-Williams
Francis owned land in Africa as well as Herefordshire, so was not always in residence at Bredenbury.
The Happy Valley Set and Frank Greswolde Williams
He was not an unkind man, but his reputation was somewhat unsavoury given that he was a member of the Happy Valley set – a collection of aristocratic English roisterers who had properties in the Wanjohi Valley, Kenya, and who enjoyed nothing more than loads of drugs and booze before/during episodes of extra marital sex and violence. However, Francis was unlikely to have indulged in the sex bit due to his rather portly figure and the fact that he was usually less than sober, but he was thought to have been included in the "set" because he provided the drugs. He also lived apart from the others, having property in the Kedong Valley where he indulged his passion for big game hunting, especially lions, and back in Herefordshire he loved the local hunt – the North Herefordshire, who kept their hounds at Bredenbury Court, and he became Master of the Ledbury Hunt.  He lost an eye in a shooting accident, but I don't know whether this was in Africa or in Herefordshire.
Death of Frank Greswolde Williams' only son
He was often accompanied  by his only son, F.H.J. Greswolde-Williams, and his three daughters on the big game shoots in Africa, and acted as transport officer with the British East African force. His son who was educated at Eton, was given a commission in the King's African Rifles, but on 2nd August 1917 he was killed in East Africa during a large engagement with German forces. He was just 18. He was of course the only heir to all William's estates, not only in Herefordshire, but also Birmingham, Warwickshire, Worcestershire and of course the very large estate in the Kedong Valley, between Nairobi and the Grate Lake, in Africa.
Another casualty of the war with connections to Bredenbury Court was the head gardener, who was much respected and had been a very successful exhibitor at the Royal Horticultural Exhibition in London, specialising in chrysanthemums and carnations. Private Herbert Tribe of the Shropshire Light Infantry was killed in action in France on 7th September 1918.
Bredenbury Court Household 1901
| | | |
| --- | --- | --- |
| Francis  Wigley Gresolde Williams | 28 | Living on own means, b. Fairfield, Gloucestershire |
| Anna Louisa Gresolde Williams | 33 | Wife, b. Cheadle, Cheshire |
| Minnie Dorothy Christian Gresolde Williams | 3 | Daughter b. Strensham, Worcestershire |
| Francis Humphrey John Gresolde Williams | 1 | Son b. Inverness |
| Amy Neville | 32 | Sister in law, b. Cheadle, Cheshire |
| Maud Christiane Faville | 8 | Niece b. Newcastle on Tyne |
| Robert Arthur Neville | 4 | Nephew, b. Chester |
| George Lees | 36 | Butler b. Longdon, Staffordshire |
| Richard Jones | 28 | Valet b. Tedstone Delamare, Herefordshire |
| Frank Humphrey | 23 | Footman b. Worcestershire |
| George Williamson Howard | 17 | Footman b. Castle Acre, Norfolk |
| Herbert Nelson | 25 | Footman b. Tadcaster, Yorkshire |
| Henry Brown | 28 | Groom b. West Derby, Lancaster |
| William Weaver | 27 | Groom b. Doddenham, Worcestershire |
| Thomas Short | 23 | Groom b. Silloth, Cumberland |
| George Millward | 19 | Groom b. Leominster, Herefordshire |
| John Pritchard | 18 | Groom b. Leominster, Herefordshire |
| Elizabeth Redfern | 50 | Housekeeper b. Great Packington, Worcestershire |
| Mary Claradge | 33 | Cook, b. Twickenham, Middlesex |
| Agnes Maud Taylor | 23 | Lady's Maid b. Worcestershire |
| Alice Traners | 25 | Kitchenmaid b. Portsmouth, Hants |
| Mary Machicholl | 28 | Kitchenmaid b. Glutt Caithoirs |
| Annie Haynes | 20 | Kitchenmaid b. Hartpury, Gloucestershire |
| Annie Jack | 32 | Housemaid b. Bamforthshire |
| Blanche Harriet Davies | 22 | Housemaid b. Bath Lodge, Wiltshire |
| Emma Susan Aldridge | 20 | Housemaid b. North Lake, Surrey |
| Eliza Louisa Warick | 18 | Housemaid b. Southam, Warwickshire |
| Annie Albon Ward | 36 | Nurse b. Bedford |
| Ada Louisa Gibbs | 20 | Nurse b. Waltham Abbey |
| Annie Rose Torth | 16 | Nurse b. Great Brickhill |
| Jennie Edwards | 26 | Nurse b. Ireland |
Frank Greswold Williams is charged with Breach of Promise
In 1925, by which time Francis (known as Frank) was a widower, his wife having died in 1923, he found himself in court charged with breach of promise. In the press reports, the name has become Greswold rather that Gresolde .
The judge was Mr. Justice Avory, and a special jury in the King's Bench Division was formed to hear the case between the plaintiff Mrs. Adelaide Margaret Constance Lubbock, the grand daughter of an earl and cousin of a viscount, and the exceptionally wealthy Mr. Frank Greswold Williams who was known throughout Worcestershire and Herefordshire and had been Master of the Ledbury Hounds.
Sir Henry Maddocks K.C. acting for Mrs. Lubbock said that she was married in 1914 to Ralph Lubbock but she divorced him in 1922. There was no fault on her side. Both parties were keen on hunting and became acquainted in 1911 when Mrs. Lubbock's brother was the tenant of Bredenbury Court, which was owned by Frank Greswold. He was kind to her and gave her a horse, and called her by a pet name of "Tibby". Neither was of a romantic age it was said, but in 1924 they met at a London Hotel and Frank said "you know Tibby, I am very miserable. You know what Ann (his wife) was to me, and you Tibby have had a jolly rotten time and been treated very badly by Ralph. I have always looked upon you as the whitest woman I have ever met and Tibby, I would like to marry you".
Mrs. Lubbock said that he had taken her by surprise, but said that she had always liked him so told him that she could make him a good wife, following which Frank said that they should choose an engagement ring; they went to a jeweller, and Frank choose a whopping ring which he gave to Mrs. Lubbock, and she was also measured for a wedding ring which had to be left for alteration. They told Frank's daughter and friends of their plans to marry, who were all delighted for the couple, and then a bit later on Frank spoke to Mrs. Lubbock's sister on the phone, telling her that he would be marrying Mrs. Lubbock on the following Saturday. He gave her £200 as a present, and she went to the Registry Office to arrange the wedding.
When she came back from "an entertainment" that afternoon, it seemed to her that Frank's daughters had grown decidedly cool, and on the Friday Frank told Mrs. Lubbock "Look here Tibby, my family are not half going for me about marrying you!" She asked why, and he said that it was because she was a divorcee and that if he married her before his daughter, Sally's wedding, not one of the family would speak to him again let alone go to his wedding. He said "Will you be a brick and postpone our wedding until after Sally's? After she is married, we can do as we like" Mrs. Lubbock agreed to this.
Later, Frank spoke again to her and said "my family are playing the devil. If I marry you they won't speak to me and have nothing to do with me, and it must be off". This annoyed and upset Mrs. Lubbock and wrote to him about his decision saying that she bore him no ill will, but was "hit jolly hard". She told him that she cancelled the order for the wedding ring, and had been in bed since with shock!
Frank's defence was not that he didn't make the promise, but that it was rescinded by mutual consent on January 12th, and that he responded to her letter thus "You are a brick. I shall not say much about it to anyone. My nerves are all upset. Cheer up love. From Frank."
Some time later whilst visiting her dentist in London, Mrs. Lubbock bumped into Frank and he kissed her. His affection led her to believe that things would be okay once he got free from his family and that he would still marry her. She wrote to him again after that:
"I am fed up to the back teeth, and at the present time I haven't a dime in the world and am truly in the soup. For old time's sake – do help me. Five hundred pounds will see me though. I am sure my goodness, that if I don't get some money by Wednesday I am in for it properly. I feel that things will come right and I always want to be a brick to you. I wish you all happiness and if you marry I hope that you will have somebody you deserve. "
The hearing was adjourned and I am still searching for the outcome.
R. Logan Kitson
Bredenbury Court was purchased in the 1920s by R. Logan Kitson.
Bredenbury Court becomes a School
In 1944 Bredenbury Court became the home of a Preparatory Boarding school which replaced the junior school at the Cheltenham Ladies' College.