This church looks a great deal older than it actually is, and was built in the 19th century.
The original church at Bredenbury was described in the middle of the 19th century as being old and dilapidated, and with the unification of Bredenbury with nearby Wacton a new church was deemed a necessity.
An explanation in 1877 was reported thus:
"Bredenbury Church, which has now been taken down and the materials used in the construction of the new edifice, was inconveniently and somewhat singularly situated, its site having been in front of Bredenbury Court and only a few yards distant from it.  The desirableness of removing the church and of uniting Bredenbury and Wacton for ecclesiastical purposes, having been recognised, steps were taken to rebuild the church on a similar but enlarged plan, and Mr. Barneby (owner of Bredenbury Court) in addition to other acts of great liberality, gave a site of about a quarter of an acre of land near to the school."
"Mr. Martin Curtler of Worcester who is also a large landowner in the district, readily identified himself with the scheme and rendered bountiful assistance, and the work of course enlisted the fullest sympathies of the rector, the Rev. C. Bridges.  The foundation was laid on 6th April last year and the church is now complete, but it is not yet free from debt.  The cost, exclusive of the materials of the former edifice valued at £300, is about £1,100. "
In 1877 the newly built neat and substantial church of St. Andrew was consecrated and opened by the Lord Bishop of Hereford, the Right Rev. Dr. Atlay.  Work was put on hold by the villagers  and they crammed into the church – even with extra seating being provided there was not room for everyone, and despite a bitterly cold east wind blowing, crowds filled the road outside the church.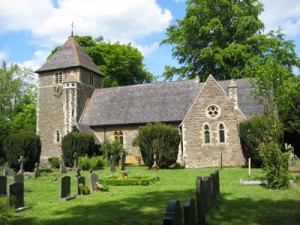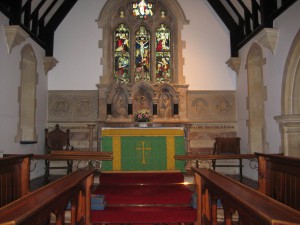 Font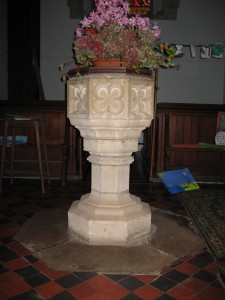 Pulpit
The lovely marble pulpit in the church of St. Andrew was erected in memory of Barneby of Brockhampton, MP, and Susan his wife, who died 18th December 1850. Erected by W.H. Barnaby, their son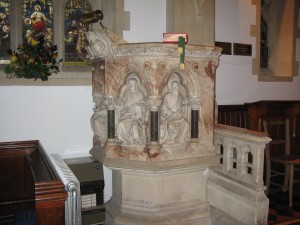 Memorial
Plaques for the West family.
The left hand plaque is for Richard died 18th December 1800 aged 77, also Ann his wife who died 16th April 1810 aged 68. Also Hannah and Ann, their daughters, who died respectively – 24th December 1768 aged 6 months and 6th June 1777 aged 7. The middle plaque is for William West, who died 19th January 1807 aged 85. The final one is for Richard West who died 19th February 1748 aged 72 and his wife Hannah who died 17th September 1761 aged 79