Brockhampton Court near Fownhope in Herefordshire, is not to be confused with Brockhampton Estate which is located near Bromyard.
The original house, a rectory built in the mid eighteenth century and lying close to the Ross on Wye to Hereford road, was known as Upper Court and first was owned by the Dean and Chapter of Hereford Cathedral before being sold to the Skyrme family whereupon it passed down through the family until it was again sold to William Stallard in 1833.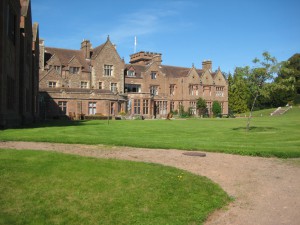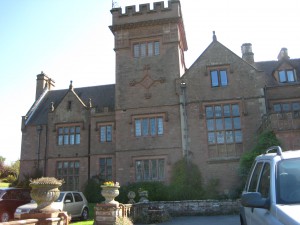 The Stallard family at Brockhampton Court
In 1851 William T Stallard, aged 2 and son of the above William was in residence home alone……in the charge of two servants Mary Bough, and Sarah A Gibbons. He appears some twenty years later in Worcester, as a Clerk to a firm of Architects, and later in 1881 was back living with his parents William and Ellen after they had moved to Tupsley in Gloucestershire. By this time he was a Solicitor, having gained his degree at Cambridge.
At some point between here and 1861 the name of the house was changed to Brockhampton Court, and William, a farmer of some 630 acres, and his wife Ellen had a 2 year old son in the shape of Alfred, born at Brockhampton Court. They had three servants:
Elizabeth Stockham aged 23 from Monmouth – cook and dairy maid;
Lydia Watkins aged 16 from Foy, Herefordshire, – kitchen maid
Mary Drew aged 17 from Kempley, Glos, – nursemaid.
In 1863 the eldest daughter of above married W. R. Holden at the little church in the grounds of Brockhampton Court. (This is now a private house)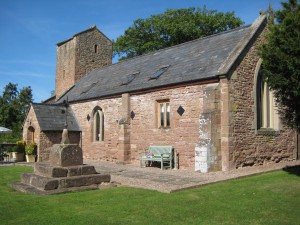 Bridesmaids were Miss S. Stallard, Miss Ann Stallard and Miss Alice Stallard and the ceremony was performed by the uncle of the bride, the Rev. J.O. Stallard. The workers at Brockhampton were treated to a sumptuous dinner of roast beef and plum pudding with "an ample allowance of drinkables wherewith to drink the health of the bride and to make merry and still be wise". Schoolchildren sang after the ceremony, and presented the bride with an elegantly bound bible as a measure of their affection, and they in turn were liberally entertained at Mr. Stallard's expense.
As far as country house weddings go, this was a fairly low key affair with few guests, but at this time Brockhampton Court was not very big, and to me it sounded like a lovely family wedding.
William Stallard retired from farming and put the Court up for sale, and it was purchased in 1869 by Baronet Christopher Robert Lighton, after which two of his son temporarily occupied the house
The Lighton family at Brockhampton Court
In 1871, only three souls were in residence – Christopher Robert Lighton who was 23 and a Batchelor of Divinity, Cambridge;  Henry Alfred Hamilton Lighton who was 19 and an undergraduate at Cambridge, and one trusty servant in the shape of William Williams, a 66 year old gardener and general dogsbody who hailed from Wormbridge, Herefordshire.
Henry Alfred Hamilton Lighton
The family had a long run of tragedy and in 1882 Henry Alfred Hamilton Lighton died after falling ill. In 1880 he had had an attack of haemoptysis (basically, coughing up blood) and was advised to spend the winter abroad which he duly did – returning much improved. However as autumn arrived his health deteriorated, and despite heading for Madeira to spend time cruising on a friend's yacht, he died that November. He had been too ill to complete the thesis for his degree, but he died a much loved and respected man.
John Hamilton Plumtree Lighton
Another son, John Hamilton Plumtree Lighton, was tragically killed at the age of 17 during a cricket match at his school, Repton Hall when he was struck on the side of the head by the ball, and although he appeared to recover from the initial shock and carried on playing, he quickly deteriorated and within a few hours had died.
Andrew Hamilton Digby Lighton
In 1864 a further son, Andrew Hamilton Digby Lighton, whilst training as a Naval Cadet on board Britannia at Dartmouth, was running about the rigging when he slipped and fell from the main chains , striking his head against the gangway and fracturing his skull as well as receiving severe internal injuries before falling into the water. Two of his fellow cadets jumped in to hold his head above water, but were struggling in the strong tide. They were about to be forced to let go, when Lieutenant Hereford jumped in to assist them and between them they kept hold of him until a boat was able to pick them up. The injuries were so severe that he was not expected to live but he was taken to Dartmouth hospital where against all expectations he very gradually regained strength, however he unfortunately lost his sight as a result of the accident and his naval career was over. He eventually died aged 78.
Christopher Robert Lighton Jnr.
Christopher Robert Lighton Junior took himself a wife in the shape of Miss Houldsworth and on 20th May 1880 returned with her to Brockhampton Court where the whole area was in a state of high excitement. Numerous arches were erected around which flowers and greenery were entwined, and many messages of goodwill were added to the decorations. Late afternoon saw the crowds swelling in anticipation, and the Fownhope band struck up to announce their arrival at the Falcon before heading the carriage up towards the Court. At the top of the hill, ten men from Christopher's bible class removed the horse from the traces and picked up the shafts themselves to take the carriage up to the door of the house, to the accompaniment of loud cheering from the crowd and beating of anvils. The following day saw huge celebrations culminating in fireworks.
When the senior Sir Christopher Robert Lighton died in 1875,  his widow sold Brockhampton Court, and her son Christopher and wife Helen moved to Kent.
Alice Madeline Jordan and Colonel Arthur Wellesley Foster
The house was purchased by Ebenezer D. Jordan of Boston, Massachusetts who transformed it into the impressive building it is today, before giving it as a wedding present to his daughter Alice Madeline when she married Colonel Arthur Wellesley Foster of Hornby Castle, Lancashire, in 1885.  The wedding took place at Trinity Church in Boston, America and was described as perhaps the most brilliant affair that had ever occurred in Boston, with the church being overcrowded by the invited guests.
Uninvited public contented themselves with packing the surrounding streets in order to get a glimpse of the beautiful bride.  The bridal party arrived on time at 7.30 p.m, and Mr. Jordan handed over his daughter to the groom who was attended by his brother, Frederick C. Foster.    I love the description of the bride's dress…….."plain white satin cut with a long graceful train borne by two charming children, the little niece and nephew of the bride.  The dress front was completely veiled with the richest Brussels point, the same lace being arranged around the bodice and very short sleeves.  A tulle veil fastened by a diamond star to the hair, a diamond pendant in the form of a lyre at the throat, and a bouquet of lilies of the valley completed a dress of exquisite grace."
Arthur and Alice boarded the Oregon steamer shortly afterwards, and arrived in England on 6th December, when they travelled to Hornby Castle to be greeted by cheering friends, staff and children.  The couple didn't move into Brockhampton Court immediately as Arthur was ordained to a Staffordshire curacy and held a living in Lancashire, but in 1901 the house was fully staffed and awaiting their arrival.
Colonel Arthur Welesley Foster and Alice take up Residence at Brockhampton Court
By 1906 they were in residence, and in the July of that year they held an "at home" to raise funds for the Society for the Prevention of Cruelty to Children.   The welfare of children was a cause dear to Mrs. Foster's heart, and in 1898 subscribed to a fund set up for William Herbert True, a Gloucester lad who had been playing hide and seek amongst railway trucks when he was knocked down and seriously injured by shunting operations.  He was taken to Ross Cottage hospital, and underwent operations which included amputation of his right foot and left leg, and the fund sought to provide enough money to fit him with prosthetics as well as send him to the National Industrial Home for Crippled boys.
Mrs. Foster was fond of art, and in 1906 purchased a portrait of John Kyrle,  The Man of Ross by Sir Godfrey Kneller
Arthur was picked by the Queen for the office of High Sheriff of Herefordshire, and his love of horses and hunting saw him becoming Master of the South Herefordshire Foxhounds – rather a rarity for  a clergyman of the Church of England in full orders.  In 1904 he became President of the Herefordshire Horse Show Society, and like many country house owners he had a keen interest in breeding livestock of all descriptions.   For example, in 1902 his Dexter bull was second only to HM the King's beast at the Tewkesbury livestock show.
Arthur Wellesley Foster was by all accounts a charming and loveable personality, with a keen sense of humour, who showed enormous courage when in his last years he suffered great pain. I have to say that I am beginning to take the endlessly glowing descriptions of the gentry during the 19th and 20th centuries with a tiny bucket of salt;  some of them we know were less than moral, especially when it came to the young female servants in their houses, and a few were downright tyrannical.  Still, without written evidence, it is impossible to weed the bad from the good so the only way is to report what was written in newspapers at the time.
He died in Newquay in September 1929, and was described in his obituary as a true English gentleman.
Alice Foster
His wife Alice died just three years later at Brockhampton Court;  she was the first woman magistrate in Herefordshire and was also instrumental in setting up the first branch of the Womens Institute in Herefordshire.  She was a generous donor to hospitals, and paid for an operating theatre at the Ross on Wye Cottage hospital.
Whilst she always remained loyal to America where she was born, she nevertheless threw herself into the interests and well being of Herefordshire.  Like her husband, she suffered with ill health in her later years but never stopped trying to help others.  Her funeral was at All Saints, Brockhampton…..a church that she had had built in memory of her mother;  work was completed on this church in 1902 and the original church in the grounds of the Court was closed.
Drusilla Madeline Foster and Gerard Leigh Clay
Drusilla Madeline Foster, granddaughter of Arthur and Alice, who had been living at Brockhampton Court for some time, married Gerard Leigh Clay in 1931 and after their wedding in Hereford Cathedral  they took over the running of the Court.
Brockhampton Court Today
Brockhampton Court was handed down through the family until it was eventually sold  and  in the 1940s was turned into a hotel with function rooms, 26 bedrooms and an attached riding school.   In 1949 it was put up for auction,  and currently it is a nursing home.
1881 Census for Brockhampton Court
| | | |
| --- | --- | --- |
| Christopher R. Lighton | 32 | Baronet, B.A., Barrister not in practice |
| Helen Frances Lighton | 22 | Baronet's Wife |
| John ? | 34 | Butler b. Ganarew, Herefordshire |
| William Hyde | 30 | Coachman |
| Mary E. Shepherd | 33 | Cook b. Lymington, Hants |
| Elizabette Galloway | 26 | Lady's Maid b. Edinburgh, Scotland |
| Maryann Wilkins | 25 | Housemaid b. Leicestershire |
| Emily Jane Gates | 17 | Kitchen Maid b. Brighton, Sussex |
1901 Census for Brockhampton Court
| | | |
| --- | --- | --- |
| Isabella Henderson | 53 | Housekeeper b. Scotland |
| Elizabeth Cotton | 32 | Housemaid b. Derbyshire |
| Kate Lambourne | 22 | Housemaid b. Berkshire |
| Eliza West | 22 | Housemaid b. Solihull, Warwickshire |
| Bessie Diggory | 15 | Housemaid b. Shropshire |
| Bessy Jameson | 24 | Kitchen Maid b. Darlington |
| Esther Walter | 19 | Scullery Maid b. East Magbourne, Berkshire |
| Thomas Jones | 31 | Stud Groom b. Woolhope, Herefordshire |
| Annie Jones | 33 | Wife of above b. Merionethshire |
| Edward Cook | 27 | Coachman b. London |
| Charles Price | 24 | Groom b. Hentland, Herefordshire |
| Arthur Richard | 15 | Groom b. Ross on Wye, Herefordshire |
| Walter G. Hill | 20 | Footman b. Twickenham |
| Samuel Jones | 17 | Footman b. Much Marcle, Herefordshire |
1911 Census for Brockhampton Court
| | | |
| --- | --- | --- |
| Arthur Wellesley Foster | 55 | Employer with private means b. Queensbury, Yorkshire |
| Allice Madeline Foster | 47 | Wife b. Boston Mass. USA.  Nat. British Subject 1885 |
| Helen Lilian Gorton | 20 | Visitor b. Morecambe, Lancashire |
| Bridget Foster |  1 | Grand daughter b. Cambridge |
| Amy Emily Rose | 23 | Domestic Housekeeper b. London |
| Elizabeth Edward | 41 | Lady's Maid b. Bethesda, Caernarvan |
| Elizabeth Cotton | 41 | Housemaid b. Derbyshire |
| Bessie Diggory | 24 | Housemaid b. Shropshire |
| Elizabeth Austin | 22 | Housemaid b. Staffordshire |
| Norah Hinton | 20 | Housemaid b. Gloucestershire |
| Florence Oakley | 28 | Kitchen Maid b. Herefordshire |
| Sarah Haynes | 18 | Scullery Maid b. Horsley Woodhouse, Derbyshire |
| Ellen Jane Lingham | 44 | Nurse b. Devonshire |
| Hugh Griffiths | 24 | Footman b. Llangollen |
| Frank Harding | 20 | Footman b. Cirencester, Gloucester |
| George Kendal | 15 | Hall Boy b. Foy, Herefordshire |
1921 Census for Brockhampton Court
| | | |
| --- | --- | --- |
| Arthur Wellesley Foster | b. Queensbury, Yorkshire 1865 | Landowner, Employer |
| Alice Madeline Foster | b. Boston Massachusetts, USA 1863 | Wife, Landowner |
| Elizabeth Cluff | b. London 1866 | Cook/Housekeeper |
| Elizabeth Jane Edwards | b. 1869 | Lady's Maid |
| Elizabeth Cotton | b. Findern, Derbyshire 1869 | Housemaid |
| Alice Flower | b. Darsham, Suffolk 1889 | Housemaid |
| Catherine Williams | b. Rhyl, Flintshire, Wales 1888 | Parlourmaid |
| Lilian Alice Hughes | b. Ross on Wye, Herefordshire 1902 | Parlourmaid |
| Ella Rose Price | b. Ballingham, Herefordshire 1904 | Parlourmaid |
| Lilian Alice Andrews | b. Hereford 1900 | Kitchen Maid |
| Irene Davies | b. Monmouthshire 1903 | Housemaid |
| Helene Vivian | b. Monmouthshire 1904 | Housemaid |
| Linda Mabel Morgan | b. Kilpeck, Herefordshire 1903 | Scullery Maid |