This ancient manor house has to rank amongst the most delightful in Herefordshire. ( Not to be confused with Brockhampton Court near Fownhope)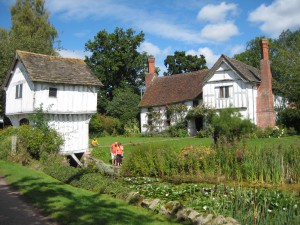 From the moment you wend your way down the narrow lane to where Lower Brockhampton Manor House nestles within acres of  woods and grazing land, the sense of peace is overwhelming.
The house itself is by no means large, but for me it beats its more impressive and bigger counterparts hands down and has such a lovely happy atmosphere oozing out of the gloriously creaking oak floors and wealth of beams..
Back in 1383 John Domulton married the heiress to the estate, and took on the title Lord of Brokhampton;  it is thought that their son Philip built the manor house in the early 15th century.
Lower Brockhampton Gatehouse
The gatehouse with its massive old oak door, made from trees felled in the mid 16th century, was merely for effect and not in any way suitable for a defensive role, is delightful.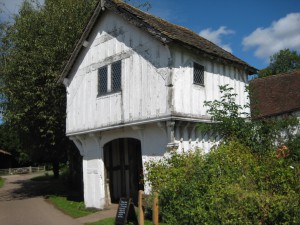 Lower Brockhampton Chapel
Now in ruins, the atmosphere in this little roofless chapel is of peace and calm.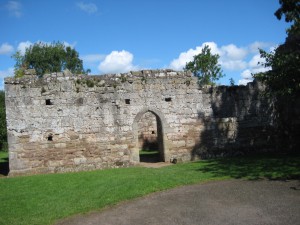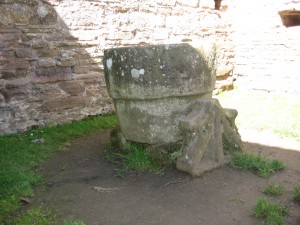 The Stone Font was installed by John and Emma Brockhampton
The Great Hall at Lower Brockhampton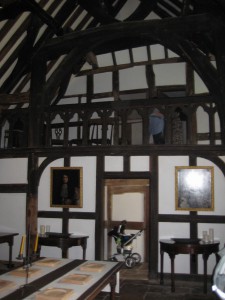 This room originally had no gallery or stairs to the bedrooms, but was altered over the centuries.
The Barnebys at Lower Brockhampton
In the late 17th century, Isabella Lechmere of Hanley Castle married Richard Barneby of Brockhampton, and some years later he inherited the estate.
In 1750, Bartholomew Lutley was bequeathed the Brockhampton estate by his uncle, who had stipulated that Bartholomew change his name to Barneby.
When Bartholomew graduated from Oxford University he took up residence on the estate and set about making improvements.  He modernised some of the farms, and decided to build a new mansion house, which would be far grander that Lower Brockhampton.
Bartholomew married Betty Freeman, and set about building Brockhampton House on the site of one of the farms;  once completed the couple moved in leaving Lower Brockhampton to be occupied by farm workers.
One such worker was Joseph Cureton and his wife Ann plus their seven children.  He was a wagoner on the estate.
1861 – Lower Brockhampton Household
| | | | |
| --- | --- | --- | --- |
| Joseph Cureton | 34 | Wagoner | b.Avenbury, Herefordshire |
| Ann Cureton | 32 | Wife | b. Norton, Herefordshire |
| George Cureton | 11 | Son, Wagoner's Boy | b. Norton, Herefordshire |
| William Cureton | 9 | Son, Wagoner's Boy | b. Avenbury, Herefordshire |
| Alice Cureton | 7 | Daughter | b. Edvin Ralph, Herefordshire |
| Mary Cureton | 5 | Daughter | b. Edvin Ralph, Herefordshire |
| Eliza Cureton | 4 | Daughter | b. Norton, Herefordshire |
| Henry Cureton | 2 | Son | b. Norton, Herefordshire |
| John Cureton | 10 mths | Son | b. Norton, Herefordshire |
Lower Brockhampton was bequeathed by  Colonel John Lutley to the National Trust in 1947, and much restoration work was carried out using timber from the estate.
There is also a lily filled moat