Eastnor Castle is quite simply – beautiful!   Constructed from sandstone quarried from the Forest of Dean, this magical building positively glows in the light of the rising or setting sun and enchants from every angle; it enjoys magnificent views of the surrounding countryside and the Malvern Hills, and still has a large herd of red deer in the park.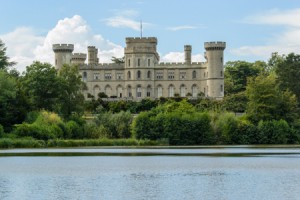 An Early history of Eastnor Castle
When one of the wealthy landowning Cocks family moved to Eastnor at the end of the 16th century they married into the Worcestershire Somers' family and the sum of their estates – including the inheritance left by the Lord Chancellor Somers in the early 18th century and the banking wealth of the Cocks Biddulph Bank (now incorporated into Barclays Bank) – gave the 1st Earl Somers the funds to start building Eastnor Castle. He married the daughter of the wealthy Worcestershire historian, Dr Treadway Nash. Robert Smirke was appointed as architect of the building, and people's opinions on the Norman Revival style vary considerably, but actually I think that it is beautiful, and it stands in the most glorious grounds.
The Construction of Eastnor Castle
Work on the castle began in 1810 with the young architect Robert Smirke being entrusted by the 1st Earl Somers with the task of making it appear to be a medieval fortress such as the many that already existed to guard the Welsh borders, but it was never intended to be any such thing and was merely the physical means of showing the world how rich and powerful the owner was.
After ten years of hard graft by a huge workforce , in 1820 the bulk of the castle was completed at a final cost of roughly eight and a half million pounds in today's money, however parts were habitable well before it's completion and frequent visits were made by the Earl and his immediate family. The interior was still work in progress though, and in November 1821 the London Morning Post made a somewhat doubting statement, questioning whether the Castle would turn out to be quite the grand and beautiful place that had been intended……..
"This magnificent range of Gothic work approaches to completion under the superintendence of its possessor , Lord Somers. In works of art, as with every other effort, excellence will be various, and partial preferences with reasons given. At present we shall say nothing about the harmony of the whole performance; but leave a description of the outline for the hour when His Majesty pays it a visit, which it is reported, will be as soon as the building is completed"
Any hopes of a visit from the King however, were soon dashed when a statement was issued that there were no plans for this whatsoever although he could not be entirely ruled out for the future. However, there was an endless succession of visits from everybody who was anybody and Eastnor Castle quickly became an important part of the "circuit". I never realised quite how much travelling around each others castles and mansions etc. the aristocracy indulged in. In fact given that the Earl and his wife also indulged in the aristocratic equivalent of popping round to one's friends for a cup of coffee, it is very difficult to give a true assessment of the staff employed at any one time, as of course they would take many of them with them on their travels. It is very evident, however, from the information that I have found, that many of the servants were not sourced locally – indeed, in 1911 two were from Germany; two were from Yorkshire and one from Lincoln. The Gardeners were Ledbury bred.
Flood at Eastnor Castle
Proof that severe floods are not just a thing of today, came just before Christmas in 1821 when the Castle was full of influential visitors, the whole of the surrounding countryside was under water and the only way in or out of the Castle was by boat! This must have been a severe blow for the planned festivities, as hunting and shooting would have been very much on the agenda over this period.
Gradually, the tone of reporting on Eastnor Castle in the press changed from cautious praise to effusive accolades. In late December 1821, after the floods had receded, the many Earls, Counts and Countesses, Lords and Ladies etc. etc. who were staying at the Castle reportedly "partook of the bounteous and splendid hospitality of the Noble owner of that princely domain". Also, "…amongst the visitors at this splendid residence" and "..the Banquets have been sumptuous in the extreme; cards and concerts supply the evening, and the mornings prior to the floods were devoted to the pleasures of the chase. All strangers are delighted with the magnificence displayed throughout the interior of this fine edifice"
Description of the finished Castle
"The florid Gothic in the great hall of entrance is surprisingly grand and beautiful; it's elevation is 70 feet and leads to the great saloon which is 30 feet. The comes the library on the left, and the drawing room on the right. On the other side of the building is the banqueting room the ceiling of which is carved oak as well as the walls. The billiard room not being finished, the tables were placed in the drawing room. The Festivities of Eastnor are approaching with more and more of everything elegant and superb. The arrangements although impeded by the late floods will be on the most enlarged scale – all in the best report, such as were to be expected from such presiding taste as that of the Earl and Countess of Somers!!"
Not only did the Earl have good taste, but by all accounts he was a good man, who treated his servants well and did his best to help the poor, but his health began to fail and after his death in 1841, the 2nd Earl took up the reins of the continuing interior work. He engaged Pugin to style and decorate the drawing room in lavish gothic style, and later the 3rd Earl did wonderful things to the long library and the state bedroom.
The last Earl Somers Cocks
In the 1870s, the agricultural downturn caused a massive drop in the wealth of the Somers Cocks family, and the Earldom died out in 1883. The last Lord Somers inherited the Castle in around 1920, but it was a sadly depleted estate and in 1926 Lord Summers moved to Australia with his family when he was made Governor of Victoria. The castle was left empty until 1931 when the family returned and some improvements were made to the interior, but when war broke out it was left empty once again. Lord Summers widow did live there again for a few short years after the war but her finances were crippled by hefty death duty taxes which severely depleted her finances.
Benjamin Hervey-Bathurst
In 1949 the Hon Elizabeth Somers Cocks and Benjamin Hervey-Bathurst took on the castle and slowly but surely worked their way through the repairs and renovations, mostly financed by selling works of art and reinvesting income from the estate. (Their descendant is carrying on the good work to this day).
In 1976, Herefordshire was battered by hurricane force winds (I remember seeing apple trees falling like ninepins in our own  orchard), and some of the turrets on the towers of the castle were badly damaged – the government gave a grant to have them repaired.
Long may this glorious edifice stand – it is absolutely stunning.
Eastnor Castle Household 1841
| | | | |
| --- | --- | --- | --- |
| George Daker | 35 | | |
| Samuel Manwaring | 50 | | |
| Thomas Whitcombe | 50 | | |
| Ann Daker | 35 | | |
| Mary Kenison | 30 | | |
| Ann Hooper | 20 | | |
| Sarah Hill | 20 | | |
Eastnor Castle Household 1851
| | | | |
| --- | --- | --- | --- |
| James Barling | 28 | Helper | b. Gloucestershire |
| Ann Rennie | 35 | Housemaid | b. London City |
| Julia Barnes | 23 | Housemaid | b. London |
| Thomas King | 19 | Errand Boy | b. Worcestershire |
Eastnor Castle Household 1861
| | | | |
| --- | --- | --- | --- |
| Cecil Brimfield | 53 | Housekeeper | b. Glamorganshire |
| Mary Brimfield | 19 | Daughter, Dressmaker | b. Glamorganshire |
| Elizabeth Ritchie | 49 | Housemaid | b. Northamptonshire |
| Elizabeth Ritchie | 11 | Visitor | b. Middlesex |
| Thomas Bowen | 66 | Porter | b. Presteign |
Eastnor Castle Household 1871
| | | | |
| --- | --- | --- | --- |
| Charles Somers Cocks | 51 | Peer of the Realm | b. Reigate, Surrey |
| Virginia Somers Cocks | 42 | Peeress | b. Calcutta, East Indies |
| John Richard Hodges | 33 | Butler | b. Offham, Kent |
| Henry Sims | 28 | Under Butler | b. Lincolnshire |
| Henry James Sayams (?) | 24 | Footman | b. Bickley, Devonshire |
| David Day | 19 | Footman | b. Childwick Green, Hertfordshire |
| James Davis | 20 | Porter | b. Ledbury, Herefordshire |
| LeFrancois Galand | 40 | Cook | b. France |
| James Millimos | 29 | Groom | b. Norfolk |
| Ann Sophia Hart | 53 | Housekeeper | b. Surrey |
| Sophie Trefzgan | 32 | Lady's Maid | b. Baden, Germany |
| Rebecca Easson (?) | | Still Room Maid | b. Aylsham, Norfolk |
| Hannah Edmonson | 24 | Kitchenmaid | b. Northumberland |
| Mary Edwards | 20 | Scullery Maid | b. Mongomeryshire |
| Elia Senese | 19 | Housemaid | b. Italy |
| Isabella Geoman | 21 | Housemaid | b. Scotland |
| Elizabeth Ann Dance | 19 | Housemaid | b. Eastnor, Herefordshire |
Eastnor Castle  Household and Servants 1881
| | | |
| --- | --- | --- |
| Ann Sophia Hart | 64 | Widower, Housekeeper b. Surrey |
| Eliza Burr | 38 | Still Room Maid, b. Kent |
| James Sargeant | 28 | Under Butler, b. Devon |
| Albion Manthorp | 25 | Footman b. Suffolk |
| Margaret Moor | 27 | Housemaid, b. Middlesex |
| Martha Fish | 36 | Housemaid, b. Dorset |
| Catherine Elizabeth Davis | 17 | Housemaid, b. Ledbury, Herefordshire |
Eastnor Castle Household 1891
| | | | |
| --- | --- | --- | --- |
| Mary Ellis | 57 | Housekeeper | b. Yorkshire |
| William G. Howells | 41 | Domestic Servant | b. Berrow, Worcestershire |
| Mary Goss | 23 | Domestic Servant | b. Swansea, Wales |
| William F. Stone | 26 | Under Butler | b. Ash, Kent |
| Ellen Feast | 26 | Domestic Servant | b. Hackney, London |
| Annie Gibbs | 20 | Domestic Servant | b. Stratford on Avon, Warwickshire |
| Emily Frankly | 34 | Domestic Servant | b. Berkshire |
| Elizabeth Mardment | 44 | Dressmaker | b. Dorset |
Eastnor Castle Household 1901
| | | | |
| --- | --- | --- | --- |
| Isobel Somers | 46 | Living on own means | b. London |
| Robert H. Somers | 3 | Grandson | b. London |
| Elizabeth Alexander | 34 | Nurse | b. Studley, Wiltshire |
| Agnes Garcombe | 17 | Assistant Nurse | b. Heavitree, Devon |
| Edith M. Goode | 25 | Secretary | b. Woodford |
| May Ellis | 61 | Housekeeper | b. Yorkshire |
| Jessie R. Hoddinott | 27 | Hospital Nurse | b. Herefordshire |
| Betsy Walker | 40 | Cook | b. Scotland |
| Emos Woodford | 48 | Butler | b. Tarrant Monkton |
| Emily Allison | 36 | Lady's Maid | b. Oswestry, Salop |
| Eliza H. Carver | 30 | Housemaid | b. Gloucestershire |
| Eliza Squirdle | 27 | Laundry Maid | b. South Norwood, Surrey |
| Alice Barnett | 20 | Housemaid | b. Bromesberrow, Gloucestershire |
| Lily Anderson | 20 | Housemaid | b. Northamptonshire |
| Margaret Tuck | 18 | Kitchenmaid | b. Beckford, Gloucestershire |
| Lilian Rouse | 16 | Scullery Maid | b. Cheshire |
| William Gethowells | 51 | Hall Porter | b. Berrow, Worcestershire |
| Charles Sayers | 25 | Footman | b. Cambridge, Cambridgeshire |
| Walter Lane | 15 | Hall Porter | b. Castlemorton, Worcestershire |
Eastnor Castle Household 1911
| | | | |
| --- | --- | --- | --- |
| Alfred Bartel | 56 | Caretaker | b. Germany |
| Fanny Bartel | 42 | Wife | b. Eye, Northampton |
Eastnor Castle Household 1921
| | | |
| --- | --- | --- |
| Alice Bette Jones | b. Ledbury, Herefordshire 1885 | General Domestic Servant to Captain The Lord Somers, lst Life Guards |
| Sarah Jones | b. Ullingswick, Herefordshire 1851 | Caretaker for Lord Somers |
| Mabel Anderson | b. Camberwell, London 1893 | General Domestic Servant to Lord Somers |
| Albert Charles Edward Edwards | b. Great Yarmouth, Norfolk 1897 | Indoor Man Servant to Lord Somers |
News from Eastnor Castle
Suicide at Eastnor Castle – May 1845
"An inquest was held 9th inst at Eastnor Castle the mansion of Earl Somers, by Llanwarne Esq. , one of the coroners for the county and a respectable jury on view of the body of Mrs. Sarah Benison housekeeper to Earl Somers who cut her throat in a frightful manner.
Mr. M A Wood, surgeon, being sworn, deposed that he had known the deceased three or four years. She had been the Housekeeper at Eastnor Castle for twenty years, and had long been affected with disease of the chest for which complaint he had attended her. For the last few months he had been frequently called in by her for confirmed disease of the heart, she was aware of the character of her complaint but the knowledge of it did not appear to affect her mind. For the last few weeks she had been confined to her room yet she continued cheerful until about a fortnight since when she became low and desponding. When Mr Wood enquired the cause of the change in her manner she replied that she had unpleasant dreams, but would not communicate the particulars. Mr Wood considered from what he heard afterwards that her mind was affected and she had disposition to commit suicide, but could not account for the lapse of her understanding. He was aware that about the time of the change taking place in her mind, she had settled her affairs and he had conveyed to her at the request of Lord Somers his Lordship's sense of her valuable services to the family. Mr Woods further deposed that he saw her alive the last time on Wednesday, when she was sitting up in bed apparently very low and desponding. He had no doubt that she was then in an insane state of mind. He saw the body after death and found a most extensive wound across the throat, the windpipe and gullet had been severed and life must have been extinguished almost instantaneously."
Accident for the Hon. John Somers Cocks – October 1818
The Hon. John Somers Cocks MP for Hereford, whilst shooting near Eastnor Castle, met with an accident. After having discharged his gun, in the act of reloading it the powder from his flask was ignited by part of the wadding that remained in the barrel and the whole exploded. Fortunately he escaped with a trifling injury to his right hand.
Penelope Wartnabe and Luke Bull – April 1827
Two employees at Eastnor Castle, Mrs Penelope Wartnabe housekeeper and Mr. Luke Bull, a farm bailiff, had something of a row which resulted in Mr. Bull calling Penelope a whore. She claimed that he had frequently tried to force his attentions on her, but been rejected every time, whilst he insisted that she was a two timing unchaste woman (she allegedly was also "walking out" with a Mr. Merick), and after he turned nasty he was dismissed from his employment. On that same day he wrote an unsealed letter to Penelope at the Castle, and instructed that it was to be delivered to Hector Jack, a servant, who read it out to all the other servants. Bull kept telling anyone who would listen that Penelope was a very unchaste woman, and that he could prove it; he wanted the fact to become known to Lord and Lady Somers so that they would dismiss her, and reinstate himself. Witness accounts from the servants proved that Luke and Penelope were frequently seen in each other's company, but also that Penelope frequently entertained Mr. Merick late at night.
Thomas Willis, an under coachman at the time, gave very strong evidence that he found Penelope and Luke together in the Housekeeper's room one night, and the situation was such that it left no doubt whatsoever about the character of Penelope.The Head Coachman was, however, less than complimentary about the honesty of Thomas Willis and more or less said that he was a compulsive liar, so in spite of overwhelming evidence from several reliable witnesses, Penelope won the case because so much of it hinged on what Thomas Willis said that he actually saw, and that was now very much doubted as to be true. The Judge was not entirely happy about it all, but had little option and awarded Penelope £10 damages.
Highway Robbery – 1828
Richard Lane was charged with attacking Thomas Sivell, a small farmer at Eastnor, on the King's highway on 31st March last in the parish of Eastnor, and with stealing from him a silver watch, money and his hat (!). Mr Curwood conducted the case for the prosecution and related that Thomas was returning from Ledbury Fair, via the Somers Arms public house, when he was knocked down and severely beaten by three men. He yelled for help, and two witnesses arrived to see two men leap through a hedge. They gave chase and managed to grab one man, who dropped Thomas's hat. One of these witnesses was John Wall, an under gamekeeper at Eastnor Castle, who gave a graphic account of the scene; it was then revealed that poor Thomas was not only black and blue but had a skull injury and a broken rib. The Rev. Mr. Higgins, the committing magistrate read out a confession made by the prisoner, who made no attempt at defence.
The learned Judge, Mr. Baron Vaughan summed up the evidence and Richard Lane was pronounced guilty by the jury, whereupon Mr. Vaughan, no doubt looking exceedingly stern, declared that in every case where cruelty or violence was used it was necessary to make a terrible example of the offender. The sentence of death was duly pronounced on the offender.
Attempted assassination of Earl Somers by his Valet – November 1856
There was some mystery concerning the facts of this event, and reporters were hard pushed to find the truth. One account had it that Earl Somers returned to Eastnor Castle with his family and domestics, amongst which was his personal valet, a Swiss man, Valentine de Matrie, who had been employed by Lord Somers for over fourteen years. The Earl became concerned when he discovered that a parcel was missing from his luggage, and he duly summonsed the Butler and other members of staff to see if any light could be shed on the matter, but the parcel remained undiscovered. The Butler was asked to send for the Valet, who went to the Library to be questioned by the Earl, but he was in quite a state it seems, being agitated and excited. The pair were alone in the room, and after a short period the Earl was heard to cry for help – several servants rushed in and found the Valet with a knife in his hand and the Earl bleeding from a wound. The Valet escaped, and this is where the mystery begins, because from that point all the staff were forbidden to talk to anyone about what had happened.
A second version reported that the Valet was refused entry to the Library by the Earl, and he subsequently became abusive and violent, forcing his way into the room. Other servants heard a fracas as they carried luggage up the stairs, and rushed in to intervene – de Matrie was ejected from the room, vociferously promising revenge, and seen off the premises by the Gamekeeper; a policeman arrived from Ledbury and stayed overnight, as well as medics.
A press reporter happened to be nearby on the day in question, and knew that both doctors and police had been summoned to the Castle, but none of them were permitted to discuss the incident. Further, the Valet was not the only member of staff to go missing that day and the Earl made it plain that no action was to be taken with regard to apprehending either of them.
A mystery indeed, especially as one week later the Earl wrote letters to the papers expressing astonishment at the reporting of an incident that never happened. Was this just a case of the press getting things totally wrong as they often do, or was there perhaps something more intriguing going on? It seems that intrigue is more likely, because some days later the following appeared in a London newspaper:
"To the editor
Sir – I have been perfectly astounded at seeing today in the columns of the Times a letter from Earl Somers, requesting the editor of that journal to give a contradiction to the statement which I forwarded to you on Monday last, relative to the affair which had taken place at Eastnor Castle the week previously. I say, sir, that I am astonished at this attempted contradiction because the matter is notorious in his Lordship's neighbourhood. It will have been observed that in Earl Somers' letter he requests the editor of the Times to give the contradiction; he does not give the contradiction himself. The Worcester Herald of last night thus notices the matter: "it has been said that his lordship was wounded, or at least menaced, by a stiletto; but this probably is only imaginative, founded on the fact that a bowie knife, or knife of that description was taken from de Matrie by the constable who removed him from the Castle.
De Matrie left the area on Tuesday for London, he has taken his family with him and is believed to be proceeding to the continent via Southampton." I am informed that the man left by the 10.50 train from Worcester and is now out of the country. These, sir, are facts that cannot be controverter and yet Earl Somers declares that there is no foundation for the statement that I made. If there had been no foundation why did he allow it to appear in the Worcester Herald without contradiction.
Will Lord Somers deny the following facts;
Had he a Valet in the name of de Matrie in his service? Did that man make a threat and attempt to carry that threat out, and was a bowie knife taken from him? Was the man sent away the next morning with a sum of money? Was he accompanied to the railway and watched until he was off? Is he now on the Continent.? If these are facts (and I know that they are) how can Lord Somers say that there is no foundation for the statement made…."
Some days later, after nearly every paper in the country had reported on the attempted assassination, a rather curt paragraph on the matter started appearing, stating that that the Earl had dismissed his Valet for misconduct, who then became abusive to other servants so it was felt prudent to call the police. All mention of the matter ceased as far as I can ascertain.
So, it remains a mystery!………Unless of course there is someone reading this who can put a satisfactory end to the tale?
Fire at Eastnor Castle February – 1864
A servant lit a fire in one of the bedrooms in order to air it, then left the room and closed the door. When she returned a while later, the metal door knob burnt her hand and she quickly realised that there must be a fairly large fire raging……she called for help and other servants quickly came and eventually managed to put the flames out, but not before all the furniture had been destroyed. Had they not been so quick to contain the fire, it is very possible that a large part of the Castle could have been lost.
Death of daughter of Earl Somers – 9th January 1859
Virginia aged three died of diptheria.
Blunderbuss accident – November 1878
On the night of 5th November, Alfred Coleman (son of the Head Gardener at Eastnor Castle) was firing a very old blunderbuss when it exploded, necessitating amputation of his hand.  Lord Somers' Footman was also injured in the eye.