St. John the Baptist was almost completely rebuilt in the mid 19th century, although the Norman doorway reamins as does the medieval tower.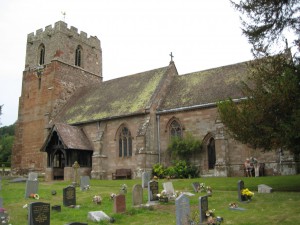 Font
This is possibly the earliest font on show in the country
The story of the old font deserves embellishment. It was found beneath the floor of the Nave when this was being rebuilt in 1851, and the much more modern base was carved early in the 14th century. It was clearly designed for total immersion of babies, and there is a hinged cover with a lock which meant that not only the holy water could be kept safe, but also other valuables. All fonts from the middle of the 13th century up until the Reformation were locked by order of the Archbishop of Canterbury in 1236, as a safeguard against sorcery, and possibly also to prevent "hedge priests" from secretly baptising babies at a fee lower than that of the Parish Priest. The staples for locking the font were removed during the Reformation
This is the modern font, in current use.
Memorials
Charles Somers Cocks
Charles Somers Cocks – 3rd Earl Somers; 2nd Viscount of Eastnor; 4th Baron Somers; 4th Baronet Evesham. Born 14th July 1819 and died 26th September 1883. This tomb is housed in a large family vault where there are very many plaques and memorials to the Somers Cocks family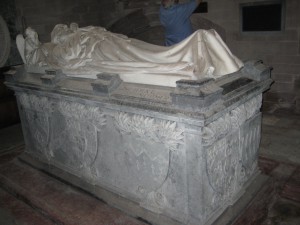 Charles Wentworth Bell
Charles Wentworth Bell, born Chapel Allerton Nr. Leeds. Warden of this church from 1889 to 1918. Died 20th January 1929 aged 71 after 5 years of suffering.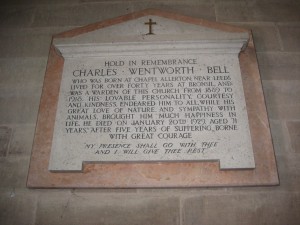 Staff Capt. Reginald Somers Cocks
Staff Capt. Reginald Somers Cocks, killed by a shell at Ouderdom on 24th April 1918 aged 23. This cross was retrieved from France by the family.
Bertha Mary Gray
A lovely stone angel, monument to Bertha Mary Gray who died 17th November 1900 aged 5. Also Oliver John Gray who was killed in East Africa 9th May 1914 aged 24, and their parents William Valentine Gray who died 3rd March 1926 in Surrey aged 63 and Emmeline Ruth Gray who died 10th May 1939 aged 75