Has there ever been a more unusual and delightful railway station than the one originally at Moreton on Lugg?
An ancient hollow oak tree at Moreton on Lugg, going by the name of Eve,  had an impressive circumference of some 62 feet.   An enterprising railway worker used it as a makeshift house, and he managed to add a brick chimney and doorway  and also thatched a roof.
All very cosy and when he had finally finished with it,  the tree house was used for storage until 1862 when Great Western Railway installed a station master for Moreton on Lugg station.  Tickets were sold from this unique little "building" until a new station was erected.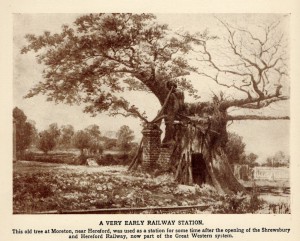 (Picture kindly sent to me by Jeff Lane, taken from The Wonder Book of Railways – without such input I would miss so much interesting information on Herefordshire's past)
Unfortunately, possibly because of work done on the railway embankment which meant that water pooled around the base of the tree, the tree eventually rotted and finally was toppled