By far the most common reason for people coming before the Court was Larceny and there was a wide range of punishments recorded for this crime…………ranging from a few days to several months in gaol, sometimes with a whipping thrown in, or hard labour. Occasionally if it was a second offence, then the sentence was Transportation for a few years.
You never know – one of your missing relatives might be mentioned below!   First of all though, a little about the prisons themselves.
Prison Conditions in the 18th century
18th century prisons in Herefordshire were pretty revolting places;  small, overcrowded and filthy, they were hotbeds of disease and despair  and were randomly run.  There was no segregation of sexes, and children were lumped in with everyone else to fight for space for themselves and what  little fresh water was  available.  The gaolers demanded payment for any tiny service, and many prisoners found themselves having to beg from anyone that might pass by their window.  Being stroppy usually earned a spell in irons, shackled to the wall and/or a whipping, they were VERY strict!  The turnover of inmates, however, was pretty high, largely due to the death sentence being the punishment for over 200 crimes – ranging from Treason and murder, to stealing a horse or even a loaf of bread.  A pickpocket would find himself with a noose around his neck if caught.  However, around the turn of the century there was a growing disquiet about the liberal hangings for petty offences, no more so than amongst the Magistrates themselves who were actually not empowered to do anything other than pass the death sentence on anyone convicted of these crimes.  However, after sentence was pronounced the judges were then able to make recommendations for leniency to the King and Privy Council and the final decision was taken out of their hands.  Family and friends of the prisoners could also plea for leniency and a great many death sentences were commuted to Transportation, or even a much lesser punishment.  It does have to be said though that some Magistrates were more kindly disposed than others and not all counties had such a high record of reprieves as Herefordshire.
Crimes  carrying death penalty reduced
In the early part of the nineteenth century, the number of crimes carrying the death penalty was reduced to 100, and following John Howard's research into English prisons there was a concerted effort made to improve the conditions which in many cases necessitated the building of brand new gaols.  Slowly things changed, and "hard labour" became one of the most common punishments – prisoners were used for making roadways or breaking up rocks in the quarries,  in fact anything that required physical force, and children were not exempt.  In the absence of any outside work for those sentenced to hard labour, there were often treadmills within the prison walls which were perfectly horrible affairs;  sometimes they served a purpose such as grinding flour but often it was just a mindless and gruelling exercise.
The largest contingent of prisoners was made up of Debtors who could languish inside for quite a long time unless they found a way to pay what they owed, although from time to time an insolvency Act of Parliament would free most of them, thus creating a big clear out of the overcrowded cells.
The main prisons were understandably in Hereford, but there were also small prisons scattered elsewhere throughout the County as will be detailed later on.
The First Hereford Prison
The first Hereford prison was just to the north east of the city walls, at the Bye Street Gate and was in use up until 1842 when it was totally demolished, so no pictures of that I am afraid.  The second prison was in St. Peter's Square, but this was not purpose built and it seemed that it was a little too easy for prisoners to escape………also, it abutted a local hostelry, the Sign of the Fleece (now the Golden Fleece) and alcohol passed freely to the inmates on a regular basis via a convenient window!  Eventually the warders lost patience and banned the owner of the pub from providing the prisoners with alcohol.  The pub in question still exists and is shown below being the cream painted building, but the gaol itself which was behind the pub has long since been demolished.
Executions were mostly carried out to the south of the City at Gallows Tump, but it was not unknown for them to happen at St.Peters, and one of the most notable was a duel execution of a pair by the names of William Watkins and Susannah Rugg who killed Watkins' wife with arsenic.
This prison was not ideal in many respects, most notably that security was very poor,  and a new prison was duly commissioned.
New Prison in 1796
by 1796 the new County Gaol was more or less completed in an area known as the Priory, with the main entrance being in Bye Street Without, now renamed Commercial Road.  This building was further enlarged and extended over the following years, and conditions for the prisoners vastly improved with each inmate being examined by a physician on entry;  there were warm baths as well as a chapel.  Also, debtors and felons were now separated as were the men and women.
There was an area above the entrance gate which was initially used for public hangings, and if nobody claimed the bodies then they were buried within the prison walls, but murderers were usually given to medical students for research and dissection purposes.
This prison had a main entrance adjacent to what is now Commercial Road, and underwent a great many improvements and extensions over the years.  A mill within the prison walls was converted into an execution house, and one can imagine that the trapdoors used for flour etc. would be ideal for hanging!  The gaol closed in 1915, and was used during the first World War as a detention house for deserters;  it finally closed completely in 1929 and a couple of years later was almost totally demolished.  All that remains now is a small building which is currently used as offices and loos in the large bus terminal.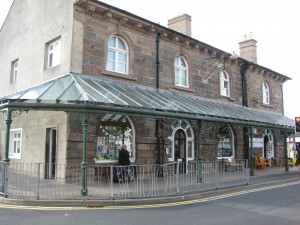 back view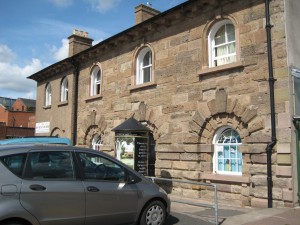 The following old photograph is of the front of the Commercial Road County Gaol taken after it's closure and just before demolition – the public were invited for a small entrance fee to few inside.
Photo appears by kind permission of Christopher Adcocks, whose wonderful site of old Herefordshire photographs can be found  at http://oldherefordpics.blogspot.co.uk/
New Prison in Grope Lane
In 1841 work started on a new gaol in Grope Lane, later renamed Gaol Street.  It's life was short lived however, and after just over thirty years it was closed down after the Prisons Act of 1877.  Most of the Gaol has now been demolished, but one small part of it still remains in the form of the old Magistrates Court.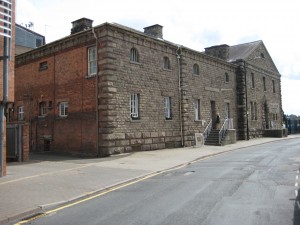 Skeletons of Criminals:
On 3rd May 1856 it was reported that in process of excavation for the drainage now being effected at Hereford County Gaol, the workmen turned up in a small plot of ground on the west side of the entrance fronting Commercial Road, three human skeletons, in an unusually perfect state, which were buried some eight feet below the surface.  The remains are supposed to be those of the only three prisoners buried within the precincts of the gaol which were, as stated, – John Phillips in 1796;  Thomas Jones in 1801 and Stephen Price in 1804.  Some other portions of human remains have also been found
September  1856
Decrease of crime in Herefordshire:
It was reported that plentiful employment and good pay was having a positive effect on the crime rates, and the County Gaol had less occupents than it had had for a very long time.  There were only 51 prisoners within the "dreary walls".
September 1861
The annual Prisons report was published and Hereford, along with other prisons, was hauled over the coals for causing enforced idleness amongst the inmates…..11 hours in bed during the summer, and 13 in the winter.
April 14th 1866
Hereford Gaol was praised for its productive labour policy.
February 12th 1876
Fire at Hereford County Gaol
……………..on Sunday morning, about eight o'clock, it was discovered that a fire had broken out in an apartment on the debtors' side of the Hereford county prison, occupied by one of the female officers, at that time absent on leave.  Captain Cowtan, the Governor of the prison, was called and he quickly  organised several of the officers of the gaol who succeeded after a good deal of exertion in putting out the flames, but not before the furniture of the room and the boarded flooring had been completely burnt out.  The windows were also burnt out by the intensity of the heat.  The walls being of stone did not readily burn , but for this the whole building would have been destroyed.    The origin of the fire is unknown, but the probable cause is that some hot ashes from the grate fell on to the floor which did not catch until the fire had smouldered for some hours.
April  1878
The new Prisons Act means that along with 38 others, Hereford City Gaol is to be closed.
Murder Most Horrid
August 1733
"We have an account from Hereford that about nine months since a barbarous murder and robbery  was committed at Tratire near Ross upon the body of Mr. Andrew Roading, a Scotsman, who was inhumanely cut in pieces and buried in a garden;  the authors of which (two men and a woman) were not discovered until the 20th of last month but all three are now committed to Hereford Gaol upon evident proof of their being the assassins.  Two of those wretches are a Smith and his wife at whose house it seems Mr. Roading lodged."  There then follows a long account of how the neighbours became suspicious when they saw fine linen on the washing line, and there was no sign of Mr. Roading who they knew to be a purveyor of such things in packets.  Then "His mangled body was found after diligent search, with the head off skull split and limbs cut asunder.  The Smith's wife has confessed the fact in such terms, together with other material circumstance, as render it beyond doubt their being the cruel authors of this horrid scene".
February 1736
William Watkins, a Welshman, was committed to Hereford Gaol for the inhuman murder of Joseph Bowen,  a Taylor at Egleton in that county.
July 1758
Mary Davids and Hannah Davids were committed to the County Gaol of Hereford for the murder of Margaret Phillips of Whitchurch in Herefordshire
August 1762
Thomas Fudger of the parish of Yarkle near Froome in Herefordshire was committed to Hereford Gaol for the murder of his wife, by a blow he gave her on the head with a hacker, which split her skull.  They had been married 40 years.
November 1764
Mary Howard was committed to the Hereford County Gaol, for the murder of her bastard child which she concealed in a draw well.
December 1771
Luke Mark was committed to Hereford Gaol for poisoning his father in law, a person of  Rye, near Leominster.
October 1791
Edward Garbett was committed to Hereford County Gaol charged with the wilful murder of Ann Garbett, his wife, in the parish of Farlow, Herefordshire.
January  1828
John Bishop was committed to Hereford county Gaol on suspicion of having given arsenic to Elizabeth Farmer who was pregnant, which caused her death.  She had lived as a servant in the parish of Moreton Jefferies in Herefordshire, where the prisoner was also in service.
June  1833
David Thompson was committed to Hereford County Gaol charged with killing  J. Morris at Leintwardine.  The prisoner had been sent on his masters business and given a horse to ride on.   He became drunk and riding very fast overtook the wagon his unfortunate victim was driving.  He attempted to pass on the wrong side and in doing so knocked Morris down, when the wheels of the wagon went over his body and killed him on the spot.
Executions at Hereford
April 14th 1787
Last Saturday, Thomas Jones and William Morris were executed at Hereford according to the sentence passed on them at the last assize, for breaking and entering the house of Elizabeth Prosser and stealing goods, and also for stealing a mare, the property of John Watkins.  After sentencing, Jones revealed the whereabouts of several horses and their owners were reunited with them.
April 17th 1863
William Hope, who was sentenced to death at the late Hereford Assizes for the barbarous murder and violation of the young girl Mary Corbett, was executed in front of the Hereford County Gaol.  He became very penitent before being hung.
Capital punishment and deportation
(mostly very kindly supplied by Mike Walsh, extraordinarily good researcher of all things Herefordian, especially Dilwyn)
18th Century Law regarding Crime
The laws were strangely uneven in the 18th century, for example, a man would be hanged for stealing a shilling, whilst embezzling £100.000 resulted in a mere fine.
An Act of Parliament in 1723 stated the following misdemeanours which would result in DEATH
Appearing in any forest, chase, park etc. or in any highroad, open heath, common or down, with offensive weapons and having his face blackened or otherwise disguised.
OR unlawfully and wilfully hunting, wounding, killing or stealing any red or fallow deer.
OR unlawfully robbing any warren etc.
OR stealing any fish out of any river or pond
Or whether armed or disguised or not, breaking down the head or mound of any fishpond whereby the fish may be lost or destroyed;
OR unlawfully and maliciously killing, maiming or wounding any cattle
OR cutting down or otherwise destroying any trees planted in any avenue, or growing in any garden, orchard or plantation, for ornament, shelter or profit
OR setting fire to any house, barn or outhouse, hovel, cock-mow, stack of corn, straw, hay or wood
OR maliciously shooting at any person in any dwelling house or other place
OR knowingly sending any letter without any name, or signed with a fictitious name, demanding money, venison or other valuable thing.
Or forcibly rescuing any person being in custody for any of the offences before mentioned
OR procuring any person by gift or promise of money, or other reward, to join in any such unlawful act
OR concealing or succouring such offenders
There is some doubt as to the precise number of criminals buried within the precincts of the prison, as relatives had the option of claiming the bodies, however in the case of murder they were invariably handed over for dissection.
Executions were something of a spectator sport, and the strange notion that a cyst/wart on the neck could be cured by the touch of a dying criminal's hand was tested  by several women.
The possibly earliest executions on record in Herefordshire were those known as the Six Welshmen.
William Spiggott, Barber;  William Walter Evan, Tinker;  William Morris, Saddler;  David Morgan, Tinker;  David Llewellyn, Farmer;  Charles David Morgan Farmer.
They collectively murdered William Powell a gentleman in Carmarthenshire – they ran into his parlour with blacked faces and using swords and cutlasses stabbed him 12 times.
They were hung at the Gallows Tumps one mile from the city.  The bodies of William Spiggott and William Walter Evan were taken and hung in chains on Hardwick Common near Hay, the other four were dissected.
A selection of Executions in the 18th and 19th century in Herefordshire
| | | | |
| --- | --- | --- | --- |
| YEAR | NAME | DATE OF EXECUTION | CRIME |
| | | | |
| 1773 | John Medlicott | 3rd April | HighwayRobbery, near Ludlow |
| | Samuel Williams | 3rd April | Breaking into 2 houses and stealing clothing. |
| 1774 | Samuel Aymiss | 2nd April | Stealing a silk handkerchief at Kimbolton. |
| 1777 | Charles Williams | 2nd August | Breaking open house at Stoke Bliss and stealing articles. |
| 1778 | David Davis | 20th August | Murder of little girl named Owens at Staunton on Wye. |
| 1782 | John Webb | 7th September | Plundered a Venetian vessel off Glamorganshire Coast. |
| 1783 | Eustace Lane | 9th April | Sheep & horse stealing |
| 1784 | John Nicholls | 2nd April | Assaulting with a fire shovel, Mary Thomas of Kite's Nest public House at Stretton Sugwas and robbing her. |
| | George Woodhouse | 2nd April | Burglary at New Radnor, stealing money, keys and a pair of buckles |
| | Abraham Ankridge | 2nd April | As above. |
| | Christopher Carter | 2nd April | 2 burglaries, one at Ross on Wye and the other at St. Weonards |
| | James Harris, alias Lewis, alias Hancock | 2nd April | Stealing seventeen sheep at Clehonger |
| | Thomas Watkins, alias Hardwick, aged 17 | 2nd April | Housebreaking at Lugwardine and stealing £40 |
| | James Williams, alias Samuel James, aged 74 | 13th August | Stealing a horse at Weston under Penyard, also for committing a felony at Hope Mansell. |
| | Elizabeth Wright | 13th August | Burglary at Bodenham |
| 1785 | William Hall, alias Evans | 1st April | Housebreaking at Lugwardine |
| | William Jones, aged 16 | 1st April | Stealing three cows and one horse.  He had just escaped from Brecon gaol |
| | Richard Stephens | 1st April | Housebreaking and stealing money |
| | William Lane, alias Jelf | 1st April | Stealing a shirt at Middleton on the Hill;  he confessed to 13 housebreakings |
| 1786 | Timothy Weaver of PrestonWynne | 7th April | Housebreaking at Whitbourne |
| | William Collins | 7th April | Stealing money and clothes at Docklow |
| | Thomas Yeates | 7th April | As above |
| | Susannah Minton of Kilpeck, aged 17 with a "weak intellect". | 16th September | Setting fire to a barn at Kilpeck in order to draw attention from the house whilst she stole items from her mistress. |
| 1787 | Thomas Jones | 7th April | Housebreaking at Brilley, and stealing a mare.  Jones gave information regarding other stolen horses, and they were eventually recovered. |
| | William Morris | 7th April | As above |
| 1788 | Thomas Watters, alias Reynold from Bromyard | 4th April | For running away from transportation. He had broken into 100 houses and escaped from gaol twice. |
| 1789 | William Hiles | 1st April | For stealing a mare at Ludlow |
| | Solomon Woodyatt, alias Thos. Brickley | 1st April | For a burglary at Bromyard.  He was a notorious thief and had twice broken out of gaol whilst awaiting transportation. ** |
| | Francis Carpenter | 20th August | Burglary at Hereford.  Executed at Gallows Tump and buried at Breinton after violent opposition from the inhabitants. |
| | Benjamin Trottam | 20th August | As above |
| | Christopher Morris | 20th August | As above |
| 1790 | William Jones alias Watkins | 1st August | For the murder by poisoning of Jones' wife at Longtown |
| | Susannah Rugg | 1st August | As above |
| 1796 | William, alias John, Phillips | 6th August | For stealing 21 sheep at Garway |
| 1801 | Thomas Jones, from Forest of Dean | 15th August | For a burglary and assault at Clifford.  Apprehended but later broke out of gaol.  Recaptured and chained to the ground!  Buried within the precincts of the gaol. |
| 1804 | Stephen Price | 31st March | Stealing sheep at Lyonshall.  He eluded arrest for two years. |
| 1808 | Susannah Pugh | 28th March | For the murder of her infant daughter by cutting her throat as she slept in Union Street, Hereford.  She was in a state of despair because she could no longer pay the rent. |
| 1811 | John Rudd | 24th August | Forgery of Ludlow bank notes.  The Prince Regent admitted his father and brother to an audience upon the subject of reprieve, but expressed the impossibility of complying with their request. |
| | Thomas Watkins | 23rd August | For the murder of Jean Gwilim at Longtown |
| 1812 | William Hylett, alias Eylett | 11th April | For stealing two horses at Raglan |
| 1816 | William Cadwallader, 28 of Ludlow | 1st April | Murder of his wife at Leominster.  He married her for her money, but ill treated her.  After 7 years and four children he killed her and put her body on a neighbour's hedge.  It is thought that he also killed his daughter.  Dissected after execution, with some skin being tanned to show contempt for the man. |
| 1817 | Richard Underwood | 31st March | For the murder with a coal axe of William Harris, Ostler and brewer at the New Inn, Ledbury.  He stole his watch and a little money. |
| | John Hardy | 12th April | For stealing a horse and silver plate belonging to John Josiah Holford.  Buried within the precincts of the prison |
| | Thomas Langslow | 12th April | For cutting and maiming James Green at Kington |
| 1818 | John Burlow aged 16 | 11th April | For setting fire to his master's stables at Munsley, whereby 7 horses, 2 stables and a hay house were destroyed.  His execution was delayed as John put his bed against the door of the cell.  He was eventually dragged to the scaffold by some force.  He was buried within the precincts of the gaol. |
| | James Webb | 22nd August | For stealing nine sheep at Acton Beauchamp |
| 1830 | James Williams | 17th April | For Highway Robbery with violence at Tupsley.  He was known as "Crutchy Williams" for being lame and using a crutch. |
| 1832 | William Williams | 26th March | For the murder of Walter Carwardine in a low brothel kept by Pugh in Quaker's Place, Hereford.  He was the brother of Crutchy mentioned above.  The body was thrown into the River Wye and not discovered for 3 weeks |
| | John Matthews | 26th March | As above |
| | Joseph Pugh | 26th March | As above, and the brothel was his. |
| | James Gammon | 25th August | For the rape of Charlotte Powell aged 7, at Whitchurch |
March 21st 1888
Execution of Scandrett and Jones (warning – contains details of hanging)
The execution of James Jones (23) and Alfred Scandrett (23) for the murder of Phillip Ballard of Tupsley took place at the County Gaol, Hereford, yesterday morning.  The arrangements for the execution were of the usual character.
Berry, the executioner, arrived in the city from Bradford on Monday afternoon.  Scandrett's mother and another female relative visited the condemned man on Monday, and both he and they were much affected.  The chaplain was to have stayed through the night in attendance on the two men, but he found them so resigned that he left them.  The reporters were admitted at a quarter to eight o'clock and taken to the Governor's room;  at five minutes to eight o'clock they were admitted into the central corridor where they found the Sheriff and other officials waiting with Berry.  The latter went to Jones's cell, pinioned him, and brought him to the head of the procession.  Jones was pale but calm and did not need the support the warders were ready to give him.  Berry next went to Scandrett's cell, pinioned him and placed him by the side of Jones.  The chaplain, who had been with Scandrett, leaving him and placing himself by Jones.  Scandrett was as pale as Jones and equally as calm.  Neither uttered a sound.  The Under Sheriff headed the procession, then came several warders then the chaplain preceding the criminals, who were followed by the medical officers of the prison and Berry;  the reporters walking in the rear of all.
The chaplain, much agitated, opened the burial service and the men, without visible emotion, started forward for the scaffold which was erected over a pit twelve feet deep in the prison yard.  Both men maintained a remarkable calmness, and kept a silence which was unbroken by any sound, not even a sob.  Without the least hesitation they took their stand upon the trap doors under the beam.  Berry, moving swiftly and without noise, strapped their feet together, drew a loose fitting white cap over each mans head and placed the ropes.  Meanwhile, the chaplain repeated the sentences of the service for the burial of the dead.  In fifty five seconds from the time the men reached the gallows, Berry, still moving swiftly and without sound, touched the lever and the two men disappeared.  Those that looked down into the pit saw that Jones' body was quivering and continued to do so for the greater part of a minute, when it became still, life being evidently extinct.  Scandrett on the other hand, showed no sign of motion, the head being thrust forward as if the neck were severely dislocated, death having evidently taken place immediately.
Outside the prison there were 2,000 people assembled, a large proportion of them being women.  The crowd was orderly and quiet.  Under the prison wall, near which the gallows was erected, the principal part of the crowd gathered to listen for the drop, which was distinctly heard outside.  Directly after eight the black flag was run up which caused a perceptible emotion in the crowd which then melted quietly away.
April 6th 1864
Yesterday morning, at eight o'clock precisely, Thomas Watkins, who was sentenced to death by Mr. Baron Pigott on 23rd March for the murder of his wife at Hennor an out parish of Leominster, was executed in front of the County Gaol, Hereford.  The morning was very wet, but notwithstanding a large number of people had assembled in front of the gaol.  Smith of Dudley was the executioner, and he so adjusted the rope that the unhappy culprit died almost without a struggle.  The crowd was very orderly.  Watkins told the Governor and Chaplain on Monday evening that he murdered his wife with a bill hook (an instrument used for trimming hedges).  The convict seemed very penitent and audible invoked the mercy of his creator all the way to the scaffold.
A further report elaborated on the actual murder thus:
April  1864
Thomas Watkins wife, Mary Watkins, was  very pretty and this caused Thomas to have fits of jealousy;  he eventually left her in a fit of passion.   He then became a bit of a layabout whilst his wife, who had two children, went out to work as a Laundress to support not only herself and family but also her husband too.   He frequently annoyed her with insinuations  as to the doubtfulness of her faithfulness, which she  hotly denied.  At length Watkins left altogether and enlisted into the Royal Marines but he soon deserted, and  eventually it came to the attention of the poor law guardians that he was often eating the food that was handed out to his wife and family, and they hauled her in for questioning about it.  She confessed that he had returned to the neighbourhood and they tried to get out of her where he was hiding with little success so a date for a second questioning was set.  However, the day before this was due to take place she was found murdered.  Watkins had believed that his wife was going to betray his whereabouts and accordingly murdered her to keep himself safe.   On Sunday the condemned sermon was preached to him by the chaplain of the gaol, the Rev Joseph Barker.  On the previous day, Saturday, he was visited for the last time by his mother, his sister and his son, a little boy of about 12 years of age from whom the friends have succeeded in keeping the dread sentence of his father.  On Monday night he denied being implicated in the drowning of two men of whom he had been jealous and whose bodies were found in the Lugg in November last.
Daring and ingenious escapes from Hereford Prisons – and a few failures.
June 1726
a certain notorious robber, Charles Phillips who had twice broken out of Caermarthen gaol and once out of Hereford, was returned to Caermarthen in fetters and chains.
April 1756
Three people broke out of the county Gaol of Hereford on Thursday night April 8th:
William Hill, under sentence of transportation, a Labourer  in the county of Hereford.  About 5 foot six inches high, of fair pale complexion, lank black hair, blackish eyes and eyebrows.
John Prichard, under sentence of transportation, a Baker born in Hereford but lately has been a cook on a Man of War;  a short well set man about five foot five inches high, has a down look having a cast of his eyes, with large dark eyebrows.  Talks very fine.
Under sentence of death, but reprieved Summer Assizes 1754, James Davis alias James James alias James Dean born at Richard Castle in the county of Hereford.  A well set man, about five feet nine inches high, of a swarthy complexion pitted with the smallpox and dark brown lank hair
February  1775
A number of riotous persons assembled outside Hereford Gaol  to rescue two men who had been committed for being concerned in pulling down some mills in that neighbourhood.  They forced the gaol door open and one man was killed on the spot, but they did not succeed in releasing the prisoners.
March 4th 1786
On Thursday night last, two prisoners broke out of our County Gaol, John Hill and Richard Morgan – the former convicted of horse stealing and the latter committed on suspicion of sheep stealing.  On Saturday morning John Hill was found, almost frozen to death, near Mitcheldean in Gloucestershire.  Two letters found in his pocket, directed for him at Hereford Gaol, indicated that he was an escaped convict.
April 14th 1787
On Monday evening, the convicts in Hereford Gaol made a desperate attempt to effect their escape – the turnkey at the usual hour went to order them to their rooms, they absolutely refused being locked up until 9 oclock.  On his insisting that they go at that time, one of them, Thomas Powell, struck him with a short stick which he had concealed under his coat.  On this the turnkey returned and told the gaoler of their refusal, who went immediately to assist him and found three of the most daring coming out of their yard;  but the gaoler being armed did with some difficulty get them through the first gate but dared not to go any further without some assistance, which when procured, he had much trouble to subdue them till he was compelled for safety reasons to strike one of the most notorious villains with a hanger.  The two ringleaders, Thomas Powell and William Reynolds are strongly secured.
February 20th 1797
Thursday fe'nnight, Richard Badham and Samuel Pullen, two prisoners in new Hereford County Gaol, who were confined in the same compartment, from the very crowded state of the prison contrived to effect their escape from hence.  They had previously sawed off their irons and with the same instrument cut the iron grating and window from their cell completely out;  being upon the ground tier they soon got into the yard, and by means of a rope ladder ingeniously made from the cord from their bedhead, they scaled the party wall, and from thence to the boundary, where they descended by the same contrivence and got clear off.  They were missed at half past ten at night upon the gaoler doing his customary round, when two others were discovered, and secured, in the midst of a similar attempt, having removed a great part of the brick work over the window of their cell.
April 20th 1833
On the evening of Saturday 13 prisoners confined in Hereford County Gaol attempted to escape by breaking a hole in the boundary wall from the day room of the first felons' cells, but they were detected by the vigilance of Mr. Bennett, the head turnkey, and immediately secured.
February 13 1858
On Friday morning, an official in the Hereford County Gaol reported to the Governor that Thomas Davis, a prisoner who was committed for trial to the next Assize for housebreaking at Little Hereford, was missing.  It was found that the prisoner had removed a large lock from the door and wrenched it off.   He had also wrenched off a heavy bolt and seems to have picked a large padlock, removing the top plate by means which have baffled all scrutiny to ascertain.  A bag composed of strong twine network is placed in each cell and in this the prisoner every night deposits his clothes, which are removed from the cell and restored in the morning.  In this case, the prisoner on receiving his clothes and the bag in which they were placed must at once have set to work in an ingenious manner.  He formed a ladder of the network of the bag and provided steps for his feet by breaking up his wooden trencher into narrow strips.  He must then have forced the locks and made his way to the outer wall which he succeeded in climbing by use of his rope ladder, and got clean away before his escape was known.
(This particular story was reported all over the country during the following weeks, and various sightings were reported, as well as a robbery where it was assumed he was gaining new clothes – then the following appeared in the papers:…..
February 27th 1858
Since the time of Thomas Davis' escape a confident belief was entertained that he was lurking about the neighbourhood of Little Hereford, but on Sunday night, 14th inst, he was apprehended under very singular circumstances.  In the parish of Eye there lives a farmer named Jay;  some time during the night of Sunday Mr. Jay had occasion to call up one of his men servants, and thus had his attention directed, through a crevice in the floor, to a light that was burning in the kitchen.  He instantly communicated the circumstances to his servant and went downstairs.  The nocturnal intruder took alarm, promptly extinguishing the light and as Mr. Jay opened the door leading into the kitchen,  took to immediate flight through the outer door.  As soon as Mr. Jay and his servant could dress themselves they went in pursuit, and as the night was fine they were enabled to trace the footsteps of the fugitive.  Ultimately, in an outbuilding of the homestead of Mr. Yapp of Orelton, a distance of between two and three miles, a man was found concealed underneath some hay.  Their suspicions were confirmed for he had on a hat and frock which had been taken from Mr. Jay's house.  Upon being taken to Mr. Jay's house it was found that underneath the stolen frock the man had on the prison dress and this led to the belief that he was the escaped prisoner.  On Monday he was again restored to the keeping of the governor of the gaol from whom Mr. Jay received the reward of £5.
February 7th 1882
About ten o'clock yesterday morning, a prisoner in Hereford County Gaol, named Rookes, undergoing one months hard labour for poaching at Bromyard, managed to make his escape.  Alterations in the façade of the gaol are being made to allow a carriage entrance for the visiting justices, and the prisoner, to escape, made use of the ladders of the workmen.  He went in the direction of Lugwardine and has not been recaptured.
Felons most foul
May  1794
John Williams, a Weaver of Byford, was committed to Hereford County Gaol, charged with feloniously entering an outbuilding at Devereux Wooton, near Weobley , and stealing  a box containing sundry articles of silver plate etc. the property of Miss Berrington; and at the same time was committed Ann Beavan, charged on the confession of Williams with being an accomplice in the above robbery.  Almost all of the plate has been recovered
April 12th 1831
On Sunday morning, a servant of Mr. Jones at Breinton near Hereford, discovered that the fowl house had been robbed and giving alarm a pursuit was raised, and the thieves, three in number, were tracked to a coppice wood where they were found fast asleep being overcome with the effects of some cider which they also made free with on Mr. Jones' premises.  The men were taken into custody and taken towards Hereford, but after proceeding a short distance one of them, named Thomas Badham, jumped into the river Wye and endeavoured to escape but failing in his attempt to swim the river perished in the sight of his companions and pursuers.  The man and one of the other two had only been discharged from Hereford County Gaol the previous evening.
Highway Robberies and other crimes
September 1730
Reports came in from Hereford of a rather heartless murder committed by two Highwaymen who stopped a certain Mr. Matthews, steward to Mr. Monington, on the road and without waiting for him to find and hand over his money, shot him dead.   They were later named as Weaver and Saysell, and were committed to Hereford Gaol
February 1750
Last week, one Johnson, a Dancing Master, was committed to Hereford Gaol for Sodominical practices at Bromyard.
October  1773
A gentleman of Ross, who was considered an honest and dependable person, gave an account of finding in Orcap parish in Herefordshire an underground stable in the middle of a thick wood.   It seems this was a receptacle for stolen horses, brought there by one Williams and his two sons – horse stealers by profession.  The men were apprehended last week and committed to Hereford Gaol.  It is supposed that they are the villains that stole horses near Bristol;  the same gentleman adds that many horses were stolen in the neighbourhood of Ross last week.
August  1772
At Hereford Assizes, James Parlo convicted of sheep stealing, received sentence of death.
October  1773
Two men who tour the Country under the pretence of selling quack medicines were, by the vigilance of the Magistrates, captured at Ross on Friday and sent to Hereford Gaol.
November 24th 1778
Last Saturday morning, about eight oclock, Mr. Thomas Edy of Ledbury in Herefordshire, was stopped within two miles of that town on his way to Gloucester Market by a single footpad, who presenting a pistol to his breast, demanded his money.  Mr. Edy gave him some silver and his watch with which the fellow made off across the fields but being very closely pursued.  He was, after a stout resistance, taken near Little Malvern and committed the same evening to Hereford Gaol by the name of Thomas Gwillim.  When he committed the robbery he had on an old hat, a white smock frock and black stockings, but when taken wore a silver laced hat and white stockings, carrying in a handkerchief the frock etc.  There were found upon him a brace of pistols with the words David Low & Montrose at full length on the barrels;  a handful of slugs, two knives, and a silver watch.
August  1772
At Hereford Assizes, James Parlo convicted of sheep stealing, received sentence of death.
October 1st 1846
In the month of December last, a notorious poacher named Thomas Bufton was convicted before the Magistrate at Bromyard of poaching on an estate at Much Cowarne belonging to F.H. Thomas Esq., and a warrant was made out for his commitment to the county prison for the term of two months.  Since then, Superintendent Marshall of Bromyard, and other officers in the County, have used great exertions to capture the prisoner, but, up to Sunday week he had contrived to play bo peep with them and evade all their vigilance.  On that evening, Superintendent Shead of Ledbury happened to get a clue to his whereabouts and proceeded to Froomes Hill where, at night, he captured the wily biped.  On Monday last that officer conveyed him to Hereford County gaol where, under the warrant of commitment, he will have to serve the term of two months – a punishment he had managed to postpone, but could not contrive entirely to elude.
Suicide in Hereford Prisons – attempts and successes
July  1880
Mr. Reginald Symonds, Deputy Coroner of the City, held an inquest  at the County Gaol Hereford on Wednesday on the body of Patrick Nolan, a middle aged man, who committed suicide in his cell on Tuesday, by hanging himself with his towel which he had attached to the bars of the window grating.  It appeared  that he was dead when the warder went to visit him, and it was reported that he had been very depressed.
August 1846
A prisoner in Hereford City Gaol named William Evans, who was sentenced to two months imprisonment for an assault upon a woman named Husbands,  attempted to hang himself in his cell but was discovered in time to save his life.
June  1869
A prisoner in the Hereford city Gaol made repeated and deliberate attempts to cut his own throat.  The man, whose name is John Nearhurst, a watchmaker and jeweller, has only recently come to Herefordshire.
Hereford Prison Officers 1851
| | |
| --- | --- |
| Henry G. Napleton | Governor b. 1810 Devon |
| John Piper | Porter b. 1804 Hungerford, Berkshire |
| William Pinder | Turnkey b. 1805 Lincolnshire |
| James Jones | Turnkey b. 1801 All Saints, Hereford |
| Charles Davies | Wardsman b. 1796 Gloucestershire |
| Charles Hepton | Wardsman b. 1829 Aymestrey, Herefordshire |
| Sarah Bruton | Nurse b. 1785 St. Peters, Herefordshire |
| Jane Morton | Wardswoman b. 1790 Woolhope, Herefordshire |
Hereford Prison Officers 1861
| | |
| --- | --- |
| George Gouldrick | Governor b. 1813 Hereford |
| Hannah Gouldrick | Wife and Matron b. 1817 Vowchurch, Herefordshire |
| Rosanna Gouldrick | Daughter b. 1851 Hereford |
| Caroline Gouldrick | Daughter b. 1853 Hereford |
| Hannah Gouldrick | Daughter b. 1857 Hereford |
| Maria Gouldrick | Daughter b. 1860 Hereford |
| Henry W. Hollings | Turnkey and Deputy Governor b. 1827 Herefordshire |
Hereford Prison Officers and staff 1871
| | |
| --- | --- |
| Edward Cowlan | Governor b. 1824 Canterbury, Kent |
| Eliza Cowlan | Wife b. 1825 Canterbury, Kent |
| Emma Cowlan | Daughter b. 1857 Kilkenny, Ireland |
| Elizabeth Brodie | Matron b. 1827 Salop, Shrewsbury |
| Elizabeth Powell | Warder b. 1848 Herefordshire |
| Elizabeth Lewis | Warder b. 1842 Burghill, Herefordshire |
| George Carter | Schoolmaster b. 1835 Norwich, Norfolk |
| Elizabeth Carter | Wife b. 1831 Monmouthshire |
| John Carter | Son b. 1864 |
| George Carter | Son b. 1866 |
| James Watkins | Turnkey b. 1828 Monmouthshire |
| William Lewis | Turnkey b. 1847 Ledbury, Herefordshire |
| Stephen Hunt | Turnkey b. 1831 Ross on Wye, Herefordshire |
| Robert Bowers | Turnkey b. 1809 Caldwell, Herefordshire |
| Robert Pasmee (?) | Turnkey b. 1845 Hereford |
Hereford Prison Officers and staff 1881
| | |
| --- | --- |
| George H. Garraway | Deputy Governor b. 1838 Bristol |
| Charlotte Garraway | Wife b. 1831 Ireland |
| Lotte M.K. Garraway | Daughter b. 1876 Ireland |
| Ethel B. Garraway | Daughter b. 1878 St. Peters, Hereford |
| George C. Garraway | Son b. 1879 St. Peters, Hereford |
| Arthur H. Garraway | Son b. 1881 St. Peters, Hereford |
| Ann Kearn | General Servant b. 1862 Tillington, Herefordshire |
| Elizabeth F. Lewis | Matron b. 1843 Burghill, Herefordshire |
| Eliza Bailey | Female Warder b. 1841 Stoke Prior, Herefordshire |
| William Lewis | Principal Warder b. 1847 Ledbury, Herefordshire |
| Stephen Bray | Artizan Warder b. 1856 Little Dewchurch, Herefordshire |
| William George | Assistant Warder b. 1855 Kilpeck, Herefordshire |
| Thomas Fisher | Night Watchman b. 1855 Bath, Somerset |
Hereford Prison Officers and staff 1891
| | |
| --- | --- |
| Alfred G. Webb | Principal Warden b. 1839 Warwickshire |
| Emma Webb | Wife b. 1840 Northamptonshire |
| Joseph Huckton (Flockton?) | Chief Warder b. 1828 Wakefield, Yorkshire |
| Eliza Bailey | Warder, Acting Matron, b. 1840 Stoke Prior, Herefordshire |
| Mary J. Cunningham | Assistant Warder b. 1859 Ireland |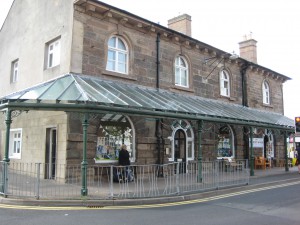 Early in the 19th century there were a massive 222 capital crimes, but in reality relatively few perpetrators ended up being executed. Judges were simply not empowered to do anything other than pass the death sentence on anyone convicted of these crimes, however having done this they were then able to make recommendations to the King and Privy Council, (after 1837 when Queen Victoria came to the throne, it was the Home Office who took over on her behalf) and the final decision was taken out of their hands. Family and friends of the prisoners could also plea for leniency, and a great many death sentences were commuted to Transportation, however it has to be said that some Judges were more kindly disposed than others and not all areas had such a high record of reprieves as Herefordshire.