Alton Street
If this looks a little familiar, then remember that it was the same architect that built Ledbury and Hereford! (For general information about workhouse life, please see Hereford Union Workhouse)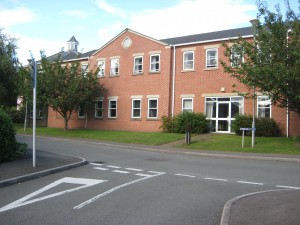 Alms Houses
Next door are the Alms Houses, endowed in 1612 by Thomas Webbe, a Llanwarne Carpenter.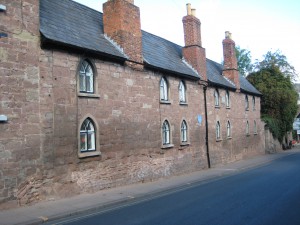 Workhouse News from 1845
An inquest was held at the workhouse on the body of Mary Jones, 82, who had been receiving out-door relief. On 2nd December 1844 she walked from her home in Llangarren to Ross to apply for an increased allowance, which was granted. She was very infirm, and as she tried to walk home she became so lame and exhausted that she collapsed on the road, where she was found and taken home in a cart. She became so ill that she was confined to bed, and the guardians of the workhouse tried to persuade her to go in to the workhouse but she refused. After treatment from the parish surgeon she recovered somewhat, however Mr Garness one of the guardians, accompanied by his son and Thomas Lewis and Edward Tourney went and forcibly removed her to the workhouse without the usual medical certificate for the removal. Mary Jones had locked all the doors of her cottage, trying to keep them out, but they broke in and one holding her head and another her legs, they carried her out and placed her on some straw on a cart with a blanket………she protesting the whole time. "The poor creature suffered most severely from the cold, the frost being very intense during the day". A few days later she died, and a medical officer's opinion was that she had a diseased heart and her death may have been hastened by the sudden exposure to extreme cold. A jury returned a verdict of Manslaughter against Samuel Garness, the guardian, Thomas Garness his son, and Edward Tourney who were then committed to gaol for trial.
Ross Union Workhouse Staff and inmates 1841
| | | |
| --- | --- | --- |
| Henry Smith | 46 | Master b. Herefordshire |
| Charlotte Smith | 36 | Wife, Matron b. Herefordshire |
| Mary Smith | 13 | Daughter |
| Catherine Smith | 10 | Daughter |
| Anna Halmon (?) | 46 | Nurse b. Herefordshire |
| Sarah Williams | 48 | Schoolmistress b. Herefordshire |
| | | |
| Caroline Hodges | 17 | |
| Richard Thurman | 74 | |
| Michael Huff | 7 | |
| Edward Hayward | 78 | |
| Mary Powell | 12 | |
| William Powell | 9 | |
| John Nichols | 72 | |
| Emma Roberts | 9 | |
| Thomas Price | 73 | |
| Thomas Jarrett | 51 | |
| Robert Morgan | 35 | |
| Jemima Ibel | 48 | |
| George Ibel | 8 | |
| John Lane | 78 | |
| Humphrey Watkins | 80 | |
| David Guymer | 8 | |
| Emma Guymer | 4 | |
| Elizabeth Harris | 7 | |
| Mary Harris | 4 | |
| Lucy Underwood | 59 | |
| Henry Langford | 15 | |
| Elizabeth Price | 75 | |
| William Langford | 10 | |
| William Morris | 90 | |
| Hannah Symonds | 20 | |
| James Symonds | 2 | |
| Mary Gregg | 14 | |
| Samuel Gregg | 4 | |
| Thomas Watkins | 63 | |
| Hannah Bent | 15 | |
| Asenia Roberts | 27 | |
| Elizabeth Cousel | 38 | |
| Elizabeth Smallman | 29 | |
| John Smallman | 2 | |
| James Smallman | 6 | |
| Richard Wheeler | 70 | |
| William ? | 23 | |
| John Hughes | 68 | |
| Leah Hodges | 28 | |
| Emma Hodges | 3 | |
| Charlotte Hodges | 2 mths | |
| Lucy Mayo | 14 | |
| Rachael Mayo | 10 | |
| Eliza Blewett | 23 | |
| Edward Jones | 55 | |
| Henry Powell | 11 | |
| Walter Blewett | 2 | |
| Penelope Wood | 36 | |
| Ellen Wood | 2 | |
| John Powell | 42 | |
| May Powell | 14 | |
| Hannah Powell | 11 | |
| Hannah Powell | 24 | |
| Roger Roberts | 9 | |
| William Whittingham | 20 (?) | |
| Caroline Whittingham | 8 | |
| Ann Whittingham | 9 | |
| Elizabeth Nelson | 8 | |
| Edward Nelson | 6 | |
| John Price | 30 | |
| John Sherwood | 9 | |
| Mary Grapp | 12 | |
| Mary Williams | 40 | |
| Mary Williams | 9 | |
| Elizabeth Williams | 8 | |
| Caroline Williams | 6 | |
| Henry Williams | 5 | |
| Cornelius Williams | 1 | |
| Hannah Goode | 34 | |
| William Goode | 1 mth | |
Ross Union Workhouse Staff 1851 census
| | | |
| --- | --- | --- |
| Henry Smith | 49 | Master b. Much Marcle, Herefordshire |
| Charlotte Smith | 43 | Matron b. Waddon, Gloucestershire |
| Mary Smith | 22 | Daughter b. Painswick, Gloucestershire |
| Catherine Smith | 20 | Daughter b. Painswick, Gloucestershire |
| Sarah Williams | 54 | Widow, Schoolmistress, b. Ruardean, Gloucestershire |
| John Nugent | 67 | Porter b. Pembrokeshire, Wales |
Ross Union Workhouse Staff 1861 census
| | | |
| --- | --- | --- |
| William Argyle | 38 | Master b. Abingdon, Berkshire |
| Mary Argyle | 39 | Matron b. Highworth, Wiltshire |
| Frances J. Sanger | 24 | Schoolmistress b. Lewes, Sussex |
| Thomas Mills | 53 | Porter b. Hereford |
| Elizabeth Jordan | 33 | Nurse |
Ross Union Workhouse Staff 1871
| | | |
| --- | --- | --- |
| William Argyle | 48 | Master b. Abingdon, Berkshire |
| Mary Argyle | 49 | Matron b. Highworth, Wiltshire |
| Burton Watkins | 26 | Deputy Master b. Monmouth, Monmouthshire |
| Ellen Amelia Janek | 21 | Schoolmistress b. Gloucestershire |
| Fanny Clark | 28 | Nurse b. Renfrewshire |
| Thomas Owarez | 30 | Porter b. Middlesex |
Ross Union Workhouse Staff 1881
| | | |
| --- | --- | --- |
| Edward Gower | 36 | Master b. Horsham, Sussex |
| Emma Gower | 32 | Matron b. Gravesend, Kent |
| Mary Bradshaw | 21 | Schoolmistress b. Bristol |
| Mary Christy | 27 | Nurse b. Blakeney, Gloucestershire |
| William Handman | 39 | Porter b. Kempley, Gloucestershire |
Ross Union Workhouse Staff 1891
| | | |
| --- | --- | --- |
| Charles King | 38 | Master b. Buckinghamshire |
| Ruth King | 36 | Matron b. Thetford, Norfolk |
| Edith King | 14 | Daughter b. Lambeth, London |
| May King | 11 | Daughter b. Lambeth, London |
| Ethel King | 9 | Daughter b. Lambeth, London |
| Sarah Ann Hales | 31 | Schoolmistress b. Bicester, Oxfordshire |
| Margaret Stephens | 71 | Nurse b. Scotland |
| Peter Friend | 39 | Porter b. Hatherleigh, Devon |
| Grace Friend | 34 | Cook b. Cornwall |
| Annie Brumbley | 26 | Assistant Matron, b. Birmingham |
| Arthur Woollard Button | 17 | Assistant Teacher b. Norforlk |
Ross Union Workhouse Staff 1901
| | | |
| --- | --- | --- |
| G. Morgan | 60 | Master b. Gloucestershire |
| Caroline Morgan | 67 | Matron b. Somerset |
| William Price | 50 | Porter b. Leominster, Herefordshire |
| Elizabeth Shilrock | 48 | Industrial Trainer b. Cradley, Herefordshire |
| Ada M. Powell | 43 | Nurse b. Somerset |
| Maude Lewis | 26 | Nurse b. Monmouthshire |
| Alice Hooper | 22 | Maid b. Birmingham |
| Daisy Batten | 17 | Assistant to Matron, b. Stoke Newington, London |
Ross Union Workhouse Staff 1911
| | | |
| --- | --- | --- |
| Ralph Hankins | 26 | Master b. Newent, Gloucestershire |
| May Hankins | 24 | Matron b. Stow on the Wold, Gloucestershire |
| John Harrison | 37 | Porter b. Scarborough, Yorkshire |
| Ellen Harrison | 21 | Cook b. Norwich, Norfolk |
| Elizabeth Shilrock | 57 | Industrial Trainer b. Cradley, Herefordshire |
| Margaret Pope | 48 | Laundress b. King Weston, Somerset |
| Ada Knight | 30 | Sick Nurse b. Normanton, Yorkshire |