The huge spire of St. Mary's church is visible for many many miles around, and in fact on several occasions when we were scouring the Herefordshire lanes looking for elusive churches, I would spot this spire in the distance and say "there's one!" My husband was very patient!!
In October 1852, the vane on top of the steeple was successfully replaced after restoration.
In 1637 some 300 people died from the Black Death, and they were buried in the churchyard under cover of darkness so as not to cause undue alarm to the population of Ross. Just one cross marks the event.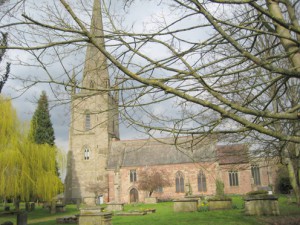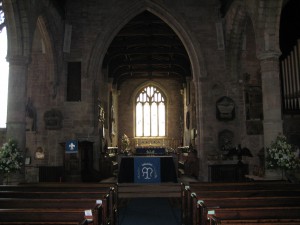 Fonts
Victorian font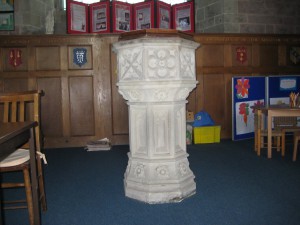 The Old font
which is still used in preference to the modern replacement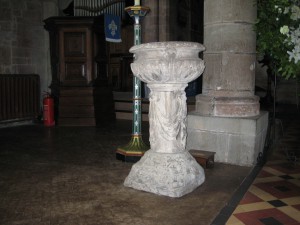 Memorials
A Rudhall family tomb
One of the monuments relating to the Rudhall family, who were Lords of the Manor of Rudhall near Ross for many generations
John Rudhall
This tomb depicts John who died in 1636 and Mary, (nee Pitt) his wife.  The tomb is of fine quality alabaster, and around the side are two kneeling figures , and another kneeling figure holding a baby and skull.  On another side is a further figure with a skull.  These figures represent Elizabeth, Mary and Margaret, daughters of John and Mary, who died in infancy.
John and his wife Mary, née Pitt, are depicted in a second altar tomb. John Rudhale was an MP, and died in 1636. He and his wife Mary are depicted on an altar tomb of alabaster. The Coat of Arms is seen with kneeling figures of two daughters on the south side, the kneeling figure of a daughter and a swaddled infant and skull. There is a further recumbent figure of a daughter with a skull. All these children, Elizabeth, Margaret and Mary, died in infancy.
The translation of the inscription on the tomb:
"Ah, passerby, please pause here a while! The ashes and the departed soul nearby ask this of you. For the man you see buried beneath this earth is John Rudhale, now in heaven. If you will but note that erstwhile he was a man distinguished by his ancient ancestry and by the quality of his own life and family renown; if you but note that he was lovable and loving to all good people, and likewise missed by good people, especially those close to him; if you note all this, then you may go about your business."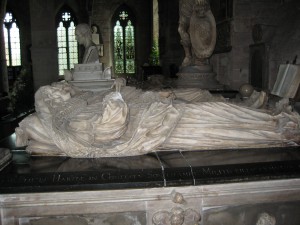 Thomas Westfaling
The bust of Thomas Westfaling who died in 1814.  He married into the Rudhall family.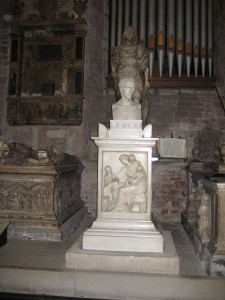 Colonel William Rudhale
Behind the bust  can be seen Colonel William Rudhale, brother of John Rudhale  and the last in the line.  He died unmarried in 1651
Beneath the floor of the church is buried John Kyrle – "Man of Ross" 1637 – 1724