This church dates from around 1853 and was largely funded by the Penoyre family who were prominent in the area. The Rev. W. T. Penoyre was the first vicar of this church.
Foundation stone laid for new church
In 1849, on the 12th June, the foundation stone for the new church in the township of Hardwick and parish of Clifford was laid by the Rev. T.W. Webb of Tretire amidst much ceremony.
The Rev. Mr. Clay of Exeter officiated as priest in the order of service, assisted by the Rev. W.N. Penoyre who gave out the 100th Psalm which was "sung with good effect".
Consecration of new church
in 1851, the ceremony of the Consecration of the District Church of the Holy Trinity took place on 3rd September.
The sky was blue, and the weather perfect.
Description of Holy Trinity
"The church which consists of a nave, clear storied, with aisle up the centre, chancel and vestry, is built in hewn stone in the early English decorated style prevalant in the 14th century, with exquisitely stained glass windows.  It is calculated to accommodate 15o persons"
"On entering the church the effect caused by the entire absence of galleries and by the lofty and high pitched roofs, is exceedingly striking.  The roof timber is all of the best heart of oak.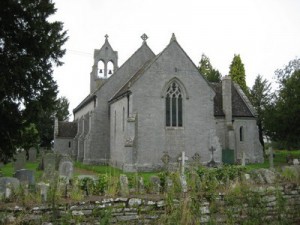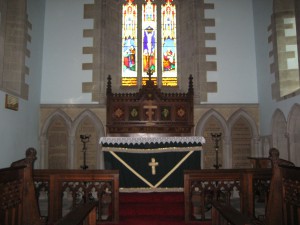 Font, worked by Edwin Hughes