The dedication of a church to the Nativity of the Blessed Virgin Mary is quite rare in England; and what is also rare about this church at Madley is the survival of some 14th century wall paintings which underwent restoration in 1992. The pictures told the story of the Passion, death and resurrection of Jesus.
Madley church fell into a very poor state of repair, and in the 1870s was partially restored.
The roof of the tower;  nave;  north and south aisles and porch were taken down and any rotten timbers were repaired or replaced with oak timber grown in Madley.  This work was done by day workers and not contractors, which although was money saving made the restoration rather long winded.
During further restoration, Norman remains were found in the north porch, and the west wall of the Chilston Chapel is also Norman.  After this discovery, the architect Mr. Kempson of Hereford, examined under the floor of the church and found the foundations of a Norman church.  He also discovered that in the 14th century the edifice went through many alterations and additions……including the raising of the north wall and the addition of three large windows.
The restoration included a partially new pulpit which was much bigger than the original one – it was made and carved by Mr. Mewrrick who used all of the old oak and adapted new pilasters to the old panels.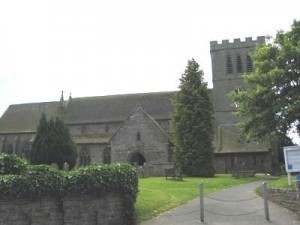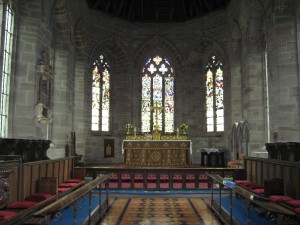 The private pews for the Lulham family.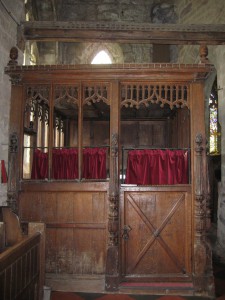 Font
Another of Herefordshire's enormous old fonts – in fact this is one of the largest in the country, and is nearly 1000 years old, bearing quite a resemblance to those in Kilpeck and Bredwardine.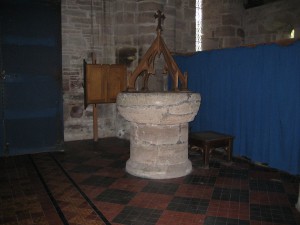 Memorial
Tomb of Richard Willison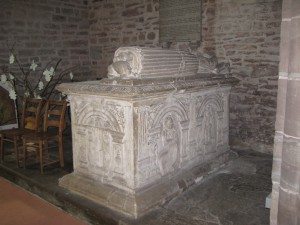 Epitaph for John Lewis
Died 6th January 1797 aged 79
This earth on earth did lately tread,
This earth in earth has made its bed,
This earth in earth shall closely stay
Until the resurrection day.