Inside this simple church the King James Bible of 1611 is still in regular use.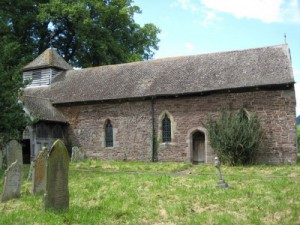 In 1883 it was reported that the church was in a deplorably neglected state, but that it must have seen better times as there was a sculptured gravestone on the floor showing a knight in plate armour, with his wife alongside, and showing the date of 1535.
In 1849 it was described more kindly, as a "curious little church – an object of truly primitive simplicity"
Behind the church, in a field called "The Bloody Field" is a sepulchral mound – thought to have been the burial site of ancient Britons killed during a skirmish.