This gorgeous little church, built during the thirteenth century with additions in the fourteenth century, and numerous restorations in later years, originally belonged to the Knights Templar until 1312. It was an attachment of their preceptory at Garway. When the Knights Templars were suppressed the church was taken over by the Knights Hospitaller whose headquarters for the region was at Dinmore (between Hereford and Leominster). Like the Knights Templar, the Knights Hospitaller came about in the early Middle Ages to protect and care for pilgrims on their way to the Holy Land. In around 1540 at the time of the Dissolution of the Monasteries, the Knights Hospitaller had their possessions taken away from them.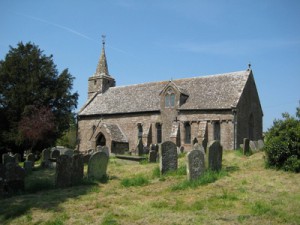 The following photos have been very kindly provided by a lady by the name of Jess Taylor, who took the opportunity of a glorious day to get some really lovely shots.  (Don't forget to click on a photo to enlarge it)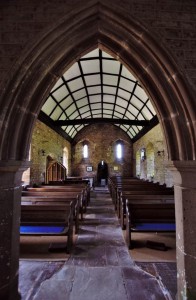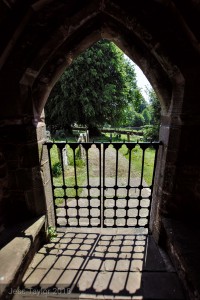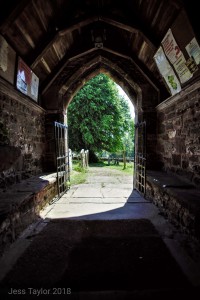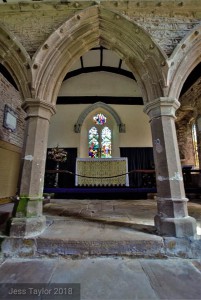 Memorials
In the churchyard is a grave thought to belong to either a Knight Templar or Knight Hospitaller, and under the carpet in front of the altar is a stone slab bearing an elaborate wheel cross with a long slender stem, which is also thought to be the resting place of a Knight Templar.
St. John Kemble
Also in the churchyard is the grave of Saint John Kemble, born 1599 at Rhydecar Farm St. Weonards and who was hanged at Wigmarsh (now known as Widemarsh Common), Hereford, on 22nd August 1679 for alleged complicity in the Popish Plot of 1678.
For 54 years he exercised his office in Herefordshire and by all accounts he was a kindly gentle man, much loved by those who knew him, and his farewell speech before his death was touching in the extreme, causing much distress to the hangman whom he had come to know well, and even to his persecutors who declared him to be a true gentleman and Christian. Because of this, he was not drawn and quartered, but as he had been judged to be a traitor his head was cut off…….his left hand was also severed as it was beneath his neck at the time. A woman picked up the hand and it now lies in St. Francis Xavier Catholic Church in Hereford. John Kemble's body was buried by his nephew, Captain Richard Kemble, with a stone being placed on the grave inscribed "JK, Dyed the 22 of August Anno Do 1679″.
The Kemble Pipe
As an aside, legend has it that when the under sheriff Mr. Digges arrived to take John Kemble to execution, John asked for a little time to complete his prayers and to also have a pipe of tobacco – this request was granted by Mr. Digges who joined him in the pipe smoking.
When Father Kemble had finished he declared himself ready, but Mr. Digges had not quite finished his pipe and asked him to wait.
This incident gave rise to a common custom in Herefordshire of calling the parting smoke "a Kemble Pipe".
General James Meredith
One of the monuments inside the church is for General James Meredith who died in 1841 "having held a commission in his country's service 70 years".