The original building dates from early 13th century, but it was restored in 1898 and then again in 1957, when the structure was strengthened.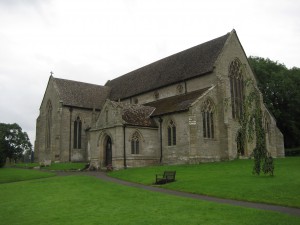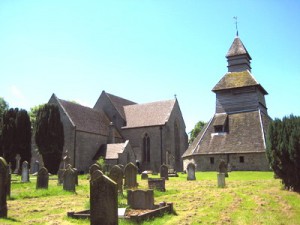 The Bell Tower
In 1899, the whole belfry was thoroughly restored, with three of the five bells being recast.  The dedication service took place at the end of April 1899, with the ceremony being performed by Archdeacon Stanhope.
The bells rang out all afternoon, and afterwards the ringers and choir were given sustenance.
In 1983 the Department of the Environment paid for a total restoration of the bell tower so that now only one of the main wooden corner posts remains – this wood has been ring dated and is from around the early 11th century, and may have come from a manor house or castle which originally stood close to the church. Originally, the tower would have been used as a bolt hole of safety for the parishioners, and there are holes in the door which it is said were made by shot. There are five bells, one of which is dated 1658, and also a tiny Sanctus Bell in the very upper part of the belfry. This little bell was restored in 1978.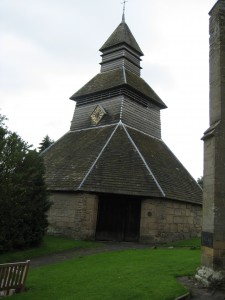 Part of the structure of massive interior beams of the Bell Tower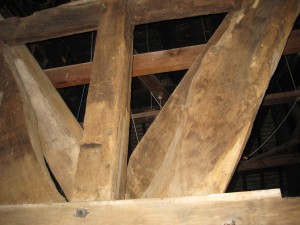 Joan of Genville
In this lovely Norman church on 20th September 1301, pretty 15 year old Joan of Genville married 14 year old Roger Mortimer. The couple enjoyed a harmonious marriage, producing 12 children, many of which were born before she reached 20. Joan was born in Ludlow, and her wealthy grandfather left all the family estate to her after his son died tragically young, so lucky Roger Mortimer not only had a lovely wife but also much financial security. They lived at nearby Ludlow Castle and also Wigmore, but they travelled extensively together to other castles and also the royal court at Westminster where Joan was chosen to meet the French Queen Isabella on her arrival in England. Isabella was only 12, and clearly the pair hit it off – when later on, Joan was imprisoned, Queen Isabella fought for better conditions for her, and referred to her as "our dear and well beloved cousin". Roger meanwhile, was appointed the King's Representative in Ireland and Joan spent some years there with him, returning from time to time to check on her children in Ludlow.
Her life was as good as it gets it seems, until the fateful rebellion in 1321 of her husband and his uncle….they were both thrown into the Tower of London, and Joan was put into prison in Southampton and then Yorkshire for nearly five years. Roger escaped and fled to France, whereupon he embarked on an affair with Queen Isabella – what a kick in the teeth that must have been for poor Joan; not only was her pampered life in tatters (prison must have been dreadfully hard for her) her husband was with her very good friend of many years.
Roger and Isabella returned to England to take charge, and he frequently visited Joan (history does not record her reaction to this!!!), and in 1328 she was made Countess of March. Her daughters marriages to Sir James Audley, Sir Peter de Grandison, Lord Berkeley, and the Earl of Warwick made sure that they were financially secure. Roger fell from power and was executed, following which Edward lll made certain that Joan's possessions and considerable treasures were intact, and for the following 26 years she was the Lady of Ludlow before her death in 1356.
It seems that Pembridge church was rebuilt after 1320 – it is considered likely, and evidence points to the fact, that Joan never forgot her happy marriage there and paid for the new church.
Font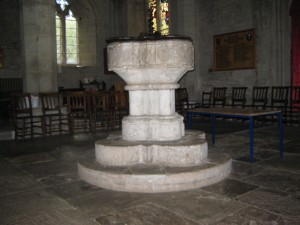 Memorials
The Gours, Lords of Marson
Part of a stone tomb bearing four effigies. Blount, a local historian attributed these to the Gours who were Lords Of Marson, a Parish of Pembridge. Two of the early 14th century figures are a gentleman and lady, whilst the other pair are later in the same century and are of a priest and a lady in mourning dress…..she could be the second wife of Gour.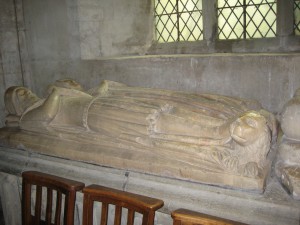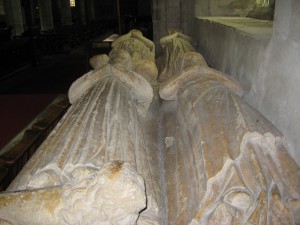 Edward Croxhall Whitehead
Edward Croxhall Whitehead, Captain of the 10th Grenadiers Indian Army. Son of the Rev. Francis Whitehead sometime Rector of this Parish, who died of fever at Bannu whilst on active service on the NorthWest Frontier of India. 18th June 1922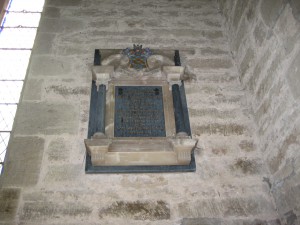 There are some interesting memorials, one of which is on the floor and is inscribed to the memory of Alice Trafford who paid for the Almshouses in East Street in 1667. She was Dr. William Sherborne's daughter and widow of Dr. Thomas Trafford who were both Rectors of the parish.
The oldest floor tablet is for Dorothy who was the mother of Thomas Trafford……… she died in 1621