This is a large Norman church, built in the late 13th/early 14th century. The tower was enlarged during the 15th century.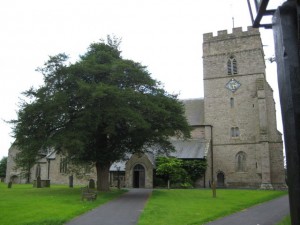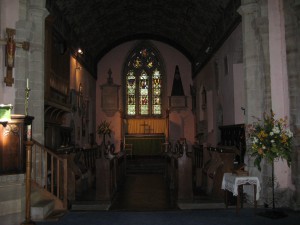 Volka Chapel
Just off the porch when entering the church, there is the Volka Chapel which may have been built as a Chantry in which masses were said for the soul of an early benefactor, and for those killed at the Battle of Mortimers Cross.
There is an empty medieval stone coffin in the chapel, but it originally contained the skeletons of a woman and child.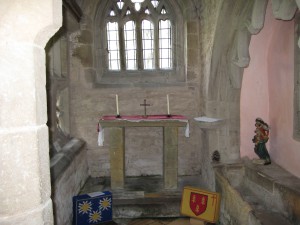 .
Font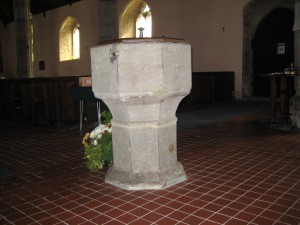 Memorials
Mary Barrar and other benefactors of this Parish left the sum of £54 with which the two pieces of land in the Township of Aston, commonly called the Padock and the Hays were purchased. John Hood left the sum of £10 the intrest of which is to be regularly paid by his Executor Mr. John Burgin. Benjamin Randle left the sum of £10 the interest of which is to be paid untill a piece of land can be purchased with the fame. Mrs. Morgan of Henblas, Anglefea, left the sum of £100 with which a piece of land commonly called Kindon Croft was purchased. 1882 Miss Mary Roberts of Kingsland bequeathed the sum of £100 to be invested in the names of the Rector and Churchwardens in the 3 percent consols. The interest thereon to be expended in coals to be given to the poor of Kingsland Parish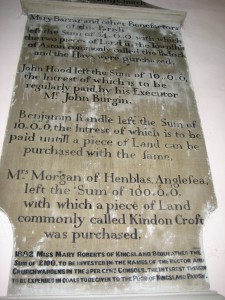 Bryan Crowther
In memory of Bryan Crowther Esq. of Street Court. He died 10th February 1760 in his 58th year, and of Ann his wife who died the 3rd October 1767 in her 67th year, and of Ann their daughter who died 12th October 1767 in her 32nd year. And of Catherine their second daughter, wife of the Rev. Charles Morgan Canon of Hereford Cathedral. She died 2nd (?) January 1787 in her 52nd year.