The lovely Church of St. Michael & All Angels is of vast proportions, which given that back in the 11th century Ledbury was but a small village might seem rather odd, but in fact it served a wide area.  It sits above the town of Ledbury and is one of the seven churches in Herefordshire to have a separate bell tower.
The carved oak pulpit was carved by a Rector of Ledbury, The Revd John Jackson, and was completed in 1883.
In a glass case inside the church there is a sword which is reputed to have belonged to Major Backhouse – a Roundhead who was killed in the Battle of Ledbury in 1645 during the English Civil War.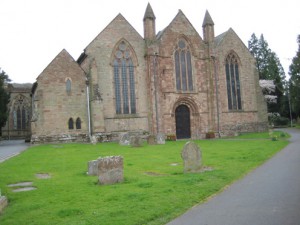 Following the market charter being granted to the Bishop of Hereford by King Stephen in 1138, Sunday became not only a day for going to Church but also one for trading and the little cobbled street (which remains mostly unchanged to this day) leading up to the Church would be full of farm animals, and numerous stalls spilled out into the village with fruit, vegetables and other produce. Eventually, trading on a Sunday became discouraged and died out.
The separate bell tower of St. Michael & All Angels, taken from Church Lane
Font
There are two fonts, the oldest being 17th century which was used until the end of the 18th century when it was presumed lost or destroyed.  In fact it had been broken up into small pieces and was discovered hidden in the base of the replacement font which was made in the 19th century.  It is now restored to its former glory.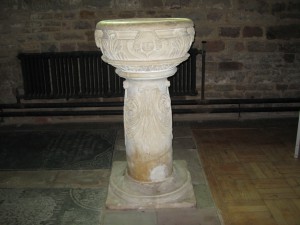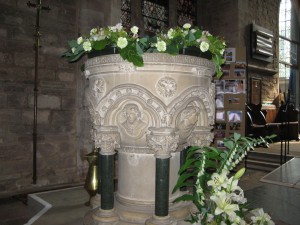 Memorials
There are many fascinating monuments, and the Biddulph family dominate one corner of the church, with many memorials and a large family vault.
The Biddulphs came to Ledbury in 1688 when Anthony Biddulph married Constance Hall, great granddaughter of Edward Skynner. The house that they lived in is now called Ledbury Park and was only fairly recently sold out of the family. There are too many monuments to list, but here are some: Anthony and Constance Biddulph who died 1718 and 1706 respectively. Michael Biddulph who died 1880. Robert Biddulph died 1814 – there is a marble carving of his widow Charlotte, along with their children. Other monuments are to William Miles who died 1803 "then shall the dust return to the earth as it was, and the spirit shall return to God who gave it"; Captain Samuel Skynner dated 1725, "he was no mean proficient in Maritime affairs having ben conversant therein for forty years"; Mr. and Mrs. Moulton Barrett whose daughter was the poet Elizabeth Barrett Browning; Canon Thomas Thornton, Master of St. Katherine's hospital in Ledbury from 1612 until his death in 1629; Edward Cooper, an alabaster slab of a man who was Archdeacon of Hereford and master of St. Katherine's Hospital in Ledbury who died in 1596; Daniel Saunders – this for me is the most moving of all the monuments in the church, it dates from around 1825 and is by Sir Richard Westmacott. It has been described as follows: ""This monument is intended to commemorate the benevolence of the deceased, and represents the repose of a poor family. The man is seated, leaning on his staff, and affectionately regarding his wife who holds their infant in her arms; at his feet is their dog, the faithful companion of their weary pilgrimage."
Rev. Prebendary C.E. Maddison Green R.D
Bust of Rev. Prebendary C.E. Maddison Green R.D. Plaque to the left for his wife Ella Doveton, eldest child of W.M.R. Haggard of Brackenham Hall, Norfolk. She died 29th March 1921 aged 76
John Michael Gordon
John Michael Gordon, Second Baron Biddulph. Last of the family to reside at Ledbury Park. Born 19th November 1869 and died 7th December 1949, and his wife Marjorie Caroline susan, born 30th april 1874, died 9th November 1961
Part of the large Biddulph family vault