Tom Spring (born Winter) – Bare knuckle fighter and Champion
Tom Spring was born at Witchend near Woolhope on 22nd February 1795 and became a butcher in his father's footsteps, although he was interested in boxing from a very early age, being coached by his enthusiastic father and grandfather. During any free time he diligently trained, and was soon to develop a style of boxing that turned him into a formidable fighter, and although he was not a massive "hitter", and had delicate hands, he was so light on his feet with such rapid reactions that he quickly became rather good.
Tom Spring's Early Years
Tom Spring was 5 feet 11 inches and a half, and his fighting weight was 13 stone 2 lbs.
At the age of 17 he entered the ring at Mordiford to fight a man by the name of Hollands.  It was described as a most desperate battle, and after one hour and twenty minutes Hollands had to give up the contents – Tom Spring was declared the victor.
Two years later, he took on a man called Henley who had challenged him for £3 a side.  This fight also took place at Mordiford, and lasted for eleven punishing rounds with Spring emerging the victor.
There was little chance to prove his skills initially, but one day the 11th Duke of Norfolk who lived at the nearby Holme Lacy House, heard about Tom and his prowess and decided to invite him to fight at one of his lavish lunch parties as entertainment for the assembled guests.
Tom Spring and Tom Cribb
Tom took on every opponent in front of the Duke and his guests, and was reportedly never beaten; at the same time he was gaining valuable experience and improved his technique even further. Then in 1814 the All England Bare Knuckle Champion, Tom Cribb, arrived in Herefordshire on a sparring tour and Tom Spring managed to effect a meeting……the two formed a strong friendship and Tom Cribb happily passed on a great many hints and tips to further improve his fighting techniques. When Cribb retired from the ring, Tom Spring quickly earned the title of Champion and became known as "Light Tapper" Spring due to his delicate hands. He held the title between 1823 and 1824, with few challengers.
Tom Spring and John Langan
The most famous of his fights were with John Langan, an Irishman who was much heavier than Spring and also slower in the ring. Some 30,000 spectators turned up for their first match at Worcester Racecourse in 1824, but unfortunately the grandstand was not up to the task and many people were injured when it collapsed. The fight itself went on for a crippling seventy seven rounds, and finally even the bloodthirsty crowd were sickened and bayed for it to be ended. Spring's hands were badly injured, and Langan was a complete mess! A few months later they met again in Chichester , although Spring's left hand was still virtually useless he gave Langan another pasting – it was a testament to his kind character that instead of flattening Langan when he was done for, he merely pushed him to the ground.
Tom Spring and the Fair Play Club
Bare knuckle fighting was an extremely popular spectator sport, especially for the higher echelons of society…indeed, King George IV was so enamoured of the sport that at his Coronation he invited 18 prize fighters to act as ushers, and Tom Spring was one of them. He was highly thought of because not only was he an excellent fighter, but he was also a thoroughly nice chap.
Bare Knuckle fighters began to earn themselves a bad reputation with unruly behaviour by fighters and punters alike. All people connected with the sport thought so highly of the retired Tom Spring that On 25 September 1828, he was elected as the first treasurer of the newly formed "Fair Play Club". A set of rules was established to include the supervision of fights "to preserve peace and order in the outer ring" and "to ensure fair play to the combatants". Spring was able to employ boxers to uphold the rules and to ensure there were no ring invasions.
A sad end for Tom Spring
When he retired at the pinnacle of his success, he moved with his wife and children to London and then deserted them when he took over the tenancy of the Castle Tavern, Holborn. His wife died in a workhouse, and it is reported that soon afterwards in 1851 Spring succombed to the excesses of drink and died himself.
However, he was very highly thought of, and his behaviour was always exemplorary, and despite the fact that the Castle Tavern was known as a "fighting house" Tom strongly discouraged any throwing of fists, saying that "blows are ugly and sometimes expensive;  therefore talk about fighting as much as you please but not a blow shall pass while I can prevent it".
He would send those intent on fighting a few miles out of town, and the Castle Tavern rapidly gained a very good reputation.
After his death in August 1851, his name was soon more or less forgotten until in 1951 the Tom Spring Memorial Committee was formed by a Herefordshire Police Sergeant – A.V. Lucas and a memorial was funded for West Norwood in London where Tom was buried. There is now also a memorial at Tom's birthplace near Woolhope.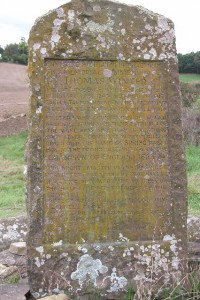 By Philip Halling, CC BY-SA 2.0, https://commons.wikimedia.org/w/index.php?curid=9171982
This is a representation of what the memorial looked like, but the original one is sadly worn beyond repair.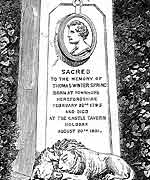 Three Cups Presented to Tom Spring
The Hereford Cup
– an urn shaped piece of plate inscribed "To Thomas Winter Spring of Fownhope, in the county of Hereford, this cup was presented by his countrymen of the land of cider, in token of their esteem for the manliness and science which, in may severe contests, raised him to the distinction of champion of England.  1823″
The Manchester Cup
Presented at Manchester in April 1824 and similarly inscribed as above, with the addendum that an additional reason is the esteem in which they held his private character.
The Tankard
In 1845, leading men in the sporting world wanted to present a testimonial to Spring and £500 was raised to buy a tankard of vast dimensions and weight, together with a purse which was given to him after a dinner at his house.
The shield on the tankard was inscribed "Presented by public subscription to Thomas Winter Spring, ex Champion of England, in testimony of the sincere respect in which he is held for his pure and honourable conduct, during his long and unblemished career in public and private life."