Thomas Harley, a man who had made a fortune supplying the British army, decided that he needed a house to reflect his wealth and standing; he first employed Capability Brown who chose the ideal location for what was to become Berrington Hall – one which would afford wonderful views across to the Black Mountains in Wales as well as swathes of Herefordshire countryside.
The land was duly bought from the Cornewall family in about 1775, and Brown set to work designing and creating the landscape (this was to be his last big project) which included a lovely man- made lake which covers a whopping 14 acres, and a walled garden full of fruit trees. Meanwhile, the building of the house was carried out by his son in law, the architect Henry Holland who completed Berrington Hall in 1783.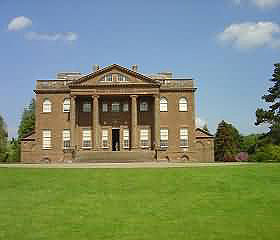 Admiral Lord Rodney
Thomas Harley had no sons, but his daughter Anne married the son of Admiral Lord Rodney and so Berrington Hall passed to the Rodney family. The Admiral was a much admired naval commander who had roundly beaten the French, Spanish and Americans in many battles, but he was deeply flawed and had a gambling addiction. He also tended to spend way above his means and at one point, he was obliged to hastily leave Britain in order to escape his creditors. His wife Anne must have been a bit fed up with her husband, to put it mildly, and then to make things worse a succession of tragedies befell the family. First of all her brother in law was lost at sea, and then her three sons (the third, fourth and fifth Baron Rodney) died in 1842, 1843 and 1846.
The Rodneys of Berrington Hall
September 1843 – Death of Lord Rodney at Berrington Hall, he was the second son of George, second Lord Rodney, and brother of the late Lord whom he succeeded in 1841. Born 12th April 1784, he never married.
His will was rather long winded and amounted to some 16 or so pages, and was proved by his brothers – the Rt. Hon and Rt Rev Spencer Baron Rodney and the Hon. W.P. Rodney. Amongst other bequests, he left a year's wages to each of his servants who had been with him for five years or more but most of his wealth was distributed throughout the family. However, he did particularly mention "four brass cannons, taken by my grandfather from the Spaniards" which were objects of great interest at Berrington Hall.
When the sixth Lord Rodney took over Berrington Hall it was rather dishevelled and needing much attention. However, he was very fond of hosting lavish parties, and took any excuse that he could to do so……… In August 1844 during the Leominster Races (where he gambled ferociously) he held an enormous party at Berrington Hall for his friends. When his wife gave birth to a son and heir in February 1857, he organised a huge and lavish ball for over 200 of their friends and neighbours by way of celebration, then later in the same week he threw open his gardens and grounds to all his tenant farmers plus their families and friends, and also invited local tradesmen. He was clearly generous!
He died in August 1864 of consumption after being ill for some considerable time. He was only 46 and left three children – two boys and a girl of which the eldest boy aged seven succeeded to the title and estates.
The following year, in September 1865, an advert appeared in various papers:
"To be let furnished, with shooting………Berrington Hall, four miles from Leominster; it stands in a beautiful park and commands extensive views, is well furnished and in perfect order for immediate occupation. The shooting is about 4,500 acres of which nearly 360 are woodland and well stocked with game. Good private rifle range close to the house. Can be let for three, five or seven years"
This was to bridge the gap until the seven year old boy came of age and was able to take possession of Berrington Hall.
Berrington Hall is Let
Joseph Tarratt and his wife moved in and remained there until his death in 1869. They were followed by Oswald Bloxsome.
7th Lord G.B.D. Rodney
Then in February 1878, the heir to the estate, the seventh Lord G.B.D. Rodney came of age. He returned to Berrington and was due to have had a celebration party, but this was postponed due to the death of his great aunt, the Dowager Lady Rodney, widow of George, third Lord Rodney. He became a Lieutenant 2nd Life Guards after attending the School of Musketry at Hythe St. Leonard in Kent, and went out to Egypt – upon his return to Berrington Hall in November 1882 he was met at Leominster by many local dignitaries as well as the local Volunteer Band, who all processed with him to the Town Hall where he was feted with congratulatory speeches. Like his ancestor the Admiral, he appeared to be a fearless military man, but unfortunately he took after the Admiral in other ways too and he was more than a little fond of gambling. His obsession spiralled, and he began to lose more than just money – valuable paintings were sold to enable him to pay his debts, followed by expensive fittings from inside the house. Farms were sold off too, and still he gambled………and lost.
In October 1887 it was reported that although Berrington Hall had been up for sale in 33 lots, it had failed to change hands. I have yet to discover for certain why Lord Rodney would have wished to sell up, but in all probability he had wanted to raise a substantial amount of cash by whatever means.
In 1891, Lord Rodney married and on their return from honeymoon were greeted by lavish festivities and celebrations. They were met just outside Leominster by a detachment of the Shropshire Yeomanry Cavalry and escorted through the festooned streets to the Town Hall where there were speeches by the Mayor and others. They then carried on to Berrington Hall to be greeted by a Guard of Honour by the Leominster volunteers. More speeches followed, given by their tenants, the Cricket Club and the Leominster volunteers. Later, nearly 300 people enjoyed lunch in a marquee. So in spite of his gambling habit, or perhaps because of it, he was a popular man. By 1900, there was simply no money left, and little of value inside the house = it was put up for sale, and in 1901 was bought by Frederick Cawley, a Lancastrian who had made his money in the cotton industry.
Frederick Cawley at Berrington Hall
When Queen Victoria died, and black clothes were worn nationwide, Frederick Cawley patented a pure black dye which gave him further wealth. He was made a Baronet in 1906, and Berrington Hall came back to life as he redecorated and restored the house.
He and his wife had four sons and one daughter:
John Stephen who was born in Lancashire in October 1879; he went to Sandhurst and joined his regiment the 20th Hussars, in India. He served in South Africa, and Egypt, and in 1911 was made Instructor at the Cavalry School in Netheravon. By all accounts he was a sportsman, and an excellent rider. In 1914, as Brigade Major to the lst Cavalry Brigade he was sent to France where he was killed.
The second son, Harold, was born in 1878 in Lancashire. He attended Rugby school and then went up to Oxford from where he was called to the Bar. In 1910 he was elected as the Liberal candidate during the general election. Just a couple of short weeks after arriving in Gallipoli, he too was killed.
The Cawleys third son, Oswald, also attended Rugby school and Oxford. Very sadly, very close to the end of the war, he too was killed.
Frederick Cawley, an MP since 1895, became a peer of the Realm in 1918.
During the second World War, the house was transformed into a hospital building, but despite all the upheaval and probably heartbreaking changes to the house and grounds (remember Downton Abbey!) the new Lord and Lady Cawley did their best to maintain high standards whilst making the best of things.
Lord Cawley died in 1957 and the family was crippled by death duties. Berrington Hall was taken over by the National Trust, but Lady Cawley was allowed to remain living there until her death in 1978. Perhaps nobody expected her to live until she was 100!
Berrington Hall was built of sandstone, a relatively soft material which had deteriorated over the years, and the National Trust spent a great deal of money carrying out repairs so that now the house is restored to its former glory.