In the sixteenth century, after the Dissolution of the Monasteries, the Manor of Nether Frome was purchased by Richard Harford of Bosbury, (later Sir Richard, described as a "Usurer" in parliament) and when he died, his widow Martha leased it to Michael Hopton from Ludlow whom she eventually married, and they built what was known then as the Strong House, a moated building, which event saw the beginning of some 300 years of Hopton ownership of the site. Michael Hopton himself died on 1st April 1668.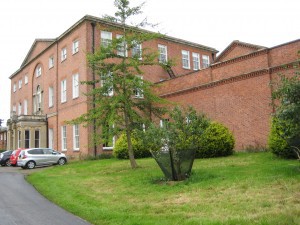 In 1645, during the Civil War, the house came under siege by Cromwell's Scottish army, and the residents had no choice but to demolish the medieval church in order to build defences.
The Hoptons at Canon Frome Court
After the war, the Royalist Sir Edward Hopton and his wife Deborah returned to what was left of the house and church. The church was eventually rebuilt in around 1680 (unusually for the time, in brick) but the only part of this second church that now remains is the tower, with the current church having been built by the Rev. John Hopton in about 1860 in memory of his wife and three of his daughters. He was the eighth generation of the Hopton family to live at Canon Frome Court, which was rebuilt in the eighteenth century. The Rev. John Hopton was actually John Parsons by birth, but his father had been willed the arms and name of Hopton in 1841, as well as the estate. He had 13 children, of which six had died by 1859.
Dating from around 1786 the present Canon Frome Court was built for Richard Cope Hopton and remained in the family until being bought by the Herefordshire County Council in 1952, who turned it into a school for 13-15 year olds. In 1978 the school was closed, and the Court once again changed hands. It is currently an intentional community, which is approached via a long driveway at the end of which are two large brick pillars dated 1905 (the ornate iron gates can still be seen but these days they are never closed). On top of these are two carvings – one of a Griffin's head with a severed hand in its mouth, and the other of a chained Talbot hound, resting a paw on St. Andrews Cross. Both of these appear on the Hopton family crest.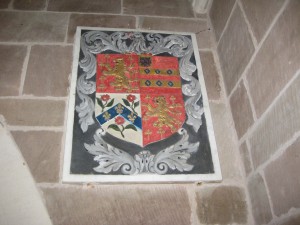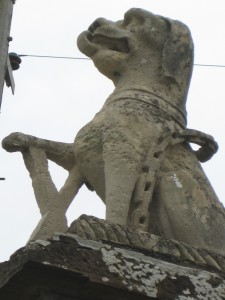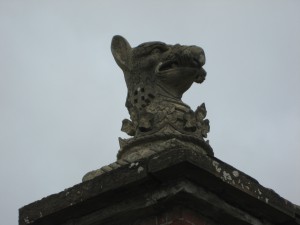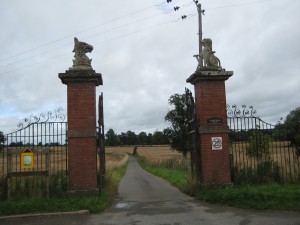 Richard Hopton
In 1829, it was reported that Richard Hopton, the second son of the Rev. J. Hopton, was a somnambulist and on this unfortunate occasion he managed to sleepwalk out of one of his bedroom windows and fell to the ground. Initial hysterical reports suggested that he was dead, but this was not the case. One of the servants heard him fall, and medical help was duly summoned – his worst injury was a broken collar bone, but he was rather badly bruised all over and probably was in an extreme state of shock having been so rudely awoken! However, a few years later in 1835, Richard suffered a burst blood vessel and died.
John Dutton Hunt Hopton
John Dutton Hunt Hopton was the only son of Captain John Dutton of Farnshill Park, Radnor, and when in 1899 he married Sybil Maude, the eldest daughter of Walter Mynors Baskerville of Clyro Court and granddaughter of John Hopton of Canon Frome, he was granted the name Hopton by Royal Licence.
He was by all accounts a very tall gentleman and was not only an excellent shot (shooting in the 1908 London Olympics) he was also a noted musician, being a Director of the Royal Academy of Music and a composer of many waltzes and songs. To further his love of playing the organ, he built a music room at the Court and commissioned an organ to be made by Jardines, who had also built the organs for the Cathedrals of Hereford, Worcester and Gloucester.
John Dutton Hunt Hopton was the founder of the Army Rifle Association, Captain of the Army Eight, and Commandant of the first British Rifle team to visit Australia.  He was also Commandant of the School of Musketry, Hythe, and Chief Inspector of small arms.  On his own rifle range he did a great deal of experimental work with new ammunition.
1934 – Burial of Colonel John Dutton Hopton
Colonel Hopton of Canon Frome Court died on 6th June in 1934.  He had shot at Bisley for England on 36 occasions and in his Will he stated that we wished to be buried close to the 1500 yard firing point on the range at Canon Frome, regardless of whether the ground had been consecrated.
He hinted strongly that it would be a jolly good show if the Bishop did consecrate the patch, and indeed the Bishop of Hereford duly obliged as well as conducting the funeral service.
A hymn was sung, set to music by the Colonel who was an accomplished musician.
Later, a lovely white mausoleum was erected over his grave and it could be seen from a great distance as it was on the summit of a hill.
1940 – Sybil Maude Hopton, the wife of Colonel Hopton, died July 3rd 1940 and left instructions in her Will to be buried beside her husband on the rifle range.
The Hoptons down the years
October 1839, The Rev. J. Hopton's wife, Grace Ann aged 53, died at Canon Frome Court.
September 1841, Grace Anne eldest daughter of above aged 30, married James Poole of the Homend, Ledbury
October 1855 the late Miss M.P. Hopton bequeathed £100 to Hereford General Infirmary.
June 15th 1857, death of Anna Maria, youngest daughter of Rev. John Hopton
December 1870 the death of Rev. John Hopton aged 88
November 18th 1875 marriage of Walter Thomas Baskerville, of Clyro Court Radnorshire to Bertha Maria, only child of John Hopton of Canon Frome Court and Kemerton Court, Glos.
November 10 1876 death of charles Edward Hopton aged 52 youngest son of the late Rev. John Hopton
April 1879 the death of Rev. William Parsons Hopton , born 1802, and son of the late William Hopton of CFC and Kemerton Court. He was the oldest encumbent in the diocese of Hereford. In 1858 was appointed a Prebendary of Hereford; he was a Magistrate and deputy lieutenant for Herefordshire and took a prominent part in the affairs of the county. In 1830 he married Diana Christian, daughter of the late Rev. W. Shuckburgh of the Moot, Downton, Wilts. He leaves three children, Edward, Lft. Colonel 88th regiment (Connaught Rangers), Michael, Vicar of Canon Frome, and Diana, married to Mr. Charles Eales of Eastdon, Devon.
7th March 1891 death of John Hopton aged 82
Will of John Hopton
Valued at £50,871 8s 9d proved by the Executors Colonel Edward Hopton and the Rev. Michael Hopton, to each of whom the testator bequeaths the sum of £200. To his nieces Gwendoline, Winifred and Mauda, daughters of the testators late brother Charles, £100 each, and to his foreman, butler and coachman, £100 each. The testator devises his real estate in the counties of Gloucestershire and Worcester to the same uses as the real estate settled on the marriage of his only child Bertha Maria, with Mr. Walter Thomas Mynors Baskerville; but the person entitled is always to bear the name and quarter the arms of Hopton. The residue of the late Mr. Hopton's estate is left to his daughter, Mrs. Baskerville, for life, with power of appointment to her in favour of her children, or in default of appointment, for her two daughters Sybil and Dorothy
May 1893
Christie, Manson and Woods – auctioneers of repute – advertised the forthcoming sale of the late John Hopton's cellar of wines, which included ports of the vintage 1858 and 1863, plus sherry and Madeira.
September 1897
W.T.M Baskerville of CFC and Clyro Court Radnorshire, died at his Radnorshire seat at the age of 58. The eldest son of the late Thomas Baskerville, a former MP for Herefordshire, who assumed the surname Baskerville in lieu of Mynors, the deceased was born in 1839 and educated at Eton and Christ Church, Oxford. In 1864 on the death of his father he took over the extensive estates in Herefordshire and Radnorshire
1857 Evesham Agricultural Show classes
Whilst perusing the results of the Evesham Agricultural Show for this year as many prominent families took pride in breeding champion stock, I was rather stunned to discover that amongst the classes for pigs, horses, cattle etc., there were also those for people! They were clearly considered less important than "Roots and vegetables" as they came below these on the list, and were under the heading "Labourers and Domestic Servants" and entries were submitted by the employers. The Hoptons were no exception, and in fact one of their "entries" won second prize.
Classes were as follows:
Class l.
Labourers, or labourers' widows who had brought up the largest family without parochial relief. First prize £2
Class 2.
Labourers or servants who had served the greatest number of years for the same master or mistress and who would receive a good character from their employers.
Class 3.
Labourers as above, under 40 years of age.
Class 4.
As above, but under 20 years of age.
Class 5
Female servants, as class 2.
Class 6
Female domestic servants above 20 years of age who have lived on the same premises for the longest period, or with the same master or mistress, at yearly wages of not more than £12 and shall receive a good character.
Class 7
Female domestic servants as above under 20 years of age.
Class 8
To the Shepherd who has reared the greatest number of lambs for the same master or mistress with the least loss of ewes, in proportion to the number of ewes put to the tup, the flock not to be less than 40.
Classes 9 and 10 also were for shepherds.
It was striking that in many cases, no second or third places were awarded so one wonders if this was because employers simply couldn't be bothered , or whether there were not enough worthy entrants. Certainly the prize money for the winners in each category was not to be sniffed at, and the labourers and domestic servants would no doubt have been very glad of it.
Canon Frome Court Household and servants in 1841 census
| | | |
| --- | --- | --- |
| John Hopton | | b. 1786 |
| Grace Anne Hopton | | b. 1816 |
| Mary Hopton | | b. 1821 |
| Susan Hopton | | b. 1821 |
| Ellen Hopton | | b. 1826 |
| | | |
| John Graves | | b.1816 |
| Lydia Graves | | b. 1821 |
| Sarah Hill | | b. 1801 |
| Margaretha Weber | | b. 1821 |
| Hannah Rudd | | b. 1821 |
| Mary Williams | | b. 1811 |
| Elizabeth Jones | | b. 1816 |
| Elizabeth Halford | | b. 1826 |
| George Lowe | | b. 1811 |
| Stephen Rowbury | | b. 1821 |
| Samuel Floyd | | b. 1826 |
Canon Frome Court Household and servants in 1851 census
| | | |
| --- | --- | --- |
| John Hopton | b. 1783 Worcestershire | Vicar of Canon Frome |
| Anna Maria Hopton | b. 1823 Hereford | Wife |
| John Buckle | b. 1813 Chew Magna, Somerset | Son in law |
| Ellen Elizabeth Buckle | b. 1819 Stretton Grandison, Herefordshire | Daughter |
| Unnamed grandchild | Newborn, b. Canon Frome | |
| Thomas Philpotts | b. 1824 Ashperton, Herefordshire | Coachman |
| Herbert James Breyer | b. 1832 Ashperton, Herefordshire | Groom |
| Marianne Pitt | b. 1812 Preston Wynn, Herefordshire | Housemaid |
| Ann Adams | b. 1827 Tarrington, Herefordshire | Dairymaid |
| Ann Gambling | b. 1824 Chignall St. James, Essex | Cook |
| Anna Holmes | b. 1828 Knightwick, Worcestershire | Housemaid |
| Ann Reding | b. 1781 Ledbury, Herefordshire | Nurse |
Canon Frome Court Household and servants in 1861 census
| | | |
| --- | --- | --- |
| John Hopton | b. 1783 Chacely, Worcestershire | Widower, Vicar of Canon Frome |
| Mary Hopton | b. 1811 City of Hereford | Daughter |
| Guy Trafford | b. 1821 | Son in law, late Captain of W. Yorkshire Militia |
| Caroline A. Trafford | b. 1821 Herefordshire | Daughter |
| Bertha M. Hopton | b. 1848 Kemerton, Gloucestershire | Grand daughter |
| Clare Trafford | b. 1848 Canon Frome, Herefordshire | Grand daughter |
| Henry Trafford | b. 1854 Canon Frome, Herefordshire | Grandson |
| Lionel Trafford | b. 1856 Gibralter | Grandson |
| Mary Catrill | b. 1810 Milverton, Somerset | Cook and Housekeeper |
| Jane Chamberlain | b. 1836 Oxfordshire | Lady's Maid |
| Ann Hyett | b. 1831 Ross on Wye, Herefordshire | Housemaid |
| Mary Dyer | b. 1822 Marden, Herefordshire | Dairymaid |
| Harriett Hill | b. 1835 Lugwardine, Herefordshire | Laundrymaid |
| Fanny Walker | b. 1841 Herefordshire | Housemaid |
| Thomas Philpots | b. 1821 Ashperton, Herefordshire | Coachman |
| James Beavan | b. 1842 Canon Pyon, Herefordshire | Footman |
| William Pritchard | b. 1831 Whitbourne, Herefordshire | Groom |
| William Knapton | b. 1845 Canon Frome, Herefordshire | Servant |
| ? Jones | b. 1837 Newland, Gloucestershire | Lady's Maid |
| Susan Jones | b. 1815 Donnington, Herefordshire | Nurse |
1871, the family were at their other property, Kemerton Court in nearby Gloucestershire
Canon Frome Court Household and servants in 1881 census
| | | |
| --- | --- | --- |
| John Hopton | b. 1810 | Widower, Head |
| Mary Jane Hopton | b. 1831 Canada | Widow, sister in law |
| Gwendoline Hopton | b. 1867 North Wales | Niece |
| Maud Hopton | b. 1869 South Wales | Niece |
| Frances B. Bronches | b. 1852 Lancashire | Visitor |
| Caroline Dyson | b. 1860 Fife | Visitor |
| Anne Hughes | b. 1847 South Wales | Housekeeper |
| Charlotte Thomas | b. 1852 Hampshire | Housemaid |
| Sarah Richard | b. 1856 Carmarthenshire | Laundry Maid |
| Rosa Barnett | b. 1860 Alderton, Gloucestershire | Cook |
| Annie Elizabeth Thomas | b. 1861 Woolhope, Herefordshire | Housemaid |
| Laura Ellen Cale | b. 1865 Ashperton, Herefordshire | Kitchen Maid |
| James Mitchell | b. 1860 Hanbury, Herefordshire | Footman |
| Ernest George Summers | b. 1863 Surrey | Groom |
Canon Frome Court Household and servants in 1891 census
| | | |
| --- | --- | --- |
| Bertha M. Baskerville | b. 1848 Kemerton, Gloucestershire | Head |
| Sybil Maud Baskerville | b. 1877 Clyro, Radnorshire | Daughter |
| Dorothy Baskerville | b. 1880 Canon Frome, Herefordshire | Daughter |
| Mary Florence Todd | b. 1866 Dalston Middlesex | Governess |
| Edith Williams | b. 1857 St. Martins, Worcestershire | Housekeeper |
| Harriet E. Cox | b. 1864 Thenford, Northamptonshire | Domestic Servant |
| Charlotte Thomas | b. 1853 Hampshire | Domestic Servant |
| Milbrow Miles | b. 1872 Eaton Bishop, Herefordshire | Domestic Servant |
| Theresa Lumma | b. 1872 Canon Frome, Herefordshire | Domestic Servant |
| Befree Hawling | b. 1861 Devon | Domestic Servant |
| Frances G. Heath | b. 1876 Canon Frome, Herefordshire | Domestic Servant |
| Thomas Moreton | b. 1872 Much Wenlock, Shropshire | Servant |
| Thomas Barber | b. 1870 Bishops Frome, Herefordshire | Servant |
Canon Frome Court Household and servant in 1911 census
| | | |
| --- | --- | --- |
| John Hopton | b. 1859 Stroud, Gloucestershire | Army Colonel, retired |
| Sybil Hopton | b. 1881 Clyro, Radnorshire | Wife |
| Bengough Clarke | b. 1860 Kegworth, Derbyshire | Brother in law |
| Sara Voller | b. 1871 Deptford, Surrey | Housekeeper |
| Elizabeth Cox | b. 1876 Northamptonshire | Lady's Maid |
| Robert Maylett | b. St. Johns, Worcestershire | Footman |
| Edward Frost | b. 1893 Norwich, Norfolk | Footman |
| Albert Bloomfield | b. 1887 Munslow, Salop | Chauffeur |
| Ethel Chambers | b. 1891 Shucknall Hill, Herefordshire | Scullery Maid |
| Harriet Beale | b. 1887 Staffordshire | Laundry Maid |
| Daisy Matthews | b.1892 Lydbrook, Gloucestershire | Housemaid |
| Belinda Miller | b. 1888 Witney, Oxfordshire | Kitchenmaid |
| Annie House | b. 1889 Rugby, Warwickshire | Housemaid |
| Mary Sole | b. 1878 Wheaton Aston, Staffordshire | Housemaid |
| Sarah Ring | b. 1879 East Grinstead, Surrey | Cook |
Mary Sole b. 1878 Wheaton Aston, Staffs – Housemaid
Sarah Ring b. 1879 East Grinstead, Surrey – Cook
Canon Frome Court Household 1921
| | | |
| --- | --- | --- |
| John Dutton Hopton | b. Stroud Gloucestershire 1859 | Col. Registrar Army,  Retired |
| Sybil Maude Hopton | b. Clyro, Radnorshire 1877 | Wife |
| Joseph Robert Davison | b. Itteringham, Norfolk 1877 | Butler |
| Mary Ann Davison | b. Saxlingham, Norfolk 1880 | Parlour Maid |
| Florence Kate Merry | b. Berry Hill,  Gloucestershire | Parlour Maid |
| Mary Elizabeth Ferris | b. Devon, 1874 | Cook |
| John Henry Jones | b. Canon Frome, Herefordshire, 1904 | Hall Boy |
| Julia Hannah Eyre | b. Bradbourne, Derbyshire 1890 | Housemaid |
| Elsie Maud Bevan | b. Canon From, Herefordshire 1905 | Scullerymaid |
| Mabel Edith Prosser | b. Hereford, 1894 | Lady's Maid |
| | | |
| --- | --- | --- |
| Martha Lilian Sayce | b. Haywood, Herefordshire 1895 | Housemaid |
| Elsie Alice Sayce | b. Haywood, Herefordshire 1903 | Housemaid |
| Ella Sophia Badham | b. Eggleton, Herefordshire 1903 | Kitchen Maid |
| Olive Mary Kirkwood | b. Edinburgh, Midlothian, Scotland 1893 | Visitor |