This church is delightfully simple with it's origins in the early 12th century.  There are two bells, the larger of which is circa 1639, and the smaller is possibly 12th century which makes it one of only two of this date in Herefordshire.
Aylton church originally accommodated between 40 and 50 people, and was used as a "chapel of ease" to two other adjoining parishes.  It became clear that it was not big enough inside, so in around 1870 two of the old pews were removed from the chancel, and they were replaced by open sittings.  This reduced the considerable size of the pulpit and reading desk.
A harmonium was also installed.
The alterations were paid for by the Rev. W.J. Morrish.
The patronage of Aylton Parish church runs alongside the ownership of Court Farm. First records show Robert Bray as owner in 1276, and then in the 16th century it belonged to the Walwyn family who lived at Hellens, Much Marcle (just down the road). The Harley family from Brampton Bryan, Knighton, took over in 1619 until 1900 when the Dean and Chapter of Hereford Cathedral became patrons of the living, and so it remains to this day.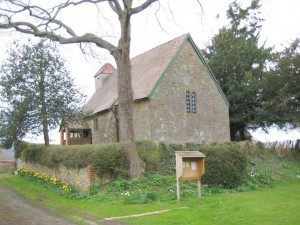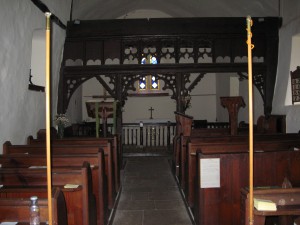 Font
The date is somewhat uncertain, but it is possibly Norman.