The passing of the centuries has seen many changes to the church, some necessitated by natural forces such as lightening striking the spire in 1638; subsidence in the 19th century, and a devastating fire in 1917. Also in the mid 17th century Parliamentary men who were determined to destroy all Popish symbols and finery, entered Bosbury and smashed most of the stained glass in the chapel as well as the stoup of holy water.
In 1851 Bosbury Church was re-opened after restoration work.  The roof of the chancel was raised and supported by open woodwork;  four stained glass windows, each showing an emblem of the Trinity, were inserted, and a lovely new pulpit and reading desk were added.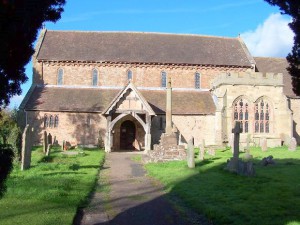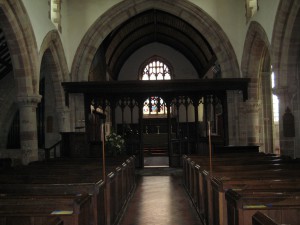 Holy Trinity at Bosbury is one of seven churches in Herefordshire to have a detached bell tower, and this one is massive. It was built in the mid 13th century, and was probably more of a refuge from the invading Welsh than a bell tower as the walls are extremely thick and the windows narrow.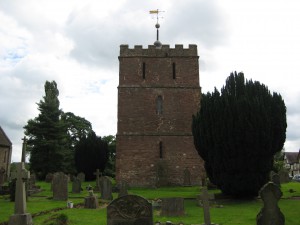 Font