John Masefield – Herefordshire's much loved poet.
On Eastnor Knoll by John Masefield

SILENT are the woods, and the dim green boughs are

Hushed in the twilight: yonder, in the path through

The apple orchard, is a tired plough-boy

Calling the cows home.

A bright white star blinks, the pale moon rounds, but

Still the red, lurid wreckage of the sunset

Smoulders in smoky fire, and burns on

The misty hill-tops.

Ghostly it grows, and darker, the burning

Fades into smoke, and now the gusty oaks are

A silent army of phantoms thronging

A land of shadows.
John Masefield was born on 1st June 1878 in Ledbury, Herefordshire, in a house called The Knapp which was built by his father at the top end of town (The Homend).  The house is now difficult to spot as it is well hidden behind tall trees.  However, a member of the Masefield family still owns and lives in the house, and he kindly gave permission for us to take a photograph: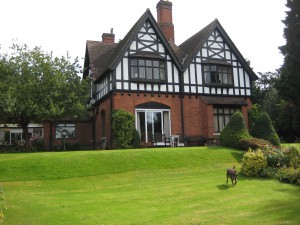 Childhood of John Masefield
The above poem was a wistful memory of his happy early childhood days which were spent in carefree exploration of the beautiful surrounding countryside – all this was to change. His mother was a clergyman's daughter who tragically died after giving birth to Norah, John's youngest sister, when he was only 6, and then less than two years later both of his grandparents died. His father, a local solicitor, could not cope and had a nervous breakdown; he too died shortly afterwards.
John was entrusted to the care of a his rather unsympathetic Aunt and Uncle, who simply did not understand children.  They lived at the opposite end of Ledbury, at the Priory,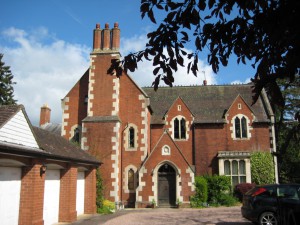 and I suppose that suddenly finding yourself landed with small relatives, and the task of bring them up, would be rather daunting, so some of their decisions may have been made in a mistaken belief that they were doing the right thing.   However, for John who had loved reading from an early age, it must have been heartbreaking when they removed the library of books from his home in an effort to steer him away from thoughts of a career in writing. He had been educated  at Warwick School (then sometimes referred to to as King's School), Warwick, from January 1888 to July 1891, but at the age of 13 his Aunt sent him to the training ship Conway in the River Mersey, to begin a life at sea;  at first he was less than enthusiastic, but gradually grew to enjoy the life especially as he found that he had the time and the means  to indulge his passion for reading and learning.  From there, at the age of 16, he gained an apprenticeship on a four masted sailing ship, the Gilcruix, and one of his jobs was to record entries in the ship's journal every day – something he must have loved!   The ship rounded Cape Horn on it's way to Chile, and our hero experienced sea sickness in a major way for the first time – nothing new or unexpected in those turbulent waters – but  then on top of that was taken ill at Chile with severe sunburn which forced him to be hospitalised.   He returned to England by steamer as a passenger, where he eventually recovered, and at the insistence of his Aunt, who presumably was still worried that he would waste his life writing,  went back to sea working on a ship bound for New York….where he jumped ship and stayed for several years, initially roaming as a vagrant and taking whatever work he could find before landing a job in a carpet factory. All the while he continued to believe in his ability to write.
This extract from one of his books……..In The Mill……is about that period of his life:
"In a few days I mastered mistake-finding sufficiently to enjoy it very much and do it competently. I was at it all day long, working at speed; well, that was no hardship to me. From childhood, I had been trained to jump to the order; and speed has always seemed to me to be a vital part of efficiency. The continual movement put an end to my day-dreams about the Merchant Service college. I now was moving about all day long, going from floor to floor, stopping a loom, getting another under way, solving some odd error, or causing something to be set right, and having brief words with weavers now and then about the working of their machines. Most of my joy in the work came from its independence. I was the mistake-finder, running the job pretty much as I liked, trusted t do it well, and knowing that I was trusted. The flattery of this was a continual great delight to me; it was my first command, and full of the liveliest interest. No man can be unmoved by the great concerted energy of many men and women. The roaring thundering clang of the energy of the weaving-rooms was a big and exciting thing. Sometimes I felt that it was an enormous dragon and that my mind was going against it with one little purpose, to get at its secret springs and master it.""
It is recorded that John (known at the factory as Macey) was a hard and useful worker, and he gained several promotions, but on the day in 1897 that the Supervisor indicated that "Macey" could be given a large area of the factory to run by himself, he was horrified and immediately collected his pay and caught a merchant ship heading back to England where he threw all his energies into his writing. Initially he reported for newspapers, but his days at sea were frequently on his mind and he wrote many sea poems, including the well-known and evocative Sea Fever:  (later editions of this poem included the word "go* in the first line of each verse – as in "I must go down to the seas again……."
I must  down to the seas again, to the lonely sea and the sky,

And all I ask is a tall ship and a star to steer her by,

And the wheel's kick and the wind's song and the white sail's shaking,

And a gray mist on the sea's face, and a gray dawn breaking.

I must  down to the seas again, for the call of the running tide

Is a wild call and a clear call that may not be denied;

And all I ask is a windy day with the white clouds flying,

And the flung spray and the blown spume, and the sea-gulls crying.

I must  down to the seas again, to the vagrant gypsy life,

To the gull's way and the whale's way, where the wind's like a whetted knife;

And all I ask is a merry yarn from a laughing fellow-rover,

And quiet sleep and a sweet dream when the long trick's over.
Marriage and later life
John Masefield was often in ill health, and also suffered with depression which was probably partly due to the fact that he wanted to return to the countryside but had to remain in the city where he had found a low paid job in a bank.  When he was 23 he met Constance de la Cherois-Crommelin, who was 13 years his senior but highly educated and more than a match for his literary mind. She was a descendent of the Hugeunots who had left France to escape the persecution of the Roman Catholic church. She must truly have loved John, to have given up her rich and privileged lifestyle for one of relative poverty, and he adored her. They married in 1903 and had two children, a son and a daughter; with much of the money for day to day living coming from Constance. John worked hard writing book reviews, as well as books and plays but wrote little in the way of poetry but it is reported that on a spring day in 1911 he found some Primroses amongst the woods and heard a voice in his head saying "the spring is beginning." Some weeks later he was once again out for a walk when suddenly a complete poem formed in his head and after rushing home to write it down "The Everlasting Mercy" was born. This narrative poem was published in October of the same year and received unprecedented attention from the critics.
John Masefield went on to write two more narrative poems and was generally acclaimed to be a genius, with the Edmund de Polignac prize being awarded to him (the monetary value being £100 – a lot in those days) in 1912. Prime Minister Asquith's daughter's birthday party in 1913 included such illustrious writers as George Bernard Shaw and Rupert Brooke in the guest list, and John Masefield was also invited.
When war broke out, John Masefield served in the Red Cross initially in France and then later on a hospital ship at Gallipoli, writing vividly about his experiences. When he returned home he was invited to the USA to lecture on Shakespeare and Chaucer and stayed there for about three months. Masefield spent the rest of the war travelling between England and France, at one time being given an assignment to write about the American medical relief forces on the continent, in the hope that it might sway American support for the war effort. Masefield felt that the American presence in France was pretty useless, he did manage to find some heroism in the American Ambulance services and wrote an article which was published in the May 1917 issue of Harper's Monthly.
John Masefield was asked to meet the head of British Military Intelligence in France and was requested to write a full account of the Battle of the Somme.
During the 1920s, John Masefield and his family found a home near Oxford which was much more suited to his love of the rural life and countryside; he found a new hobby in beekeeping and kept some livestock.
He wrote prodigious amounts, and his works were regularly being published.
When Robert Bridges died in 1930 John Masefield was appointed Poet Laureate – John was unsure that he was worthy of such a post but King George V was persuaded by the Prime Minister that he was ideal and John retained the post until his death in 1967……….not quite beating Tennyson for the title of the longest serving poet laureate. He was also granted the Order of Merit by King George V, and had many honorary degrees from Universities throughout Britain. He not only continued to write, but also encouraged others – especially children, and he only began to slow down a little when he developed cataracts in his 70s
His wife Constance died in 1960 aged 93 after a long illness, and he was so devastated that he became a virtual recluse, although he did continue to write. He himself died in Abingdon on 12th May 1967 from gangrene in his leg, and he was cremated with his ashes being placed in Poets Corner in Westminster Abbey………he was the last poet to be buried there, as there was no more room.
His poems and his writing are truly beautiful and given his desire to encourage children it is appropriate that the secondary school in Ledbury bears his name as a lasting memorial to a son of the little town.